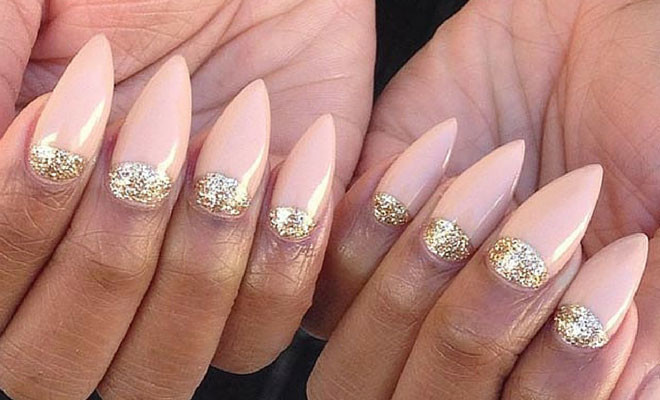 Instagram
Beauty
70 Creative Stiletto Nail Designs
By
|
21. Blue + Nude + Rhinestones
At first, nude and navy blue didn't sound like a great combination. But after seeing seeing the picture above, we realized how much we were wrong. This combo is gorgeous!
22. Nude + Tribal Accent Nail
We think we found the perfect nude that goes with everything and every skin tone. Opt for simple nail design and color if you want your nails to go with every piece in your wardrobe.
23. 'Louboutin' Inspired Nail Design
We like to call this nail design Louboutin because of its red bottoms. The red polish might be tricky to apply but just be patient and careful. Finish the look with some rhinestones on your accent nail.
24. Ombré Nail Design
Ombré stands for 'shaded'. We've seen the ombré effect everywhere – from hair, to clothing, to nails. Simple but still beautiful, especially in this warm shade!
25. Nude + Pearls
This nude stiletto nails aren't too detailed and surely aren't too embellished, making them the perfect nail design to copy for everyday wear.
26. Blue + White
Brighten up your nails with this lovely color combo and design. With them, you are sure to grab everyone's attention.
27. Black & Gold
Black and gold is always in trend. This nail design would look even better in matter version, right?
28. Nude + Rhinestones
Not only this nail design will brighten up your nails, but also your mood. We can't stop stare at them – they are absolutely stunning!
29. White Matte + Negative Space
Twist up you matte nail game and play with some negative space design. This nail design would look great in other colors, too.
30. Galaxy Nail Design
Creating this galaxy design may seem impossible but by following the right tutorial, you can have galaxy nails in few minutes!