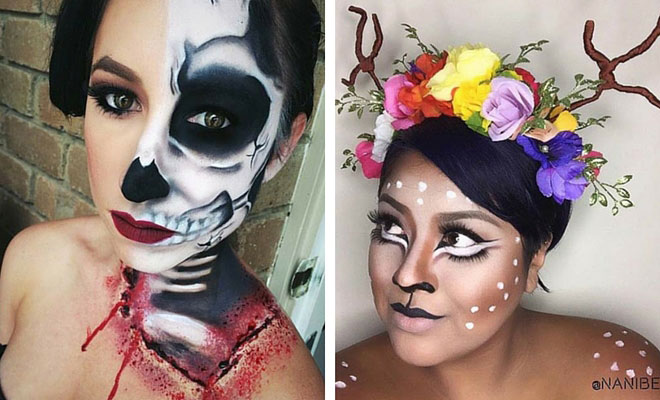 29 Jaw-Dropping Halloween Makeup Ideas
Don't panic if you find yourself without a costume on October 31. The only thing you will need for this Halloween is your make up bag.
We've collected some of our favorite makeup looks to inspire you for Halloween 2015. Ready to see the power of makeup?
1. Cute Deer Makeup Look
Oh Deer! Now that's a cute take on a deer makeup, right? If you don't know what to be for Halloween, you can easily recreate this look. You will need: bronzer, brown eye shadows, white pencil (or eye shadow), black eyeliner, and two pairs of false eyelashes. Complete the look with a cute tan dress and floral headband.
2. Sugar Skull Look
This sugar skull makeup look is the perfect mixture of scary and sexy. The best part? The look can be pulled off using makeup you probably already have in your make up bag.
3. Cool Skeleton Look
Bring the scary side of you with this stunning skeleton look. To recreate it, you need a black and white cream makeup and some makeup brushes. But one is sure, you'll be the hottest skeleton on a Halloween party!
4. Ripped Skin Makeup Look
Love scaring people? Well, this look is sure to make them scream! Anyone can color their face black and white, but can you make your skin look rip off? With some sfx makeup, time and effort, you can.
5. Medusa
Unleash your creativity and become Medusa for a night! Black contacts take this look to a whole new level. Attention to all Halloween attendants: Don't gaze into her eyes if you don't want to be turned into stone!
6. Bride of Frankenstein Look
Here's how you can recreate the stitches:
Step 1: Using a dark red lip liner, map up where you want your stitches to be. Once you get the shape you want, deep the lines up.
Step 2: Draw a line on each side of the stitches, leaving some space between the lines. Then blend the outer lines using a pencil brush. This step will make your stitches look three-dimensional and real.
Step 3: With a white pencil or eye shadow, highlight the inner stitches to make them look deeper.
Make sure to check out Desi's tutorial on this look:
7. Catwoman Makeup Look
Catwoman is one of the most popular Halloween costumes of all time. But this Catwoman look isn't like others – everything is created using only makeup. Stunning! If you're paired up on Halloween, make your partner go as Batman.
8. Cracked Doll
You must admit that some dolls are really creepy. The big eyes are the most important part of this makeup look, so focus on them the most. If you opt for this look, make sure to avoid people who suffer from pediophobia (fear of dolls).
9. Pop Art Look
Comic or pop art makeup is a popular last-minute Halloween look. That doesn't surprise, since the look is super easy to do but looks like you've spent quite some time creating it.
10. Half Skeleton Face
Want a spooky Halloween makeup look with a touch of glam? Give this scary look a try! For the outfit, you will need a black off shoulder dress, black heels or booties and a black leather jacket.
11. Pencil Nose Injury
Simple Halloween looks with a scary twist are our favorite! "Pencil through the nose" is one of them. You will need: a pencil (obviously), scar wax, eyelash glue, and fake blood.
12. Spooky Vampire Look
If you don't mind looking scary and undead on Halloween, transform yourself into a blood-thirsty vampire!
13. Unzipped Zipper Skeleton Look
Halloween is only once a year, so instead of taking the easy route, put some effort in your look. Unzipped zipper is the perfect way to spice up your skeleton makeup! Finish the look with a one contact lens in white color.
14. Colorful & Scary Clown Look
Ditch the classic Halloween looks for something a little more interesting and creepy.
15. Half Infected Woman
This look proves that you can make a jaw-dropping Halloween mask using only makeup.
16. Spider Web Look
You will only need three products to get this look: black, white and grey eye pencil.
17. Maleficent
Thanks to Angelina Jolie's movie Maleficent, there's no doubt that this beautiful villain will be this year's most popular Halloween costume. Heavily over-lined red lips and amazing cheekbones are must-haves for the look.
18. Kitty Cat Look
Add some fun accessories like ears, paws and tail, and you'll be hard to resist… just like a real cute kitty. Meow!
19. Marilyn Monroe Skull Face
Marilyn Monroe is a very popular Halloween costume idea… but this one is nothing like others. Must-haves for the look: Marilyn's famous white dress, blonde hair, red lips, and beauty mark.
20. Spooky Ripped Face
If you're looking for a truly disgusting makeup look, this might be the one! The look is all kinds of scary and will turn you into the star of a Halloween party.
21. Skeleton Face
Forget cute and sexy Halloween costumes this year, and be one of the few women with a badass skeleton makeup.
22. Pop Art Zombie
When you combine pop art and zombies, you get a pretty unique makeup look!
23. Jigsaw Puppet
I want to play a game…
24. Mr. Grinch
When you walk into a Halloween party with a green face and red Santa cap, there will be no mistaking who you are dressed as.
25. White Walker (Game of Thrones)
While most women want to dress as Daenerys on Halloween, there are some that would rather go as a White Walker.
26. Grayscale Makeup
This Halloween go black and white! This is such a unique and clever costume to put together at the last minute, right?
27. Double Face Makeup
You don't see double, don't worry!
28. Double Vision Makeup
This makeup look  gives us a headache!
29. Spooky Witch
These contact lenses are awesome, and her makeup isn't bad, either!