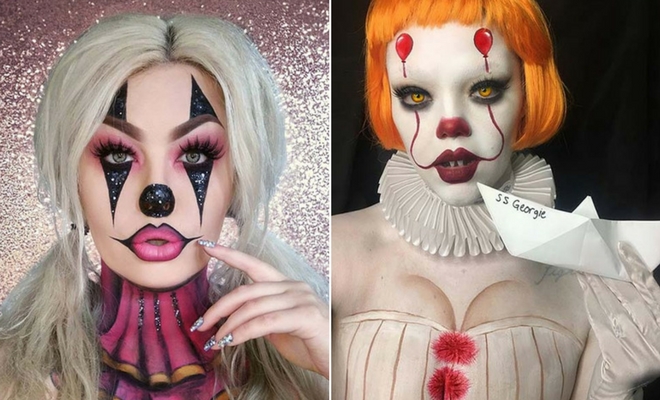 Instagram
Beauty
23 Best Halloween Makeup Ideas
By
|
11. Frankenstein Inspired Makeup
Our next makeup design has been inspired by Frankenstein. She has used the classic green and black stitches but has given it a twist with the pretty makeup. We love this idea as it is a new take on the popular Halloween Character. Something like this would be quite simple to recreate to.
12. Creative Candy Makeup
Looking for Halloween makeup ideas that are more of a treat than a trick? Then this next makeup idea could be for you. The artist has created a fun and unique candy look. She has glam makeup on one side and fun candy on the other. You could recreate this by using any of your favourite candy.
13. Witch Halloween Makeup
Stitches are a great makeup technique to learn. You can use stitches for a variety of looks including Frankenstein, ghosts, zombies and more. This makeup artist has used stitches to create a Halloween witch look. This is another makeup idea where you can look glam and spooky to.
14. Deer Makeup
Deer Halloween makeup ideas are usually cute but this next pick shows that deer makeup can look creepy to. She has used very light colors on her eyes and lips and has added some sparkling gems. The look has been finished off with dark eye contacts and antlers. You can get contacts that cover the whole eye and as you can see these create makeup that is perfect for Halloween.
15. Halloween Clown
Next, we have clown makeup that is both scary and cute. The clown has a skeleton look to it and uses dark makeup. The lips and nose have red glitter which makes the look pretty. There are lots of tutorials online to help you create the skeleton clown.
16. Pretty Pearl Makeup
Want Halloween makeup ideas that are pretty and creative? Then this next pick is for you. This artist has created glam makeup and has finished it off with pearls. She has used lots of pearls which creates a unique costume look. You could recreate this with gems or pearls. If you wanted a darker look for Halloween then use darker makeup.
17. Gruesome Card Makeup
Our next pick creates gruesome makeup with a playing card. Makeup like this is very popular for Halloween so would be a great choice for a party. There are lots of tutorials online to help you stick the card and there are lots of different looks you can create.
18. Scary IT Clown
Pennywise is back. The scary clown from the book IT has been recreated into a new movie. This next pick shows how you can style his terrifying look this Halloween. Makeup like this will take some effort but it will be a hit at every party so will be worth it! The contacts are must have for the costume.
19. Sugar Skull Makeup
Sugar skulls are very popular makeup looks. You can look spooky for Halloween but pretty to. Our next pick is beautiful example of how to create sugar skull makeup. There are plenty of tutorials to help you with the intricate patterns. You could use any color palette but make sure you finish off the look with a floral headband.
20. Wonder Woman Makeup
Like superheroes? Then this next pick is for you. This artist has created a comic book Wonder Woman look. All you will need is the face paint or makeup in the colors featured and to copy the design. It is a simple look but it will look awesome at a Halloween party.
21. Creepy Doll Makeup
Dolls are creepy so doll makeup is perfect for Halloween. This next pick shows how you can create a simple but scary doll look. The key is using darker makeup to create doll like features. Use this image as inspiration, you could recreate this look using any makeup colors you wanted.
22. Crystal Skull Clown
Liked the skeleton clown makeup from earlier in the post? Then you will like this next idea. It features dark clown and skeleton makeup. The artist has used crystals to create skeleton teeth. This unique idea creates a glam, creepy and creative look. We love this idea, it would be a great choice for parties.
23. Wild Lion Makeup
Last on our list is this wild lion makeup. Makeup like this is great for anyone who wants to join in and dress up but doesn't want to look too scary. To create this look you will need earthy makeup colors with black and white for the features. It is simple but cute look that everyone will love.
We hope you have been inspired by our Halloween makeup ideas!