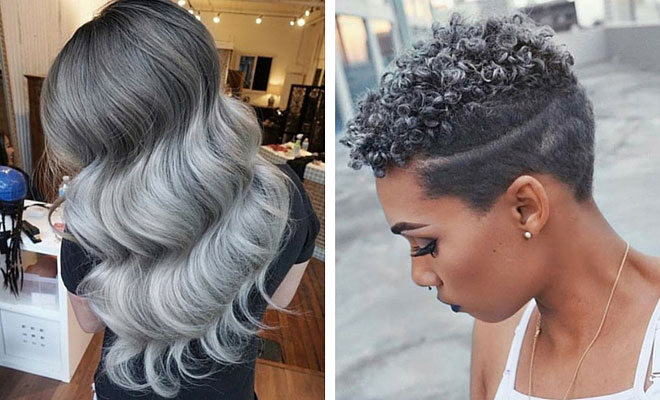 Beauty
41 Stunning Grey Hair Color Ideas and Styles
By
|
21. Dark Roots + Silver Grey Hair
Sometimes it really could be as simple as just fading the color down to the lightest it will go. Think about how versatile this look is… It doesn't matter when your roots grow out and you won't need to constantly re-bleach, re-lighten, and then re-grey them in order to keep the look fresh. Add some curls to mask any sins and you have one of the easiest ways to wear your grey hair. Roots no longer matter!
22. Natural Looking Grey Color
Next, we have a chic grey hair idea. As you can see, the hair is cut into a short bob with natural looking grey color. The cut is beautiful and will suit everyone and the grey color just adds to the glamour. A bob like this will suit everyone and it is perfect for those who want to transform their hair.
23. Edgy Black and Grey Hair
Grey can be such an edgy color. Don't just take our word for it, check out this next look. Here we have a textured lob cut with black roots and grey color. The first shade of grey is darker and the tips are very light. We love this trendy hairstyle, the cut and color are gorgeous. Recreate this look or you can try the grey color on a different haircut.
24. Trendy Short Cut
If you want to try a whole new hairstyle, then this could be perfect for you. Here we have a stylish short cut that is shaved around the back and sides and it is longer on the top. The short and shaved hair is black while the hair on top is a colored in multi tone grey. This is a statement making hairstyle that is perfect for the trendsetters.
25. Beach Waves
Beach waves are such a popular hairstyle. Make your waves look unique by choosing a grey hair color just like this. This look features long and gorgeous waves that are a light grey shade. As you can see, the waves look amazing with that stylish and bold grey color. Hair like this will look stunning on everyone.
26. Short Grey Bob with Bangs
Thinking about trying a shorter cut? Then you need to check out this next hair idea. Here we have a chic and short bob. This one is cut to about chin length and there are side swept bangs too. It is a beautiful cut that is easy to wear. Recreate this natural looking grey or you can try an icier tone for a trendy and bold look.
27. Beautiful Grey and Blue Hair
Our next idea is bright and bold. Here we have gorgeous grey hair with added blue color towards the tips of the hair. We love the grey and blue combination as the colors compliment each other beautifully. The two shades create a statement making hairstyle. You can recreate this or add more blue. Lighter or darker shades can be used too.
28. Grey and Black Short Cut
If you are fed up of your hair and want to give your hair a makeover, then this idea could be perfect for you. Before the hair transformation, hair was longer and dyed blonde and as you can see, it has been completely transformed with a stylish new cut and grey color. This is a gorgeous hair idea and it will make you look chic every day.
29. Grey and Multi Color Hair
Next, we have another bold hair idea to show you. The hair is a beautiful grey color with added bright shades. We love the colors used as they are so vibrant and they really jazz up the grey. You can recreate a fun and colorful look like this or use different shades of your choice. Purple would look amazing.
30. Gorgeous Grey Ombre Hair
Maybe you want a hairstyle that glams up your look? If so, check this out! Here we have hair that is black at the root and then the hair changes to grey. The hair is styled into stunning waves too. This is one of our favorite looks and it is a beautiful style that will suit everyone.