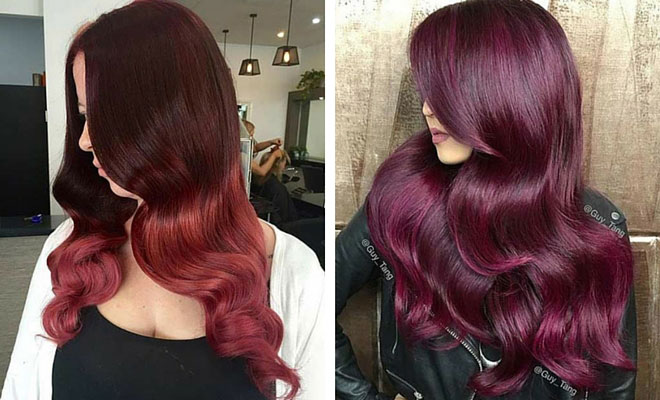 Beauty
41 Amazing Dark Red Hair Color Ideas
By
|
21. Dark Red Short Bob
Next we're looking at this dark red short bob, a great romantic look that's perfect for a number of face shapes and can be adapted even to make the face appear thinner if you get the layers right, and the length too. That just below chin length is great for lengthening the face (if your is round or square in shape), and the red highlights are hand-painted in that balayage fashion that allows for perfect blending.
22. Bold Red Hair with Bangs
Next, we have a bold hair idea. For this look, the hair is long and is a rich dark red shade. The hair is finished off with beautiful curls and bangs. It is a stunning cut and color and the bangs really stand out because they are red. Recreate this or you can try more lightweight bangs or side swept ones.
23. Black and Dark Red Ombre
Like to wear trendy ombre color? If so, this is perfect for you. Here we have black and red ombre. The hair starts black and blends into dark red and there are brighter reds and magenta tones in the hair as well. Ombre like this is best suited to ladies with black or dark brown hair. The ombre can be created on shorter hair.
24. Dark Copper Red Hair
There are so many shades of red to try. A must-have is the coppery tones. Many people think coppery red is bright and bold but there are darker shades of it too. This is a beautiful example. Here we have long hair that starts black and then the color blends to dark red and then into a rich copper. We love this hair color idea and think it would be perfect for the fall.
25. Merlot Bob
Love a glass of Merlot and think the color of the red wine is beautiful? Then why not recreate it on your hair? You will get a gorgeous hairstyle like this one. Here we have a trendy bob that is colored a Merlot shade. It is a stunning dark red shade with purple tones and it is subtler than some of the other reds. Recreate the cut and color for a stylish hairdo or use the color on any hair type and length.
26. Subtle Dark Red Highlights on Dark Hair
Looking for a subtler way to wear red? If so, check out this hair idea. Here we have black hair with added red highlights. As the red is dark, it creates a subtler look compared to ombre and full head color. Not only that, but if you decide that red is not the color for you, then it will easily grow out. So, it is perfect for ladies trying red for the first time.
27. Statement Making Red Hair
Make a statement in red with hair like this! This hairstyle features a dark base color with a mix of bright red and dark red color. We love the use of different red shades because they create a bold and unique hairstyle. The colors used for this style are fiery coral and magenta. It is a stunning hair idea and it will make you stand out from the crowd in style.
28. Dark Red Hair with Purple Tones
We need this next hair color in our lives! Here we have a rich, dark and vivid red shade with added purple tones. The red and purple just create a stunning and bold hair color. A stunning red like this is perfect for the fall and winter. It will suit everyone and all hairstyles. You can recreate this or use a similar color as highlights or ombre for a subtler look.
29. Midnight Rose Hair
Next, we have a stunning color with a beautiful name. This hair has been dyed with a red color called Midnight Rose. The color is a mix of tones including dark red, purple and pink. Red like this will just wow and it is perfect for the ladies who like bolder colors. We think a similar color would look amazing with a sleek bob, it would be so trendsetting!
30. Dark Ruby Red
Wow in red with hair color like this! For this look, the hair starts black and then blends into dark red and then into a brighter ruby red tone. We love this because you get the best of every world. You can keep your natural color for easy to maintain hair with no roots. With hair like this, you get a trendy ombre look and you get to try the darker and lighter shades of red. This hairstyle ticks all the boxes and it will suit everyone.