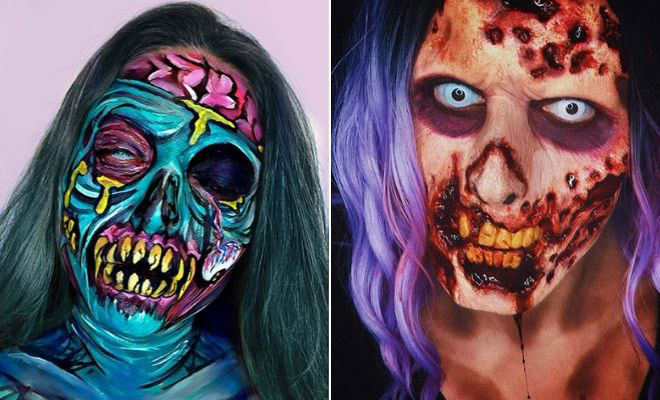 21 Scary Zombie Makeup Ideas for Halloween
If you are a zombie fan, then this is the place to be! Today we have 21 scary and fun zombie makeup ideas for Halloween. We have pop art zombies, gory illusions, classic zombies, makeup inspired by games and much more. There is something for everyone whether you need a simple, classic and easy to create zombie or if you want to go out all with liquid latex, blood and more. There is makeup for every level. Take a look and see which version of the shambling undead you want to be this year.
1. Vibrant Green Zombie Makeup
The first zombie makeup idea is fun, vibrant and spooky! For this look, the artist has painted herself neon green complete with an illusion mouth and missing bits of skin. Makeup like this will take practice but it is perfect for those who want to try something a little different. You will be able to find illusion makeup online to help you recreate a similar look.
Products used: Mehron Makeup Paradise Paints
2. Gory and Scary Zombie Makeup Look
If you want to give everyone a fright this Halloween, this makeup is the way to do it. This makeup artist has gone all out and she has created wounds and there is even one with maggots in. Her skin is a different color and she is also wearing contacts. This is an amazing makeup look and it will scare everyone!
3. Bloody Zombie Makeup
Next, we have a bloody and gory zombie to show you. As you can see, she has a wound on her head and it looks the whole layer of skin has come off around the nose and mouth. Recreate this and add some zombie contacts and your makeup will be super scary. There are tutorials online for bloody makeup so you can create something similar.
Products used: Grimas ErDerma Wax, ColAquacolores black 101 & red 505, false blood, 35V palette by Morphe and the Fantasy palette by Docolor.
4.  Zombie Makeup with a Bite
This next makeup idea is so cool because she has a bite wound. She has blood drips, she is also wearing contacts and her skin is a classic zombie color. The makeup is complete with a bite wound on her neck. This really gives her a zombie look and there are lots of tutorials online for zombie bites.
5. Amazing Illusion Makeup
If you like the illusion makeup ideas, then this is for you. This makeup artist has gone all out to create an amazing and bold zombie. The makeup features visible brain, a missing eye and more. This is a scary and awesome idea and it will be perfect for parties. You will need to practice illusion makeup like this but it will be worth it when you win best costume.
6. Simple and Creepy Halloween Makeup Idea
Maybe you just want a simple and creepy zombie look? If so, this is perfect for you. For this, she has pale zombie skin complete with a wound on her face. This will be quite easy to recreate and you can even paint on the bloody line instead of using fake dripping blood. Add some contacts and perfect your zombie walk and you'll be good to go.
7. Half Face Zombie Look
The next idea gives you the best of both worlds. This makeup artist has created a half dead look. She has split her face with a bloody stitched line down the center. On one side she looks glam and on the other side she looks like a zombie. This is a cool and unique idea. You can look scary but also pretty. Recreate this or try your own half dead look.
Products used: Morphe X James Charles shade Mary, Doucce Graphic Pen, Rimmel Stay Matte Foundation 102, Stay Matte Powder in Sandstorm & Toffee, Loreal True Match Powder in Nut Brown, Tarte Cosmetics Rainforest of the Sea Palette, Amorus Lashes in WSP, Maybelline Fit Me Blush Mauve, Too Face Liquid Lip in Child Star, Ben Nye Makeup Death Wheel in Pink Beige, Green & Bue, Base & Glam Shadow Palette in Graphie, Black Eggplant & Brownberry, Coagulated Blood & Stage Blood, James Charles X Morphe Purple shade, Jonte Blue Glittering Star Liner and Tag Body Art Black Wax Based Paint.
8. Gruesome Zombie Makeup with an Eye
This next idea is one of our favorites because it is spooky, creepy and fun! So, for this look, the artist has kept the zombie makeup quite simple but there is an added illusion eye and mouth. It looks like one eye is popping out of her head while the top lip looks too far over. This is an awesome idea and it will definitely make you stand out from the zombie horde.
Products used: Maskworld Latex Milk in Cotton, Flour & Polymorph, Mehron Paradise Paints in Felou, Dark Brown, Red, Light Pink & Stage Blood, NYX Cosmetics Born to Glow Foundation in Light & Natural and Morphe Thirst for Life Palette.
9. Stage 1 Zombie
Any zombie fan will know that the zombie transformation happens in stages in many version of movies and books. This makeup has been inspired by the first stage. So, in Stage 1 the person has been bitten and is now feeling unwell and the change has begun. This is such a unique idea and it is great for those who want zombie makeup without too much blood and gore.
10. Illusion Makeup with Teeth
We love this next idea. The artist had created the illusion that her teeth have come through her cheek. There are also wounds on her head and nose. The makeup is complete with contact lenses and blood. This is a super scary idea and imagine this makeup when it is dark, it will give everyone a fright!
11. Spooky Zombie Makeup
If you want scary makeup with blood and gore, then this is for you. The makeup artist has created the illusion that the skin surrounding her mouth has come off. This look is complete with contact lenses and dead colored skin. It is such a terrifying and gruesome look. This is also great for Resident Evil fans as this is a zombie version of Claire Redfield.
Products used: MesmerEyez Blind White Contact Lenses & FX Gel Blood, Mehron Liquid Latex, Hobby Craft Air Drying Clay (to create the teeth) and Makeup Forever Cinema & Flash Palette.
12. Creepy Illusion Makeup Idea
Next, we have another creepy illusion zombie. For this, the makeup artist has created a sagging skin look complete with a gory mouth which has missing lips. This is simple because it doesn't have lots of wounds and over the top blood. But it does look very zombie like. You can imagine her shambling after a survivor. This is so cool!
13. Pop Art Zombie Makeup
Maybe you prefer the more bright and fun zombie looks? If so, this pop art version is great for you. So, most of her skin is painted blue and the artist has added a brain illusion and missing skin on her cheek so her teeth are visible. This makeup will be great for Halloween parties and you can find pop art zombie makeup tutorials and costumes online.
14. Half Zombie, Half Glam
The next makeup idea is another one where you can look scary but pretty too. So, as you can see, most of her face is made to look like a zombie but she has left one eye and the surrounding area looking glam. The rest of her face is covered in fake blood, wounds and one eye is also red. This is a unique idea and you can recreate this or use a different zombie design.
Products used: Beauty Glazed Gorgeous Me Palette, Forum Novelty Liquid Latex, Amazon Vampire Blood, Maybelline Fit Me in Fair Porcelain Foundation and Contact Lens Hub Contact Lenses.
15. Zombie Makeup with Stitches
This next makeup idea has used different Halloween elements to create a unique zombie look. She has zombie looking eyes complete with stitches on her face and stitches on her lips. The addition of stitches is very unusual and it is giving us Whisperer vibes, anyone who has seen The Walking Dead will know about the masks.
16. Retro Zombie Makeup
If you love vintage hair, fashion and makeup, then you will love this 50's retro zombie makeup. As you can see, she has the pretty curled hair complete with 50's style eyes and lips. Of course, the artist has added blood, gore and contact lenses to give the undead zombie vibe. This is a cute and quirky zombie and it will work with any time period. You could even be a zombie hippy.
17. Super Scary Zombie
We love this zombie makeup because it is so gory and scary! The artist has created the illusion that her face and skin is sunken like a dead zombie. There are also bleeding wounds and it looks like the lips are missing on the mouth. This is a gruesome and frightening idea and it will give everyone a scare! Makeup like this will take a lot of work and practice but it is so worth it!
Products used: WoochieFX Stage 3 Zombie Prosthetic, Gel Blood & Spirit Gum, Mehron Makeup Stage Blood and TTDEYE Colored Lenses in Zombie Curse.
18. Horrifying Zombie Makeup with a Brain
If you really want to go all out and give everyone a fright, then this makeup is for you. The actual makeup on her face is kept simple with contact lenses. Where the makeup is really scary is the head. The artist has made it look like her brain is visible with blood dripping down. This is a gruesome and horrifying idea but it is perfect for Halloween parties.
19. Simple Zombie Makeup
Maybe all the complicated makeup and over the top blood and gore is not for you? If so, take a look at this. Here we have a simpler zombie look. She has pale skin complete with wounds, blood and tattered clothing. This is a classic zombie costume and a version could be create for last minute events.
20. Gruesome Makeup Idea
Next, we have another gruesome idea. This time her face is covered in bloody wounds and she is wearing white contact lenses. It is a scary and gory zombie look that will be amazing for any Halloween event. Any zombie costume will work with this makeup. Recreate this or try a simpler version with less wounds.
21. Half Zombie Illusion Makeup
The last zombie makeup idea is another half and half. So, as you can see, half of her face is left natural and has big white dots. While the other half is green with a pop art zombie look. This is another fun and unique zombie design and you can look spooky and glam at the same time!
We hope you have found a scary zombie makeup idea to try!