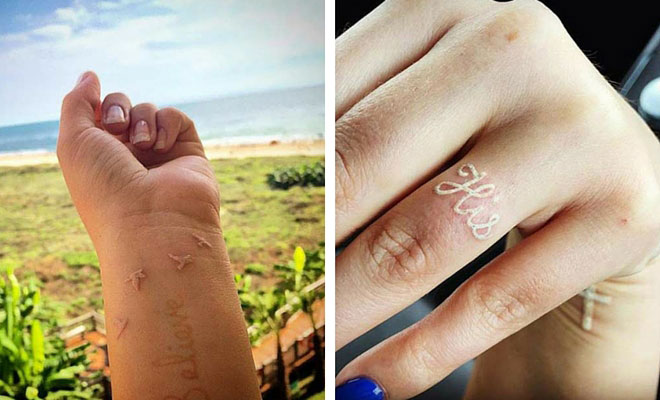 Instagram
Lifestyle
51 White Ink Tattoos That Will Inspire You to Get Inked
By
|
41. Matching Diamond Tattoos
Have matching diamond tattoos with your partner or best friend… This will make you both shine bright.
42. Faith Wrist Tattoo
We all believe in something, whether it is family, friends or religion. Faith is what keeps us going. A humble 'faith' in white ink will keep you strong in hard times.
43. White Ink Flowers
This is an amazing tattoo. White ink flowers are so feminine and beautiful. It's almost unreal. If you're thinking about getting this design in white ink, make sure you choose a good tattoo artist. Preferably, choose one artist that has done this type of work before. It looks simple but ensure you see their work before you commit to this.
44. Fearless.
Fearless is a great word. This shows that you're willing to take on any challenge that life has to bring and that you have a strong heart.
45. Couple Zodiac Tattoos
With these couple zodiac tattoos, you won't have to explain to other people what they mean. It's simple. They are matching couple tattoos that are from the zodiac star signs which also features their birth day. Ideal if you're both into astrology.
46. White Ink Stars
Star tattoos look breath taking in white ink. Before they became popular in today society, many sailors would guide their ship based on the North Star. Therefore, they would get a tattoo of a star to remember their journeys. Nowadays, depending on the star design, there are endless meanings behind the star. For instance, a light shining in the darkness, a significate change in one's life, a symbol of hope and spirit and it can be a sign of truth. This typical star pentagram star design, which is a 5 pointer, is a symbol of balance and protection.
47. Finger Tattoo Idea for Couples
He or she is your soulmate and you want to make it special. Having a finger tattoo for both you and your partner will look and feel amazing. These matching tattoos are not completely the same due to one having white ink and the other opting for black ink. It's entirely up to you but we are loving this contrast!
48. White Feather Arm Tattoo
Feather tattoos are unique and attractive. White ink feather designs can be big or small depending on what you prefer. This one is quite big and looks modest and arty.
49. Tiny Love Finger Tattoo
Have you recently got married and want to commit more than just wearing a ring? A white ink tattoo will stand out and show the world how much your other half means to you. This is done in white ink and it quite a thick font but you could have a thinner version so it's not so visible. Again, it's all down to personally preference. Just have an idea before you get in the tattoo parlour chair! This makes it quicker and easier for you and your tattoo artist to decide. It also means you get what you want and aren't influenced by other people while trying to rush to make your decision.
50. White Ink Family Tattoo
This is so cute and we love it. Family in white ink with a gorgeous arty design, captures the whole message in one word.
51. Small Heart Tattoo
A small heart tattoo on the wrist can be hidden easily with a top. You don't always have to have your white inking on show. You know it's there and it's not going anywhere. It's small enough to show your creative and caring side as well as being understated.
And there you have them – 51 amazing white ink tattoos that will inspire you to get inked.