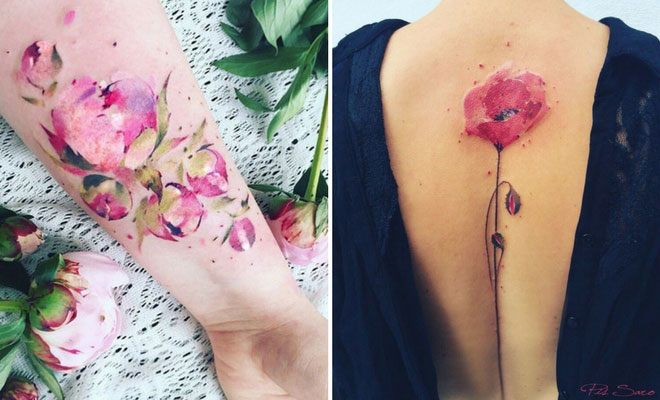 Instagram
Lifestyle
47 Breathtaking Watercolor Flower Tattoos
By
|
21. Pink Orchids
Any tattoo will come with its fair share of maintenance, but with really vibrant tattoos such as these watercolor delights, you may need to go back for a touch-up sitting to ensure the colors are as beautiful as they should be. The more colorful the tattoo, the more the chance you'll need to go back for a little maintenance.
22. Poppy Tattoo
When you go for your tattoo, always make sure you're wearing the right kind of clothes. This may sound like an odd thing to say, but you will want to make sure you are comfortable throughout the duration of the tattoo, as well as the journey home, and later on that day too. You will be in pain – a needle has been stabbed into your skin a few thousand times. The looser and more free-flowing your clothes are, the more comfortable you will find yourself.
23. Big Peony Back Tattoo
Do tattoos hurt? Yes, of course they do, but how much they will hurt will change from person to person. Everyone is different, everyone has different pain thresholds, and it has even been suggested that women have a higher threshold of pain than men do. You should definitely be under no illusions when it comes to the pain factor of getting inked, and prepare for that – during the tattoo itself, and also afterwards.
24. Pretty Wrist Tattoos
When getting tattoos on highly visible places, such as your wrists or hands, you will need to be aware that it can have an impact on your life. Although the equality surrounding tattoos and piercings in the workplace is evening out, there are still some businesses who won't employ someone with visible body modifications. Could your dream tattoos hinder your career? It's definitely something to think about.
25. Amazing Arm Tattoos
Another thing you'll need to bear in mind with arm and leg tattoos is how much you're going to have them in the sun. Sunlight, and particularly tanning, can have an effect on how long your ink lasts, and it'll fade quicker if you don't care of it. There are creams and lotions you can buy designed for tattooed skin in the sun, but just making sure you use a strong enough SPF factor will do a good enough job if you're not prolonging your skin to lots of it.
26. Magnolia Leg Tattoo
Magnolia trees are beautiful ones, and their petals are soft, pink and white in color, and said to depict three things – life, beauty and nature. Trees are a great idea to use within a family-orientated tattoo, as well as within these watercolor flower tattoos also.
27. Iris Spine Tattoo with a Quote
There are quite mixed symbolic meanings behind the humble iris tattoo, and although some believe it to mean death – befalling everyone – there are other more positive meanings behind the body art work. There are generally three petals in iris tattoos, and some think these stand for the past, present, and future. Because of this, they have become a tattoo that is often associated with hope.
28. Beautiful Single Rose Tattoo
The next tattoo we have to show you features a beautiful red rose. This design is tattooed down the spine and the watercolor technique is just stunning. You can recreate this tattoo or try a smaller rose elsewhere on the body. Also, consider the color of the petals as the different rose colors symbolize different things.
29. Watercolor Flowers and Hummingbird
Next, we have a flower and hummingbird tattoo. The tattoo is a circular shape with pretty purple flowers and there is a green and purple hummingbird too. It is a beautiful design and it is perfect for anyone who loves birds and nature. Try a similar design to this or choose different flowers and a different bird.
30. Botanical Arm Tattoo
When choosing a floral tattoo design, you don't have to choose just one type of flower. This botanical tattoo features two different types of flowers and green leafy plants too. We love the combination of the different plants and flowers as it makes the tattoo unique. Recreate this or try adding your favorite flowers to the design, maybe even add your birth flower.