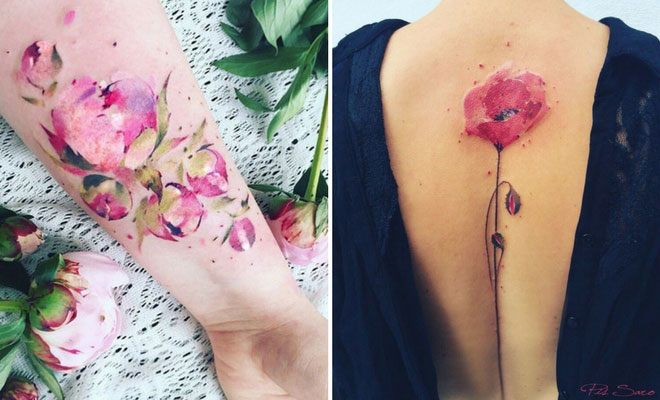 Instagram
Lifestyle
47 Breathtaking Watercolor Flower Tattoos
By
|
11. Flowering Rose
Although the rose tattoo is associated with various cultures, Eastern tattoo art, for example, it is most definitely an Americanized tattoo. You can have it personalized in so many ways too, these watercolor flower tattoos being just one of them. For the most part, these stunning rose tattoos are used to depict beauty and love, and you can change the color or shade of the flower itself to mean a different thing. Thorns can even add a new twist on the design, adding a 'spiked' meaning to the entire design.
12. Light Blue Peony Flowers
A flower that is used to depict wealth and elegant, this light blue peony is a stunning way to show off watercolor flower tattoos, although the flower itself is often used in red and pink shades. The Japanese may call them the "king of flowers", and we're seconding that.
13. Cherry Blossom Twig Tattoo
Cherry blossom tattoos are often used in Japanese style designs, and work as a perfect metaphor for life. The petals of the tree look beautiful, but beauty fades quickly and life soon moves on, the petals falling and the cycle starting all over again.
14. Small, Behind the Ear Tattoo
If you wanted a cute and dainty place to home your new watercolor flower tattoos, you could do a whole load worse than the tiny space behind your ear. With your hair worn down, no one would ever know it was there. Tie your hair up in a ponytail, however, and you treat people to a cute and colorful display just like this.
15. Cherry Blossom Arm Tattoo
As well as showing how fleeting life is, this cherry blossom arm design is the easiest to personalize, enabling you to twist and contort the branches into intricate designs to suit a wide range of places. It means that you can use it all over your body, even using it as a "filler" style tattoo for full sleeve or leg pieces.
16. Watercolor Poppy Flower
The meaning of the red poppy combined with remembrance actually comes form a very poignant poem by John McCrae. It was called "In Flander's Fields". It was about World War 2 and all the brave souls we lost in the war. We definitely think this stunning tattoo idea pays respect enough.
17. Small Peony Foot Tattoo
There are a few things you may need to bear in mind when it comes to watercolor flower tattoos like these. They are a relatively new concept and style, and that means that long-term fading isn't known about. Some people suggest that the lack of an outline will mean the tattoo itself can bleed a lot easier. Other tattoo artists will also suggest regular touch-ups to ensure the color or vibrancy doesn't fade.
18. Light Pink Rose Design
The idea behind these watercolor flower tattoos is to mimic the style of a watercolor painting. An artist can get super creative with designs such as these, and there are no "lines" are such to stay within when coloring in. No two watercolor tattoos will be the same, and that's what has made them so popular these days. Everyone is striving to have something a little more different and unique.
19. Pink Eustoma Flower
Also known as Lisianthus, eustomas are quite the beautiful and vibrant flower, even in these watercolor flower tattoos. Their large and funnel-shaped flowers make for really beautiful ink designs, and they're quite difficult to take care of. This would symbolize something fragile and delicate.
20. Flowers + Quote
A great way to personalize any tattoo, particularly these watercolor flower tattoos, is to add a quote. Do you have a favorite quote? Perhaps your parents or grandmothers used to say something that has stuck with you over the years? The only thing left to do is pick a font, and that's often the hardest part when picking text-style tattoo designs.