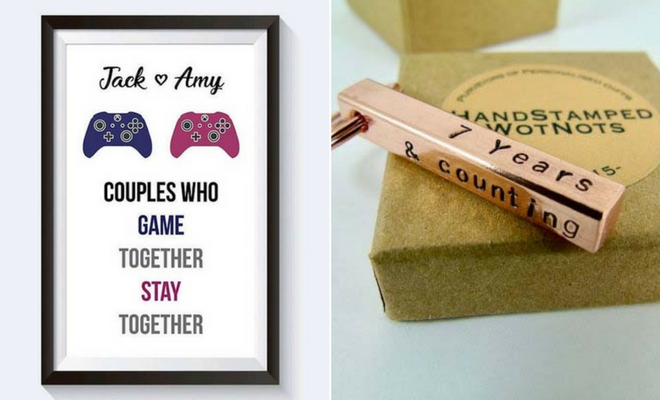 Etsy
Lifestyle
23 Gift Ideas for Valentine's Day for Him
By
|
Valentine's Day is just around the corner. If you are looking for a gift for your Valentine, then you are in the right place! We have put together 23 Valentine's Day gifts for him. There is a gift for every guy from personalized to romantic to funny. Any of these would be perfect for the man in your life.
1. Personalized Valentine's Beard Oil and Cologne Gift
First up we have this cologne and beard oil gift set. The set comes with a solid cologne that can be used anywhere on the body and beard oil that will tame facial hair and moisturize the skin. You can personalize the set to. Any guy would love a gift set like this one.
2. Secret Morse Code Message Keyring
Looking for something unique? Then consider a keyring like this one! The keyring features an aluminium bar stamped with a secret Morse code message. It comes with a Morse code card, so your Valentine can work out the message. You can have any message put on a keyring like this. It is perfect for the guys who prefer to keep Valentine's Day subtle but romantic.
3. Retro USB Mixtape
Mixtapes used to be a popular way to show someone you care. With our next gift idea, they still can be.  This mixtape is a real cassette that has been brought into the future and is actually a USB. Fill up your USB mixtape with songs, videos, pictures and more. This is a romantic gift that your guy won't forget.
4. Personalized Star Map
Does your other half like to stargaze or does he like unique gifts? If so you need to check out this star map gift. The poster features a print of the night sky on a particular day with the date, time and place. You could have one created of your first date, when you met or your first Valentine's Day together. This is a cool way to show you care.
5. Funny Star Wars Mug
Is your Valentine a Star Wars fan? Then he will love a mug like this one. The mug features "Yoda one for me" with an image of Yoda. This is a fun novelty gift that he will love. You can also find other gifts online with this quote on like cards and t-shirts.
6. Personalized Moon and Back Cufflinks
If your guy wears shirts and likes cufflinks, this next gift idea could be the one. Here we have a set of personalized cufflinks. The cufflinks feature his name followed by the quote "I love you to the moon and back". These are romantic and stylish way to express your love. He can wear these or have them as a keepsake.
7. Copper Anniversary Keyring
For some Valentine's Day is more than just a romantic holiday. It can be an anniversary to. It could be the day you met, your first date, when you got engaged or even when you got married. To celebrate a special occasion like this you could get your other half an anniversary keyring like this one. It features the number of years and counting. This is a subtle but meaningful gift perfect for any man.
8. Gamer Personalized Print
Next, we have the perfect gift for a gamer. This print features the quote "Couples who game together, stay together", two controllers and can be personalized with your names. This a cool and unique gift that your guy will love. This print can also be customized to suit the console that you both play.
9. A Little Box of Date Nights
Our next gift idea will keep on giving long after Valentine's Day is over. It is called The Little Box of Dates and features 52 cards with date ideas. This gives you and your guy fun dates to do every week of the year. There is a mixture of ideas so you can try new things and enjoy the year together.
10. Personalized Watch
Does he wear a watch? If so then consider this idea. This gift features a wooden watch that can have a messaged engraved on the back. You can have initials, a special message and a date put on the back. This is a romantic and stylish gift that any guy would love.