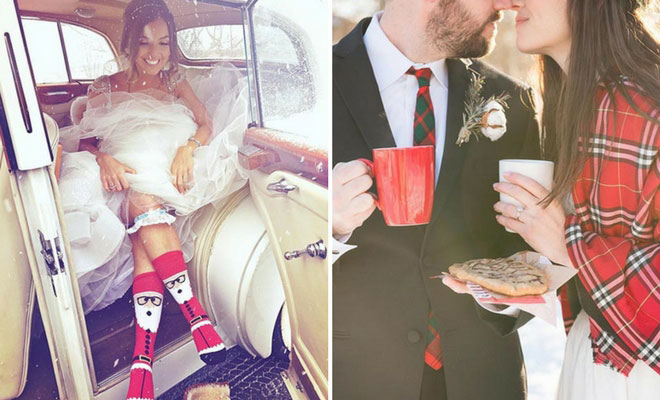 Instagram
Lifestyle
23 Unique Ideas for a Winter Wedding
By
|
11. Blankets for Guests
You definitely can't forget about the plummeting temperatures when you're planning a wedding during the cold season. How's this for unique ideas for a winter wedding that'll keep your guests warm and happy?
Have a couple of baskets or tubs of blankets for the guests to wrap around themselves when everything gets chilly! They'll be happy, you'll be happy because they're happy, and it's such a simple yet perfect touch.
Just make sure the tub looks cute, obviously. We quite like the barrels that have been used here, but you could use rustic, old-wood pallets and wooden boxes too.
12. Winter Wedding Wonderland
What looks great against a white snowy backdrop? A horse, obviously, and a wreath, and a beautiful bride and groom! What else?
Have a look around you when you're looking for unique winter wedding ideas. Could the backdrop right around you work for beautiful wedding pictures? Have a chat with your wedding photographer, or a few wedding photographers, to see what kind of scenic ideas they've got to throw at you. You should – they'll come up with some really incredible shots that you won't have thought of.
13. Wedding Cake with a Winter Touch
Picking the right wedding cake is often difficult for a bride-to-be, and there are so many things to take into consideration these days too, with everyone having allergies and blah, blah, blah.
We love this wedding cake with a winter touch – simple, elegant, easy. The berries and pinecones do the talking here, and that's kind of what you want, isn't it? The red and white stands out really well against each other too, and it just looks so … perfect. Well, we think so anyway. We'd love to know what you think about it!
14. Polaroids
It's another simple and clever idea that many of you probably won't have thought of, but why not use old tree branches and twigs to create a framework like these? You could have a polaroid doing the rounds at your big day, and when the photos are printed out and shaken all around, you could have everyone peg their favourites to the rope that you've twisted throughout it.
Some fairy lights help to finish it all off nicely, and it becomes so much more than just wedding day decor once the big day is actually over. You could take this home and pop it on a wall somewhere, a beautiful rustic reminder of the happiest day of your life.
15. Cool Wedding Invitations
Wedding invitations are another thing that often causes the bride and groom much discomfort and pain, mostly because it's impossible to know what you want. If you're having a close-to-Christmas wedding, now about these Save-the-Date cards? They're winter-themed, and festively themed too, and they're very simple. It's all the information you need, right where you need it.
Even better than that, the bauble design could even be hung from the tree as a really clever way to combine your wedding in with Christmas. It makes for a great keepsake too, don't you think?
16. Choose a seat, not a side.
When you get married, you join two families together. It's a really beautiful thought, and we love the way that it is an idea featured highly in this wedding. Rather than picking a seat dependant on whether you know the bride or groom, you just pick a seat wherever you damn well feel like it. And if that's next to the groom's cousin but you're the bride's friend, who cares?
The board itself would be really easy to make before the big day at home too, using older bits of wood together. You can use stencils (or a stencil cutter) to get the words right, or you could even paint them on yourself if you have a good enough hand. Either way, however you choose to make it happen, we definitely think you should. What a beautiful idea.
17. Mistletoe Kiss
We've already mentioned mistletoe once, but we love this mistletoe idea so we're bringing it up again. We just really like kissing …
If you're having a wedding near Christmas, you can't not have the under-the-mistletoe kiss photo. It would be like having Christmas without the tree. Again, have a chat with your photographer and one of the people int he wedding party to make sure both the camera and the mistletoe just happen to be around at the same time. We bet you'll be glad you did.
18. Ice Skating
What comes with winter? Snow? What else? Ice, that's what! So … why combine the two ideas? Why not go ice skating?!
If you regularly go ice skating, this makes perfect sense for unique ideas for a winter wedding, but we probably wouldn't advise this if you've never put on a pair of skates in your life. You should at least have lessons first. Do you want to be the bride who falls over on the ice in her beautiful dress? What if you rip it?!
19. Festive 'Just Married' Wreath
You can't forget about the 'Just Married' sign on the car, and we love this festive 'Just Married' wreath idea, another great way of mixing in Christmas traditions with your big day.
Another creation easily made at home, and one you could even get the kids involved with (child labour!), a piece of board with some beautiful glued-on embellishments, plus glitter signage sounds like a really good idea.
20. Baby It's Cold Outside
Everyone knows it's cold outside, so you might as well make a feature out of it when your'e getting married in the winter. This station at your wedding is basically a 'warmth station', with everything you need to make a hot drink that you can dunk a sweet biscuit into.
You could have tea, coffee, hot chocolates, whatever you like, it's your big day after all. Just add a miniature Christmas tree and some candy canes for festive measure, and it's perfect for unique ideas for a winter wedding.
21. Unique Wedding Photo Idea
If you can't have your mom and dad at your big day for whatever reason, you could still have them there in spirit. We really like the idea of the bride and groom holding up pictures of their parents on their wedding day, during the big day. It's a really memorable photo, and could even be used when your parents are there too.
You could build this up as a collection of photos over time – your children also taking a picture with your picture in, and then theirs after that. You might even start off a family tradition. Doesn't that sound like an awesome idea?
22. Beautiful Veil Portrait
The veil is usually pushed out of the way when you have your wedding photos taken, but we liked this idea for unique winter wedding ideas. Rather than have the veil tucked out of the way, or blowing away from the face in the breeze, why not have it wrapped around you? Almost like a protective bubble?
We think it sounds like a really cute idea, and the right wedding photographer will be able to master this one for you. Just make sure you tell you what kind of thing you're looking for first, maybe show them this picture?
23. Wedding Day Timeline
And for when you can't really be bothered to print out 'programs' of your big day, how about just having a couple of timelines printed out, placing them in beautiful gold frames, and having them dotted in the appropriate places around your wedding location.
It's simple, everyone will know where they should be at whatever time they need to be there, and it'll be one less thing for you to worry about. Plus, getting all that stuff printed out is expensive. Every little helps!
There are some fabulous and unique ideas for a winter wedding here, and we hope that you've found plenty of inspiration to create a day that is perfect for you. You should most definitely come back and let us know how your big day went, and what pictures you managed to grab some inspo from.
And above all else, happy wedding day!