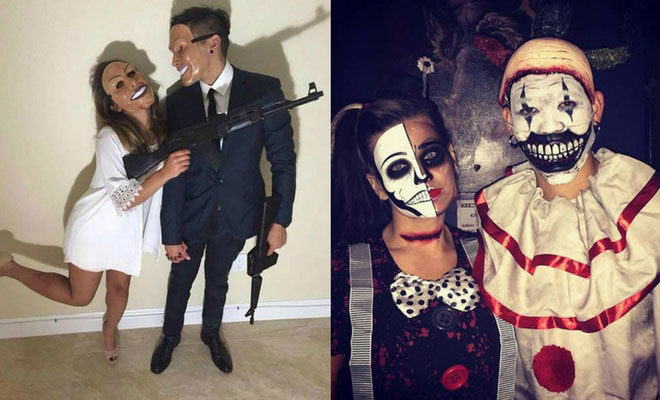 45 Unique Halloween Costumes for Couples
If you're looking for new and unique Halloween costumes for couples, you've come to the right place. These days it's hard work to find something that makes you stand out from the crowd as well as fits the Halloween theme, especially when you're one half of a couple. Thankfully there are hundred of ideas you could try, and here's a few to get you started.
1. The Purge Couple
The Purge: Election Year was a recent hit at the movies, and if you liked the movie so much you want to recreate it for Halloween, here is how you do it: The outfits themselves are actually very simple – you could wear whatever clothes you wanted. It's the props that make this as great as it is – the face masks, for example, and those guns. We probably wouldn't recommend real weapons though. The purge hasn't been brought into play yet!
2. Zombie Couple
And if you don't like the sound of killing people, how about playing people that are already dead? A zombie couple would be very on-trend for right now, especially when you consider big recent TV hits such as The Strain and The Walking Dead. Zombies are in, and although these looks are quite intricate, there are plenty of tutorials online you could follow in order to recreate it. Liquid latex will probably be your best friend for some of that gruesome face work, and just remember to find clothes that you don't mind destroying. Fake blood doesn't wash out of anything.
3. Skeleton Couple
We've covered skeleton makeup, so it's only fair that we cover skeleton couples Halloween costumes too. It's one of those fancy dress ideas that you can easily both get away with, and you could make the female one more feminine, and the male one more masculine. It's the perfect compromise for when you really can't decide on an outfit choice together.
4. Frankenstein + Bride of Frankenstein
In case you didn't know, the story for Frankenstein actually came to the author, Mary Shelley, in a dream. Whilst asleep one night, she dreamed about a scientist who could being a man to life. Carrying on with the fun facts, and in the novel itself, the monster wasn't called Frankenstein at all. He was simply called 'monster', and the scientist was actually called Frankenstein. Now you have some facts to back up your unique Halloween costumes for couples, what do you think about the fancy dress outfit?
5. Mermaid + Sailor
It's not traditionally scary, but if you want an outfit that will stand out for all the right reasons, how about a sailor and a mermaid? It's a little more grown up than Princess Ariel and Prince Eric from The Little Mermaid. Just think of it as an adult's version! You can buy mermaid-style skirts these days, which makes the female version of this couple's outfit super simple, and you don't need to have long red hair if you don't want to. You can be any kind of mermaid you like – blonde, brunette, redhead, even blue hair if you like. His outfit is a little more complicated, requiring a sailor or captain's hat, and a nautical style jacket. Luckily the nautical style has a habit of coming back into fashion, so finding these little beauties shouldn't prove overly difficult.
6. How The Grinch Stole Christmas
We know that the Grinch is Christmassy, but he's frightening too so why not make him a couple's Halloween costume? Don't you think he's fighting enough? This would make for the perfect unique Halloween costumes for couples for those who suffer with something called 'Samhainopobia', which is an actual phobia of Halloween.
7. Sugar Skull Couple
These sugar skulls are amazingly done, and quite frightening too. But do you know what else is even more frightening? There is a haunted cave in Ohio that's actually in the record books for being the longest haunted house in the world. You can find it in an abandoned mine over eighty feet below the ground. Not frightening at all… right? Now we've got the spooky stuff out the way, we definitely think you should give these sugar skulls a go, and just remember that you can get away with colorful clothing when you rock makeup looks like this.
8. Maggie + Glenn (The Walking Dead)
For a split second, we actually thought these two were Maggie and Glenn, but they're not. It's just an amazing Halloween costume! The Walking Dead was a very popular TV show, and people are still waiting with bated breath for the next season to come around. There are so many characters within the show to pick from too – you could choose your favorite characters and dress up as those. What a great idea, right?
9. Zombie Biker Couple
It's like Sons of Anarchy, but if they died. Why wouldn't you want to be a zombie biker couple with your other half. Haven't you always wanted to be in a bike mob anyway? This look isn't for the faint-hearted of course, or for those who don't like the heat. A zombie biker couple wouldn't be completely without plenty of leather (and hell for leather!), and that'll just get hotter as the night wears on. Remember that – maybe have an appropriate top on underneath that you can get away with for when you need to take the jacket / waistcoat off.
10. Phantom of the Opera
What an amazing idea for a Halloween costume for couples? And one that we haven't actually seen anyone replicate before, which instantly makes it a unique winner in our eyes. The Phantom of the Opera is something that never goes out of style, and whether it's not the stage or on the silver screen, it's always being re-hashed. Why not re-hash your own little version of it, and persuade your other half to take part in this fancy dress parade?