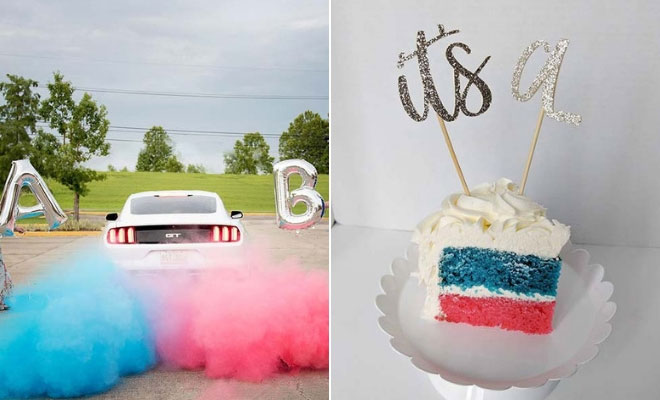 Instagram
Lifestyle
41 Super Cute Twin Gender Reveal Ideas
By
|
Gender reveals have become so popular and now parents-to-be are coming up with more and more creative ways to share the exciting news with family and friends. However, most of the ideas only feature one gender reveal for one baby but what if you are having twins?! Well, if you are expecting two new arrivals, then this is the place for you because we have found 41 super cute twin gender reveal ideas. There are balloons, smoke reveals, cakes and much more! Whether you are having a party or want to create an amazing photo to share, there is something for you.
1. A and B Twin Gender Reveal Cakes
The first twin gender reveal idea idea that we have to show you features two adorable cakes. Both cakes are the same on the outside with a letter A on one and a B on the other. Once you cut open each cake it will reveal pink or blue sponge inside. So, this is like the popular gender reveal cakes but there are just two instead of one.
2. Gender Reveal with Family Pets
A lot of people choose to create a gender reveal photo. This way the photo can be shared on your social media, with family and friends and it can be kept as a memory too. Here is a super cute example of the photo that you could create. The parents-to-be are stood with their family pets and they are all wearing pink and blue accessories complete with handprints on the baby bump. As you can see, it is an awesome photo. You can recreate something like this and you can use the same color on everyone if both babies are the same gender.
3.  Pink and Blue Powder Cannon
Next, we have an easy and fun way to reveal the gender. These two have chosen to share the babies gender by using powder cannons. You can buy these cannons online and they are available in pink or blue. All you have to do is set the cannon off to reveal either pink or blue powder. These are perfect for parties and for creating awesome gender reveal photos.
4. Twin Gender Reveal with Balloons
The next idea is cute and it is great for those who are revealing the babies gender at a party. This couple have chosen to have boxes with Baby A and Baby B wrote on the front. Both boxes have pink or blue balloons inside and once opened the balloons will be released to show the gender. This is a fun idea and you can recreate this or choose different balloon shapes, hearts would look so cute!
5. Unique Gender Reveal Idea
Looking for a unique way to reveal the gender? If so, this could be perfect. Here we have a gender reveal that includes the whole family. Two of their children are stood under an umbrella and the twin parents-to-be are holding paint. They then poured the paint over the umbrella. As they are using blue paint, both babies are going to be boys. It is a fun and quirky reveal and it creates amazing photos and memories too. You can use other things other than paint such as colored water.
6. Colorful Baby Bump
Earlier we featured a couple with their family dogs as a gender reveal idea. On their photo, the mom-to-be had handprints on her baby bump. We thought that the handprint idea was great as its own gender reveal too. So, next we have a close up of the bump. As you can see, she has one blue handprint and one pink one to reveal that the twins will be a boy and a girl. It is such a cute idea and it creates an amazing photo. You can use both of mom's handprints or use one of the dads-to-be too. Also, the T-shirt used can be kept as a special memory.
7. Twin A and B Balloons
Another popular way to reveal the gender is by using a black balloon filled with confetti. Once the balloon is popped, then there will be pink or blue confetti. This couple created a reveal for twins. Instead of one balloon, they had two with Twin A and Twin B wrote on them. This is a fun and simple idea. Similar balloons can be bought online.
8. Two Layer Gender Reveal Cake
Next, we have another cake idea. This time only one cake was used but there are two layers of sponge on the inside that revealed the gender. So, for this cake, pink and blue layers were used for a girl and a boy. You can recreate this cake if both babies are the same gender too. This is just another creative way that you can reveal two genders at once.
9. Cute Gender Reveal Photo Idea
The next idea that we have to show you is another photo reveal. This time the parents-to-be are stood with signs and the scan photos. The signs read it's a girl and it's a boy. This is a cute and simple idea that you can share with family and friends. You can recreate this or wear pink and blue outfits too!
10. Pink and Blue Balloon Arch with Smoke
If you want to go all out with the gender reveal, then this idea could be perfect for you. This couple have created a pink, blue and gold balloon arch. There is also pink and blue smoke in the background. This is such a fun and unique way to show everyone that you are expecting a girl and boy. Recreate something similar or you can just have one color if both babies are the same gender.