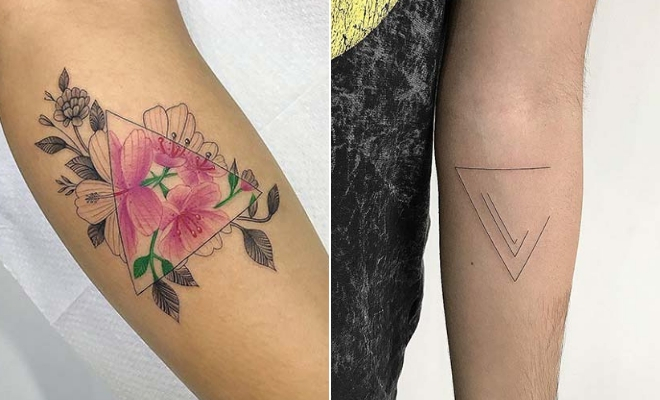 Instagram
Lifestyle
23 Triangle Tattoo Ideas You're Going to Be Obsessed With
By
|
11. Van Gogh Inspired Tattoo
Love art? Then this next triangle tattoo is for you! Here we have a triangular tattoo that features a version of the masterpiece The Starry Night by artist Vincent van Gogh. The Starry Night is a stunning painting and looks amazing as a tattoo. You can recreate this or choose your favorite painting for a tattoo that is unique to you.
12. Butterfly and Triangle Tattoo Idea
Our next design is a beautiful butterfly with a triangle background. The butterfly has stunning detail on the wings and can be recreated like this or with added color. Behind the butterfly are two triangles made up of dash lines. This is a gorgeous tattoo and it can be tattooed anywhere on the body.
13. Watercolor Galaxy Tattoo
Galaxy designs and watercoloring look awesome in tattoos. Here we have a triangle outline that has been filled in with a watercolor galaxy. There is also a palm tree and a character too. You can recreate a tattoo like this with any colors and just have a galaxy triangle without the other designs.
14. Floral Triangle Design
Next, we have another triangle and flower design. This one features a flower that has clear, sharp lines on the inside of the triangle, while on the outside it is a little softer and faded out. It is a clever idea that creates a unique and artistic tattoo. You can recreate this look with any flower.
15. Feathers, Wings and Triangles
Like feather tattoo ideas? Then this one is for you. This tattoo features two triangles with watercolor and wings. There are also feathers dangling off the large triangle too. This tattoo is very unusual and creative. It almost has a dream catcher look to it. Recreate a similar design or use it as inspiration and create your own stylish feathery triangle tattoo.
16. Geometric Flower Tattoo Design
Our next triangle tattoo is cute and colorful. The design has a thin blue triangle outline on the outside with a blue triangle on the inside. There is also a vibrant yellow flower in the middle of the blue triangle. This is a pretty tattoo and it can be tattooed anywhere on the body. Recreate your tattoo with similar colors or use your own color palette.
17. Two Triangle Ankle Tattoos
One tattoo looks stylish but have you thought about two?! Here we have an awesome tattoo idea that features a triangle that has been tattooed on each ankle. The designs match but have a slight difference as one triangle has been colored in. This is such a cute idea. You can have two tattoos like this, or maybe have matching triangles with a friend or loved one. You can both have one triangle tattooed in the same place like this.
18. Lotus Flower Triangle Tattoo
Lotus tattoos have become so popular. This is no surprise as these flowers are beautiful and can be used to create stunning tattoos. Here we have lotus and triangle tattoo idea. The lotus features pretty patterns and it sits inside a black outline triangle. Recreate something like this with patterns of your choice.
19. Watercolor Nature Tattoo
Next, we have another watercolor triangle tattoo idea. This one features an amazing nature theme. There are trees and an eagle while the watercolor looks like a sunset sky. It is an awesome tattoo that will suit everyone. You can create your own tattoo featuring a different nature scene.
20. Double Triangles with Flowers
Love the triangle and flower tattoos? Then you may like this one too. This tattoo features a pretty pink flower with a double triangle design. One triangle is an outline while the other has a dotted line. You can take inspiration from this and have something similar or choose your own flowers with different triangles.
21. Triangle and Insect Tattoo Design
Our next tattoo features a triangular design with an insect. The insect looks like a bee and it has very creative patterned wings. In the background there is a cool triangle and diamond design. This is a unique tattoo that will make a statement. You can recreate with any insect or animal, and with any geometric background.
22. Pretty Gem Tattoo
Prefer something more glamorous? Then this design is for you. Here we have a pretty gem design with a blue triangle outline. You can recreate a similar tattoo to this or use your favorite gemstone, maybe in your favorite color. A birthstone would be a great idea too.
23. Sunflower Tattoo Idea
Last on our list is this flower design. The tattoo features a triangle outline with a beautiful flower in the center. There is also a funky circular pattern on the outside. This is a cute and quirky tattoo that would look great on anyone. Recreate a tattoo like this or choose your own flower, a dotted triangle would look nice also.
We hope you have found inspiration for your next tattoo!