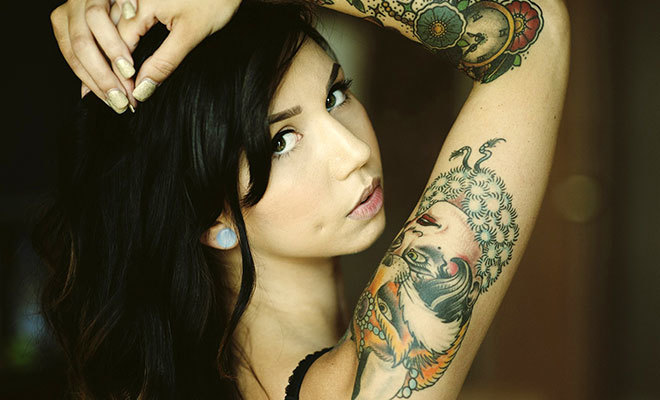 tattoocanyon.com
Lifestyle
Top 41 Gemini Tattoos for Girls
By
|
Zodiac sign tattoos are one of the most popular tattoos among women and men. If you are true to your sign and you check your horoscope daily, zodiac tattoo may be the perfect one for you!
If you were born between May 21 and June 20, your zodiac sign is – Gemini. Gemini's traits are: adjustable, versatile, enthusiastic, soft-spoken, humorous, witty and intellectual. Geminis can never be boring! They are bright, curious and quick-thinking. They like to talk  a lot and entertain people around them. This is what will Gemini tattoo say about you, if you choose to have one.
We made a collection of various Gemini tattoos and we want to share them with you. Who knows, maybe your first or next tattoo will be one from our list. Get inspired with these amazing Gemini tattoos:
1. Gemini Arrow Tattoo
Your Gemini sign can be created of arrows. Arrows have many symbolic meanings attached to them – direction, power, love, war, hunting , swiftness and knowledge.
2. Gemini Middle Finger Tattoo
Small and simple yet so special, right?
3. Sisters/Friends Neck Gemini Tattoos
4. Gemini Sign & Stars
To make your Gemini sign extra special, add some stars to it. Stars can represent a shining, bright point in your life or a desire to achieve something big.
5. Gemini Neck Tattoo
6. Gemini Constellation Tattoo
For more information about Gemini constellation, check this link – Gemini Constellation.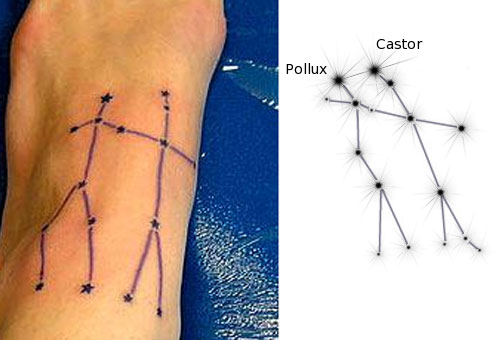 7. Gemini, Libra & Aquarius Tattoo
Zodiac tattoos can be combined. This tattoo represents zodiac signs of family members- Gemini, Libra and Aquarius.
8. 'BFF' Gemini Constellation Tattoos
9. Gemini Leg Tattoo
10. Gemini Floral Tattoo
11.
Tattoos on the side of the finger are a big trend lately.
12. Gemini & Dolphin Tattoo
13. Gemini & Lotus Tattoo
Lotus is associated with awakening, transformation, beauty and strength. This flower is one of the most important flowers in the Asian countries.
14. Angel & Devil Gemini Tattoo
Angel and devil tattoos often represent the balance of good and evil in the world – without evil, there would be no goodness.
15.
16.
17. Angel & Devil Wings Tattoo
This tattoo symbolizes the balance between good and bad. The angel wing represents the good actions a person is capable of, while the devil wing portrays the bad actions.
18. Lily of the Valley & Gemini Sign
Lily of the Valley stands for purity, innocence, simplicity and openness. This flower is considered as Gemini's special flower along with Lavender and Rose.
19. Gemini Rib Tattoo
20. Zodiac Signs Tattoo
This tattoo is a combination of various zodiac signs. You can choose zodiac signs of people that mean a lot to you and create your own tattoo.
21. Gemini Sign & Flowers
To make your Gemini tattoo more feminine and girly, add some flowers and butterflies.
22. Gemini Letters Tattoo
If you don't like Gemini sign, you can just use letters. This woman choose the perfect place for her tattoo and it looks amazing!
23. Gemini Butterfly Tattoo
Gemini sign is part of the butterfly. Butterfly tattoos symbolize transformation and metamorphosis.
24.
25.
26. Unusual Gemini Tattoo
This isn't the usual Gemini tattoo that we're used to see.
27.
28.
Woman with flower symbolizes good, while woman with spider symbolizes evil.
29.
30. Gemini Butterfly Tattoo
Another butterfly-Gemini tattoo with the same symbolism but in different colors.
31.
32.
Way to reinterpret your Gemini sign into something very interesting.
33. Moon & Stars Gemini Tattoo
The moon tattoo is a design tattoo mainly worn by females. The moon has associations with the stars, the Zodiac and the sun. Without the moon, our life wouldn't be possible.
34.
35. Behind the Ear Gemini Tattoo
If you need a special place for your Gemini tattoo, we suggest you put it behind your ear!
36.
37.
Very complex but very beautiful Gemini tattoo. Do you agree?
38. Gemini Tribal Tattoo
39.
40. Purple Gemini Tattoo
Add your favorite color to your Gemini tattoo!
41. Butterfly Gemini Tattoo