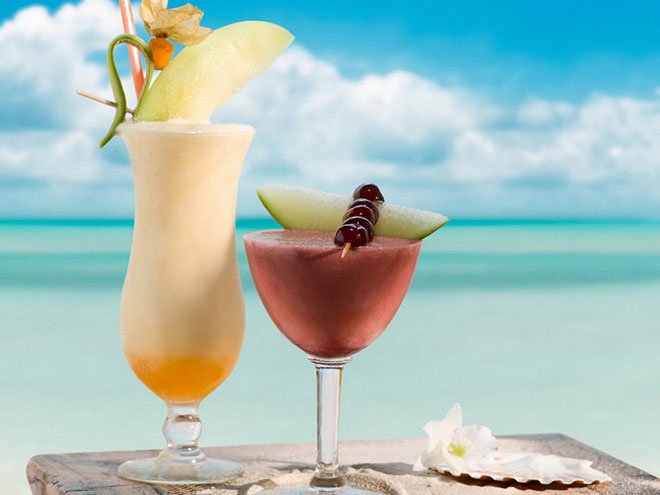 Top 14 Girly Alcoholic Drinks
We made a list of popular girly alcoholic drinks that you can make at home or order in a bar. Whether you're having a girl's night at home or a bar, these tasty drinks will help you to relax and have a great time!
6 DIY Girly Alcoholic Drinks
Luckily, you don't have to be a bartender to make these delicious drinks! We carefully selected the most delicious and popular drink recipes for you and your girlfriends.
1. Sex on the Beach
It's easy, smooth, and tastes amazing! It's one of the most popular girly drinks and very easy to make. We love it because it's fruity, pretty and not too strong. This cocktail is great summer and winter drink.
For 'Sex on the Beach' cocktail, you'll need:
– 1oz Vodka
– ½ oz Peach Schnapps
– 1oz Cranberry Juice
– 1oz Orange Juice
2. Sangria
Sangria is a typical beverage from Portugal and Spain. The main ingredients are wine (red or white), chopped fruits and brandy. This traditional drink is refreshing and easy to make so you definitely need to try it for your next party.
Red Sangria
You'll need:
– Red wine (sweet and fruity)
– Soda (Sprite or Schweppes)
– Brandy
– Fresh Fruits: lemon slices, lime slices, orange slices.
– Frozen Fruits:  peaches, strawberries, blueberries and mango.
– Optional ingredients: lime juice, orange juice, and sugar.
Wash and cut your favorite summer fruits. Lay it flat on the pan and put it in the freezer. Frozen fruits will not stick together and they are great replacement for ice cubes. Mix all the ingredients and let it rest for a few minutes. At the end, you can add sugar if you want it to be sweeter.
White Sangria
For those girls who prefer white wine, we prepared white Sangria recipe.
You'll need:
– White Riesling wine (crisp, fruity wine with citrus overtones)
– Black Raspberry Liqueur
– Orange juice or Grand Marnier (orange liqueur)
– Sparkling Wine
– Fruits
Combine all ingredients in a large pitcher. Stir, taste and serve! For extra cool look, make Sangria in a watermelon.  Find a round watermelon that stands upright on its own. Cut off the top quarter of the watermelon and scoop out the flesh. Add all Sangria ingredients and mix it with the watermelon flesh. Enjoy!
3. Watermelon Vodka
Watermelon and vodka are a great combination for a hot summer parties, right? For this recipe you'll need only two ingredients – 1 watermelon and a bottle of your favorite vodka.
Cut a hole in the top of the watermelon and scoop the top out. Put the bottle in the hole and leave it for 6-12 hours (or overnight). Vodka will absorb into the watermelon. Don't forget to eat (drink) responsibly!
Another way to make this easy recipe is to cut the watermelon in half and scoop all the fruit out. Cut the watermelon flesh into a small pieces. Return the fruit into the watermelon "bowl" and pour the vodka in. You can also carve a zigzag pattern for a better presentation.
4. Strawberry Lemonade Vodka
You'll need:
– Lemon
– Strawberries
– Vodka
– Soda
Chop little pieces of a lemon and strawberries and add them to a cocktail glass. Add simple syrup and mash everything up with muddler. Add some ice and vodka. Give it a good shake! Add the mixture to a glass and top it off with the soda. Mix it with a spoon.
5. Strawberry Daiquiri
Traditionally, strawberry daiquiri is made with rum but we're gonna switch things up and make it with vodka. You'll need:
– 4 fresh strawberries
– Vodka
– 1oz Lime juice
– 1oz Simple Syrup
Add strawberries into a cocktail shaker. Squeeze the lime and add it to the shaker. Add simple syrup and combine all ingredients together with cocktail muddler. Muddler will crush the ingredients and realise essential juices. Add 2 oz of vodka and ice. Shake it and taste it. Cheers!
6. Malibu Cocktail
For this super easy cocktail, you'll need:
– Malibu
– Cranberry juice
– Pineapple juice
Instructions: Add few ice cubes into the glass. Add Malibu, cranberry juice and pineapple juice. Mix it together and enjoy your refreshing drink!
8 Most Popular Bar Drinks for Girls
If you just need an idea what to drink where you go out, we made a list of the most popular bar drinks for girls. We also included pictures, tastes and ingredients so you can choose drinks that suit you the best.
#1 Blue Hawaiian
What's in it? Creme de coconut, pineapple juice, white rum & blue curacao. This smurf blue cocktail tastes just like pina colada.
#2 Cosmopolitan
If you've watched 'Sex and the City' then you know Cosmopolitan was Carrie's favorite drink. Cosmo is made up of cranberry juice, lime juice, triple sec and vodka. It's another fruity drink you'll definitely love!
#3 Mojito
You'll absolutely love the simplicity of a mojito cocktail. Combine lime juice, mint, club soda and white rum and you'll get one punchy and fresh drink. Mojito is a perfect bar drink, especially when it's shared with someone special.
#4 Mai Tai
Mai Tai is Tahitian name which means "Out of this World" – perfect description if you ask us! For a taste of the Pacific islands, you'll need to combine pineapple juice, lime juice, orange juice, grenadine, white and dark rum.
#5 Margarita
Margarita is a classic girl's drink. It's mixture of tequila, lime juice, sour mix and triple sec. It can be served as frozen drink, too. Celebrate this summer with Margarita in your hands.
#6 Long Island Iced Tea
This cocktail dates to the 70's and it's named after Long Island – USA's largest island. It's made with gin, vodka, light rum, triple sec, tequila, simple syrup, cola and lemon juice. No, it doesn't contain tea (it only looks like an iced tea). Long Island Iced Tea is a type of drink that should be in everyone's drink repertoire.
#7 Lemon Drop Martini
This martini is a perfect combination of sour and sweet – great lemony drink. Ingredients are: vodka, triple sec, sugar and fresh lemon juice. Lemon Drop Martini is Oprah's favorite drink. Go easy on these!
#8 Pina Colada
Pina Colada is your perfect transporter drink to the Bahamas. Coco Lopez, rum and ice are ingredients that make this cocktail an ultimate girly drink. Are you ready for your transport to tropical paradise?