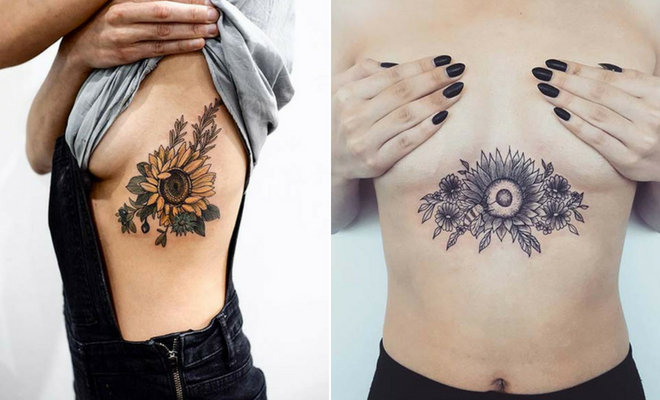 Instagram
Lifestyle
61 Pretty Sunflower Tattoo Ideas to Copy Now
By
|
41. Fun and Colorful Design Idea
The next tattoo we have to share is fun and colorful. This one is a little different from the rest as it is a cartoon sunflower instead of a realistic looking one. We love the multi color petals and the super cute face. You can recreate the tattoo with or without the quote underneath.
42. Cute Sunflower Shoulder Tattoo
The next tattoo is so cute and pretty. Here we have a black ink sunflower that is tattooed on the shoulder. The detail on the sunflower is amazing and it really looks like a work of art. You can try a similar tattoo or you can add a hint of color. We would keep the color subtle though, like a very soft yellow for the petals.
43. Black Ink Sunflower Heart
This next tattoo idea is another one of our favorites! Here we have sunflowers that are tattooed in a heart shape. The tattoo is black ink except for two petals on each flower. Those are yellow. It is a very artistic and pretty design. Body art like this will suit everyone. Recreate this heart or try it without the yellow petals.
44. Trendy Triangle Tattoo
Like trendy and unique tattoos? If so, this is perfect for you. Here we have a black triangle shape with three sunflowers on each corner. It is such a creative idea and it takes the sunflowers from pretty to edgy. Try the triangle design or you can use a different shape with the sunflower in each corner. For a bolder tattoo, you can also add some color.
45. Colorful Sunflower with a Bee
Next, we have a beautiful and bright idea to show you. This tattoo features a vibrant sunflower with blue flowers in the background. There is a cute little bee flying around too. It is a stunning tattoo and the artist has captured the details of the flowers and bee perfectly. This tattoo is great for anyone who loves summer and nature.
46. Pretty Back Tattoo
Sunflowers can look amazing with other patterns and designs too. This is a great example. Here we have a pretty back tattoo with an Unalome pattern. Unalome patterns are very spiritual and can symbolize enlightenment, the struggle you can have on your journey and more. So, when paired with a flower like the sunflower which represents happiness, you have one positive tattoo. Try something similar or use any pattern that means something to you.
47. Double Sunflowers
Sunflowers have never looked more edgy, beautiful and stylish then they do right here! This idea features double sunflowers. Two large sunflowers along with their leaves and smaller flowers have been tattooed just below each collar bone. As you can see, it is such a statement making tattoo! A large piece of body art like this is for those who are really ready to commit. We love these sunflowers!
48. Geometric Tattoo Design
Earlier in the post we featured a sunflower tattoo with a triangular design. If you loved the geometric idea, then you should take a look at this too. This tattoo features one bright and colorful sunflower with two black ink triangle outlines in the background. It is a such a stylish and unique idea. A design like this can be placed almost anywhere on the body from the leg, ribs, arms and more.
49. Ankle Tattoo
Next, we have a cute tattoo to show you. This design features a sunflower that is tattooed on the ankle. The tattoo is in black ink and the detail is beautiful. We love this because the design is badass but pretty too. You can recreate this or add a splash of bright color for a bolder piece of body art.
50. Unique Arm Tattoo Idea
If you are looking for a large arm tattoo, then this is perfect for you. Here we have a unique design that features a sunflower with other flowers. Some of the skin has not been tattooed which creates a cool cut-out design. This is such an awesome and statement making tattoo. Recreate this or you can put the design on all of the arm to create a sunflower sleeve.