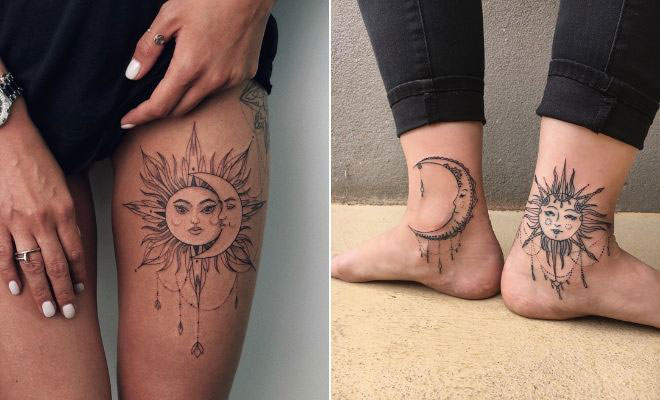 Instagram
Lifestyle
63 Most Beautiful Sun and Moon Tattoo Ideas
By
|
21. Unique Foot Tattoos
If you really want to stand out from the crowd and you love body art, then this tattoo idea could be perfect for you. Here we have two tattoos one of a sun and one of a moon that have been placed on the feet. As you can see, these tattoos look so edgy and cool! We have not seen tattoos like these before and love how unusual they are. Choose a design like this if you really want to show off your ink and if you want your tattoos to be on show all of the time.
22. Patterned Design with Charms
Next, we have stunning tattoos to show you. A sun has been tattooed on one arm and a moon is tattooed on the other. These designs are really unique and gorgeous because both the sun and moon have beautiful patterns. There are also chandelier style jewelry charms too. Recreate this look or you can try adding color to the design. Either way, the tattoos will look amazing.
23. Tiny Sun and Moon Tattoo Design
The last tattoo that we have to show you is so trendy and cute. Here we have tiny wrist tattoos that feature a simple moon and sun outline. These are so stylish and they are timeless too. A sun and moon like this is perfect for those who want subtle body art. This is another great idea for those who are looking for a first tattoo design.
24. Ornamental Back Tattoo
Next, we have a gorgeous back tattoo to show you. This one features a large ornamental moon and a smaller sun. Both are beautifully shaded and adorned with lots of small details. It is a unique and bold tattoo. You can recreate this or have a smaller version placed elsewhere on the body.
25. Sun and Moon Tattoo Together
This next tattoo is another one of our favorites. The design features a timeless design of sun and moon together. Since they are together, they create a circle shape. It is so unique and it looks magical. Try a black version like this or you can opt for a colorful one.
26. Mystical Tattoo Idea
Speaking of magical tattoos, here is another amazing one! This is a large piece of body art that covers the calf. The design features two tarot cards on each calf. Tarot cards really make the tattoo look mystical and mysterious. You can use any tarot cards if recreating the tattoo.
27. Patterned Sun and Realistic Moon
You don't have to have the sun and moon in the same design. Maybe try two separate ones like this. One wrist has a patterned sun tattoo while the other has a more realistic moon design. We love this because they match but are also amazing individual tattoos. Something like this would be great for families, friends or partners – as one can have the moon and the other the sun.
28. Matching Sun and Moon Designs
If you like the idea of having a matching tattoo with a friend or loved one, then this idea is for you. Here we have two people. One has an ombre moon and the other has a unique sun. As you can see, the two tattoos coordinate but they are also great separate tattoos. Recreate these or you can have similar moon and sun designs placed elsewhere.
29. Pretty Thigh Tattoo
Next, we have another pretty thigh tattoo. This one is quite small for the thigh area and features a beautiful sun with a large crescent moon. The tattoo is also finished off with delicate and elegant dangling charms. This is a stunning tattoo that will suit everyone. You can have a similar tattoo or choose a larger version as the thigh is a bigger area.
30. Half Sun and Half Moon
We love this next tattoo because it is stylish, cute and unusual. This tattoo features half of a sun and half of a moon. It is such a trendy and minimal design. You can recreate this or choose an even simpler version by just having the outline of the moon without the shading. This is a small tattoo that will suit everyone.