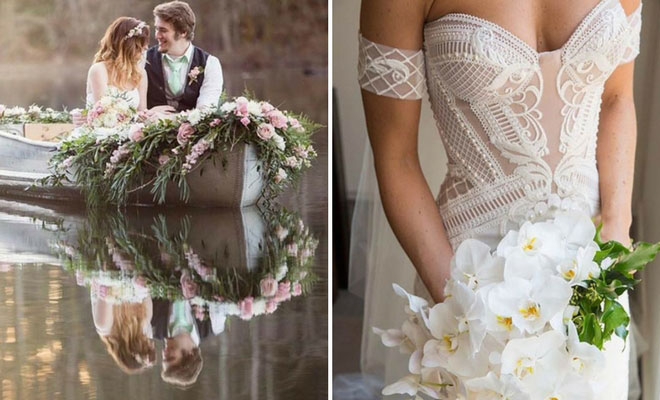 Instagram
Lifestyle
21 Spring Wedding Ideas You'll Want to Steal
By
|
11. Cute Wedding Favors
Wedding favors are lovely tokens given to the guests as a reminder that they shared your special day. We found a beautiful idea that will last long after the ceremony – flower favors. These cute baskets have packets of seeds for the guests to take home and grow. You could do this with any plant! It is a memory that will last. Not only that but more plants are good for the planet. It's a win-win.
12. Bold Bouquet
Spring brings with it a selection of bright colors. These vibrant shades influence everything from fashion to what we put in our homes. Why not add a flash of color to your bridal bouquet? We love the white or soft tones but try something different with bold flowers like these. This bouquet is full of beautiful shades that will give a pop of color to any wedding dress.
13. Bridal Bling
If diamonds are your best friend, then this unique crystal bouquet is for you! This is a fresh take on the traditional flowers and will give your wedding outfit a luxury look. We love this idea because it will sparkle beautifully when caught by the sun and lights. You could even add different colored gems.
14. Mr & Mrs
There are so many cute little touches you can add to make your wedding special. This is one of our favorites. Mr and Mrs chairs. These are a lovely feature and as you can see are a great photo opportunity. You don't have to stop there you could have bridesmaids chairs, mother of the bride and more.
15. Personalized Wedding Decor
Personalized wedding decorations will be a beautiful touch to any ceremony outdoor or indoor. This gorgeous wall sign features the bride and grooms names with the date and flowers along the top. The rustic wood and flowers compliment each perfectly and would look beautiful at a spring wedding. You could put any flowers on a sign like this.
16. Wedding Balloons
Nothing says party like balloons! Show all your guests where the best wedding of the year is with Mr and Mrs balloons. These are fun and will decorate the venue beautifully. You could even get different shapes and colors to suit your theme. Great for outdoor spring ceremonies because they will last through rain or shine.
17. Umbrellas
The weather can change in the blink of an eye. One minute it's glorious sunshine and the next springtime showers. So, be prepared and have some umbrellas on hand. You can personalize them just like this couple. Bride, groom, bridesmaids and more. You could even have a color that matches your theme.
18. Wedding Wellies
The weather can be unpredictable. So, we have another weather solution and that is to embrace the rain and wear wellies! It seems a bit crazy to wear wellies but this couple wear them so well. If you are having an outdoor spring wedding with plenty of grass and quite a relaxed dress code then this is for you.
19. Guest Shawls or Blankets
Outdoor weddings are very popular in the spring. It can be sunny in the day time but when the sun goes down there might be a chill in the air. This is easily solved, you can keep you and your guests warm with a blanket or shawl. A basket like this is a cute touch to your wedding and every guest will feel looked after.
20. Dancing Shoes
If you want a wedding with an epic party then this next idea is something for you. You are now hitched and dancing the night away with your family and friends. The last thing you and your girls need is aching feet in those stunning but painful heels. Try giving your feet a break with a comfy shoe basket! You could fill it with flip flops like this one or a shoe of your choice. This is a quirky idea that I wish every dance floor had!
21. Tokens of Love
A wedding is full of love. Many couples display their love through photos and decor that means something to them. We have found a beautiful piece of art that would be a lovely finishing touch to any wedding. A framed map where you first met. It is a reminder to you and all your guests about the journey you and your partner have taken together. You could recreate it to match your theme. It can also be kept after the event as a keepsake.
We hope you have been inspired by these spring wedding ideas. For all those couples that have a wedding approaching we wish you all the best with your new life together!