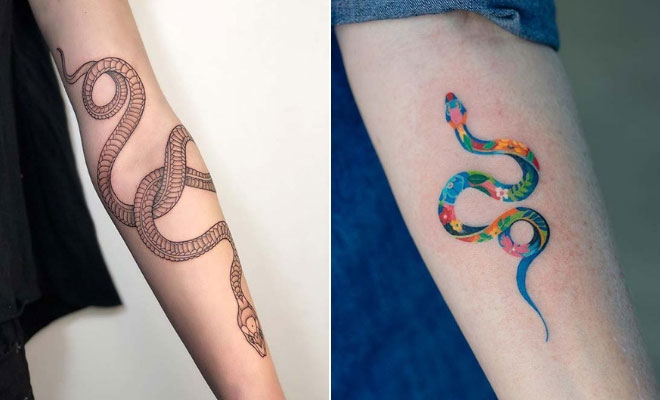 Instagram
Lifestyle
43 Bold and Badass Snake Tattoo Ideas for Women
By
|
21. Stylish Snake Sternum Tattoo
Our next idea is another sternum tattoo. This one features a smaller snake than the sternum tattoo we featured earlier. It is a cute and stylish design that will look amazing on everyone. Recreate this or you can add some color to the design for a bolder tattoo. A snake like this can be tattooed elsewhere on the body because it is quite small. We think it would look cool as a spine tattoo.
22. Unique Blue Snake and Flowers
Next, we have another blue snake. This one is colored in with different shades of blue and there are beautiful flowers surrounding the snake too. It is a pretty and unique idea. Try a blue snake tattoo like this or maybe a similar design with a different colored snake or different flowers.
23. Bold Back Snake Tattoo
The last idea we have to show you is a bold back tattoo. It is a beautiful tattoo that will wow anyone who sees it. A design like this will look stunning with added color too, maybe consider watercolor.
24. Black Snake Arm Tattoo
Next, we have a bold arm tattoo! This design features a simple black ink snake that looks like it has wrapped itself around the arm. It is such a badass tattoo and it really makes a statement. You can recreate this or a similar design will look amazing on the leg too. If you want to add some color, then you can also use any snake pattern.
25. Black Snake with Flowers
The next idea is so feminine but also fierce. This time we have a black snake that is tattooed on the thigh. The snake is surrounded by watercolor flowers. We love the combo of the snake and flowers, it is so sexy and beautiful. Try a similar design or you can use any snake and flowers.
26. Small Snake Back Tattoo
If you want a smaller snake tattoo that's easy to cover if needed, then this is perfect. Here we have a cool back tattoo. As you can see, the snake is tattooed in the middle with a weave design. The placement is amazing and it is such a timeless and gorgeous piece of body art. You can recreate a back tattoo like this with any color snake.
27. Tiny Snake Tattoo Design
This next tattoo is another one of our favorites! Here we have a small snake that is tattooed on the wrist. What we love about this tattoo is the design on the snake. It has a gorgeous red and black pattern. This is a stunning tattoo and the placement means it is quite subtle too. A design like this will look amazing on everyone.
28. Badass Foot Tattoo
Looking for a badass foot tattoo? If so, this is perfect for you! This tattoo features a large snake that has been placed on the top of the foot. The snake is very dark at the head and then the color gradually gets lighter. This design is finished off with flowers in the background. It is an awesome tattoo and it really makes a stylish statement.
29. Snake Hip and Thigh Tattoo
If you want a large piece of body art that will wow, then you need to see this. This design has a large snake that starts on the hip and ends on the thigh. It is such a sexy and statement making tattoo! Recreate the beautiful black ink snake or you can try a colorful version. Maybe the red and black design, that would look amazing.
30. Snake with Flowers
Next, we have another floral snake tattoo. For this, we have a snake with a black outline and scale detail. While the flowers surrounding the snake have a red outline and shading with black leaves. The design is so unique and the colors look amazing. Something like this can be placed anywhere on the body. The arm, leg, sternum or back would be good choices.