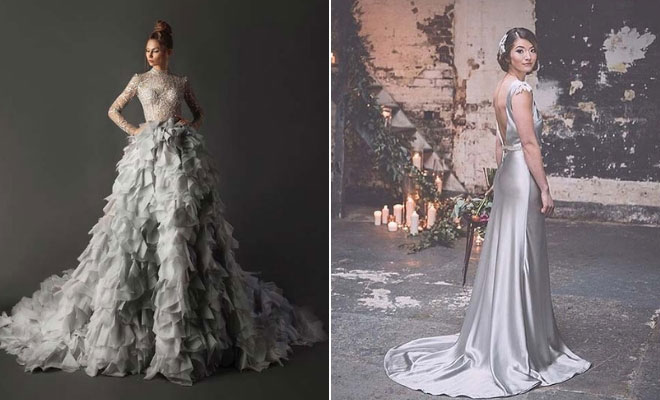 Instagram
Lifestyle
21 Silver Wedding Dresses That You'll Fall in Love With
By
|
11. Glamorous Silver Wedding Dress
Our next idea features a beautiful backless gown. There are straps that start at the front and end at the back which creates a backless look. The straps also create a cut-out section too. It is an elegant and trendy wedding dress that will suit any bride. There are lots of backless dresses available when you shop around, so you can easily find the perfect one for you.
12. 1940's Style Gown
Love the vintage dresses? Then this is for you. This time we are bringing you a dress with a 1940's design. As you can see, the detail and style of the dress is just stunning. It is sleek, silver and stylish. You will definitely wow in a gown like this one. It would be the perfect choice for the brides who want to look chic and elegant.
13. Winter Wonderland Dress
Planning a winter wedding? Then a silver dress is perfect! A silver dress will suit the icy and wintry weather beautifully. Here is a gorgeous example. This gown is long with a close fitting bodice and sleeves. The whole dress is covered in the same stunning silver pattern. Sleeves and a heavier fabric like this are perfect for the colder weather as it will keep you warm.
14. Sparkly Silver Wedding Dress
Add some sparkle to your special day with a wedding dress like this one. The gown features dark and light silver tones with a belt and silver sparkles. It is all light fabric and the skirt is made with tulle. This is a beautiful dress and it is perfect for a glam bride who wants to look unique.
15. Trendy Silver Bridal Gown
Our next idea is a trendy silver gown. The dress is strapless and is close fitting with a stylish skirt design. This skirt has a fabric pattern over the top which makes it chic and unusual. A dress like this is gorgeous and would look fabulous on any bride. You could have a gown like this one, but the dress would look beautiful without the different fabric on the skirt, too. It would be simpler but very elegant.
16. Statement Silver Wedding Dress
If you have always dreamed about having a beautiful dress with a long train, then this is for you. This gorgeous gown has sleeves and a backless design. The skirt is long with a stunning train. A dress like this makes a statement and you will look like a glam princess on your big day. We love this gown!
17. Icy Silver Dress
Next, we have another icy and wintry dress to show you. This sleeveless gown has a beautiful bodice with a low neckline and long skirt. All of the dress is covered in a trendy pattern that reminds us of trees in the winter. A gown like this would be stunning for a winter wedding, you could even add a cape to keep warm.
18. Unique Wedding Dress Idea
Don't want to follow tradition? Then this is the dress for you. This is a very unique idea, it is a short silver dress with an elegant overskirt. We know this is way different to the classic bridal gowns, but think it would be fabulous for a beach wedding. It could also be perfect for a glam, party loving bride or for those who like to break the mold. You could even wear it for the party afterward if it is too different for you.
19. Vintage Silver Wedding Dress
Our next silver wedding dress is another one with a vintage vibe. It has beautiful off the shoulder straps with sparkles and a long stunning skirt. We love this gown because it has an Old Hollywood Glamour look. It is just stunning and you will wow on your big day in a dress like this one.
20. Backless Wedding Gown
Love the backless dresses? Then this idea is for you! This dress is sleek and lacy. There are beautiful silver embellishments too. A dress like this combines classic wedding looks like the lace, and combines it with trendy and modern designs like the backless style and silver color. It is a gorgeous gown and it will look amazing on any bride.
21. Ivory Wedding Dress with Silver Details
The last silver wedding dress we have to share with you is this stylish gown with an overskirt. The dress has a sweetheart neckline with off the shoulder sleeves and it is ivory with a stunning silver pattern over the top. This gown is finished off with an ivory overskirt. It is an ornate and beautiful idea and it is perfect for a glam bride.
We hope you found inspiration from our silver wedding dresses and that you can now find the perfect gown for your special day!