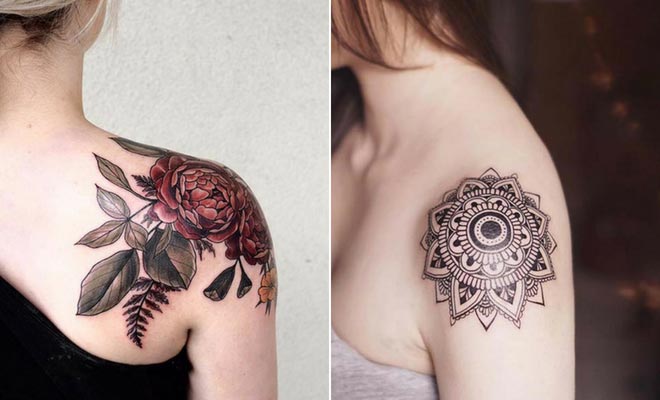 Instagram
Lifestyle
41 Most Beautiful Shoulder Tattoos for Women
By
|
21. Flower Shoulder Tattoo Design
The next shoulder design we have to show you is this floral piece. It has beautiful large flowers as well as smaller flowers and plants. You can have a black ink design like this one or add some color. A design like this would look amazing with the watercolor technique.
22. Beautiful Flower Tattoo
Our next shoulder tattoo features a pretty floral design. There is one beautiful flower with a leafy pattern all the way around. This is a gorgeous tattoo that will suit anyone. Recreate this design or you can have it moved over a little onto the shoulder joint. You can also add color to the flower too, this will give the tattoo a bolder look.
23. Stunning Hummingbird Tattoo Idea
Looking for a bold and unique tattoo? Then this idea is for you. Here we have a stunning hummingbird. The bird is quite big and it is decorated with beautiful patterns including hearts, geometric designs and more. You can take inspiration from this and create something similar or use a different bird with different patterns.
24. Shoulder and Collar Bone Floral Tattoo
Next, we have a beautiful floral tattoo. This tattoo features flowers on the shoulder and the design continues onto the collar bone. As the tattoo is one the collar bone and the shoulder, it really stands out and makes a statement. You can try peony flowers like these or choose different flowers for your tattoo. You can also brighten up the flowers by adding pop of color.
25. Pretty Shoulder Tattoo Design
When choosing a shoulder tattoo, you do not have to choose just one design. You can combine a few together just like this. This shoulder tattoo includes a flower, a mandala and a decorative jewelry feature. Even though all three designs are different, they compliment each other beautifully and create one stunning tattoo. Try something like this or you create your own unique design.
26. Bold Poppy Flower Tattoo
Love vibrant tattoos? Then this idea could be perfect for you. Here we have a shoulder design that features two beautiful, bright red poppy flowers. If you love red, then you can have a similar tattoo to this or you can have a flower created in any color you like. Maybe choose your favorite flower so the tattoo represents you.
27. Statement Calla Lily Tattoo
The next tattoo we have to show you is very unique and bold! This tattoo features a beautiful purple flower that starts on the shoulder and ends all the way down the arm. The flower used is stunning and it is a very creative and artistic design. If you want a large piece of body art, then a design like this is perfect. Any flower can be used to recreate a similar look.
28. 'Focus on the Good' Shoulder Tattoo
Do you have a favorite quote that inspires you? Then why not have it tattooed on your shoulder like this?! This design features the words "focus on the good". As you can see, it is a positive and empowering message and it also creates a trendy shoulder tattoo too. You can have any quote or inspiring words tattooed on your shoulder.
29. Rose Shoulder Tattoo
Tattoos look so trendy and cool when they are on the shoulder joint. Don't just take our word for it, check out this next design. Here we have a beautiful black ink rose that is tattooed on the shoulder joint. The rose still has that pretty and feminine look but because of the placement, it has an edgy vibe too. You can try a rose tattoo like this or you can choose a different flower instead.
30. Cute Botanical Shoulder Tattoo
If the pretty flowers are not your thing, then why not try a botanical tattoo. You will still get the natural, plant look but it is a little different to the popular floral pieces. This shoulder tattoo features a cute berry design. We love this unique tattoo and the colors used too. It is an unusual idea that is perfect for someone who wants a tattoo that is different to the rest.