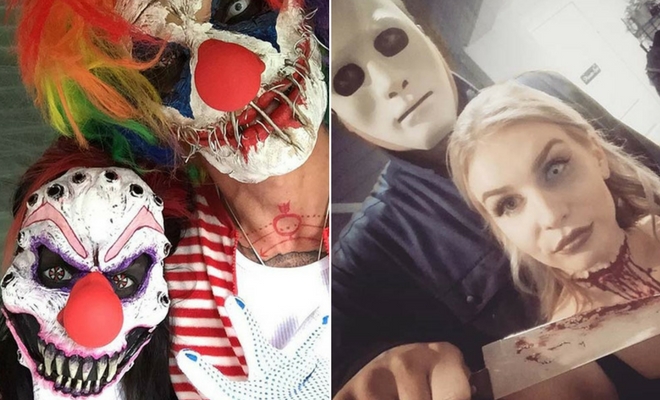 Instagram
Lifestyle
Scary Halloween Costume Ideas for Couples
By
|
Going to a Halloween party with your other half? Then why not choose a couple's costume. Choosing a costume that matches will give you both a fun and unique look that will be a hit at any party. There are so many awesome costume ideas for two people that you will find it hard to choose. We have done some of the work for you and have found 23 scary Halloween costume ideas for couples. There is a costume idea for every couple, take a look to find your favourite.
1. Scary Clowns
First up we have these two scary clowns. These two have different masks but matching striped outfits. Costumes like this will give all the party guests a fright. You could recreate your couple's costume with any masks just make sure you match the outfits.
2. Chucky and His Bride
Chucky is a well-known horror film. These two have created a scary couple's costume by dressing up as Chucky and his bride. These costumes will make fun DIY Halloween projects and easy to recreate. This idea is perfect for the couple who are looking for a creative costume that is perfect for Halloween.
3. Skeleton Faces
You can create a couple's costume by wearing matching makeup. These two have created a unique look by wearing half skeleton makeup. Skeleton makeup is quite simple to recreate. There are many tutorials available online to help you achieve the skeleton design.
4. Dexter Costume
Our next pick isn't terrifying at first glance but just because it isn't gory doesn't mean it's not scary. These two have dressed up as Dexter and one of his victims. Dexter is a well-known tv show about a killer. Anyone that has watched it will know that Dexter can be a scary guy. So, create this unique costume that will be a hit at any party.
5. Day of the Dead Skeletons
Day of the Dead skulls are very popular choices for Halloween. These skulls look great as a solo idea but will also make a great couple's costume. To create this look you will need to choose your design, the designs don't have to be the same as you will match because of the similar style. A costume like this is a fun and spooky idea for any couple.
6. Puppets
Next, we have a puppet makeup idea. This look is unique and easy to achieve.
7. Killer Scary Couple
Create killer outfits this Halloween by choosing costumes from well-known horror films. One is dressed as Freddy and the other as Jason. These two are scary costumes that will be a hit at any party. You can also choose two different horror movie icons.
8. Scary Halloween Masquerade
Want a unique costume? Then take inspiration from these two. This couple have created scary masquerade look. They are wearing masks with blood around the edges. The masks are different but do match. You both could choose any mask from chic to vibrant and bold.
9. Scary Doll Couple
Dolls are very creepy. So, doll costumes are perfect for Halloween. These two have created very dark and scary Halloween costumes by looking like dolls. Costumes like these will look great at any party. There are many doll makeup and outfit ideas so you can be creative to create a terrifying look.
10. AHS Inspired Couple Costume
American Horror Story is a very popular TV show that is full of horror and fright. It is no surprise that this terrifying TV show has inspired many Halloween costumes. These two have dressed up as Twisty the Clown and The Countess. You could recreate scary Halloween costumes like these or choose your own characters.