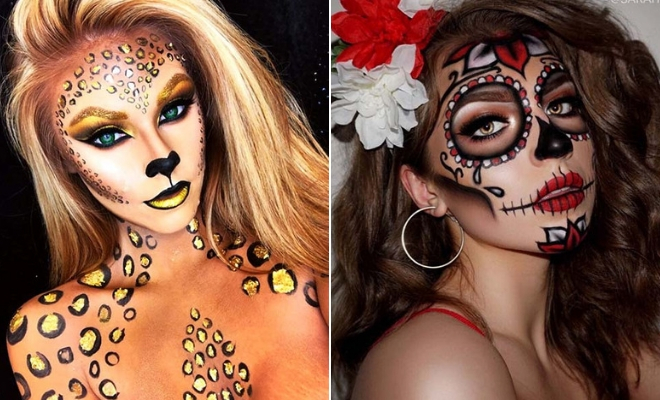 Instagram
Lifestyle
45 Pretty DIY Halloween Makeup Looks & Ideas
By
|
11. Mermaid Costume & Makeup Idea
Next, we have a magical makeup idea in the form of a mermaid. This is a unique take on the mermaid look as the artist has added pearls and gems. We love this idea! It is pretty and will wow at any Halloween event. Recreate something similar with pearls and gems or just take inspiration from the actual makeup, as the eyes are stunning and are perfect for a mermaid.
12. Poison Ivy
Our next idea is inspired by supervillian Poison Ivy. The look has been created with red lips, green eye makeup and a leafy design. It is completed with a red wig. This is such a cool and pretty take on the character. You can create this look or take inspiration from the many different versions there is of Poison Ivy.
13. Deer Halloween Makeup
Want to look cute but don't want a complex makeup design? Then this idea is for you. Here we have adorable deer makeup. Deer makeup has become super popular and we can see why. The look is made up of white dots, shading, a black nose and pretty eye makeup. It is a simple but gorgeous design, perfect for Halloween celebrations.
14. Vibrant Sugar Skull
Next, we have another sugar skull makeup idea. This one looks more traditional with the vibrant colors and design around the eyes. It is a fun, beautiful and statement making idea. You can recreate this red look or choose your own colors. Try to match your floral headband with the colors you choose.
15. Cute DIY Scarecrow
Earlier in the post we featured a scarecrow, if you liked that idea, you may like this one too. This scarecrow design is like a simpler version. It features small colorful patches with stitches on the mouth. The rest of the makeup is pretty and like you could usually wear. It is a simple, easy and cute makeup idea perfect for the festivities.
16. Pretty DIY Cat Makeup Idea
Our next pick is another cat idea. This one is a little more difficult than the one featured earlier. The eyebrows have a furry look as does the makeup around the eyes. This is such a gorgeous makeup idea that shows off your beautiful makeup while making you look like a classic Halloween cat.
17. Fall Inspired Pumpkin Makeup
Halloween is part of the fall so you can add influences from the season into your makeup. Here is a great example. The artist has created a pumpkin design with the addition of fall leaves. This is a cute idea and you can recreate something similar or use the leaves with a classic Halloween pumpkin face.
Here's a YouTube tutorial for the look:
18. Pretty Pikachu Makeup
Are you a fan of Pokemon? Then this makeup idea is for you! This artist has created a fun Halloween look inspired by the Pokemon character Pikachu. It is a cute makeup idea and it is perfect for parties. Create your own look inspired by Pikachu or choose your favorite character.
19. Snow White
Next, we have another Disney princess. This makeup has been inspired by Snow White. Again, Snow White has minimal makeup so it is a simple look to create. You can be as bold or as subtle as you like with the eyes, but try to keep the red lips like the movie character. This is a great example featured below. Finish off with a wig and similar outfit and your look is complete.
20. Pretty Halloween Makeup with Glitter
You can jazz up any Halloween makeup with glitter and sparkle. Here we have a skull inspired design with glitter added to the face and hair. While she still has a spooky skeleton look, it is also pretty to due to the sparkle. You can add glitter to any Halloween makeup.