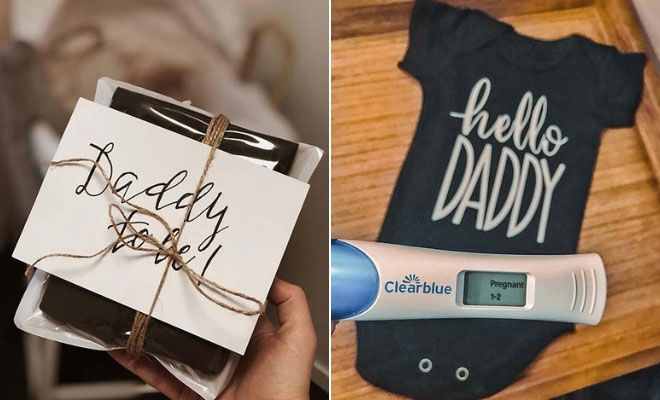 Instagram
Lifestyle
21 Unique Ways to Announce a Pregnancy to Your Husband
By
|
11. Personalized You're Going to Be a Daddy Vest
Next, we have another baby vest idea. This one is personalized and reads "You're going to be a daddy". It is an adorable way to announce the news to your husband. Keep it simple or you could add a vest like this to one of the surprise boxes we shown earlier. You can buy these vests on the Instagram page below.
12. Daddy-To-Be Badge
Make your husband feel special with an announcement like this. Here we have a daddy-to-be badge. It is so cute and a badge always makes people feel great on special occasions. You can buy these badges on the page below. Try a pink one like this or you could use any color. A badge can also be kept as a memory of the amazing day too. You could give it to him with a card or maybe with a new t-shirt.
13. Future Gaming Buddy
The next idea is another video game announcement. This one features a baby vest that reads "future gaming buddy" and it is surrounded by seasonal decorations. It is a super cute announcement that is perfect for the gaming husbands. Recreate a seasonal reveal or you can try using a similar vest in a surprise box or as a gift.
14. Game of Thrones Inspired Pregnancy Announcement
Is your husband a fan of Game of Thrones? If so, this idea is great for you. This mom-to-be revealed the news with a baby vest. The vest has a GOT inspired design and it reads "Baby of house" with their surname. It is a fun and unique idea. The baby can wear the vest once born or your partner can keep the vest as a memory.
15. Cute Baby Vest Idea
If you and your husband have been trying for a baby for a while, then you could choose an announcement like this. Here we have a baby vest with "Took a few tries but it finally worked" wrote on it. This is perfect for the couples who have been struggling as it makes the news extra special. There is also a pregnancy test at the side of the vest and you can recreate this. You can buy these adorable vests on the page below.
16. Simple and Cute Pregnancy Announcement
Looking for a simpler announcement? Then take a look at this. For this reveal, a white card was created with "you're going to be a great dad" wrote on it, the card is also personalized. This is just a cute and easy way to share the news. A card like this is great for the husbands who don't like a huge fuss, so it is toned down but special.
17. Can't Wait To Meet You Baby Vest
This next idea features a baby vest that is almost like a gift from the newly expected arrival. Here we have a baby vest that says hi to the Dad-to-be and it says that the baby can't wait to meet him. The vest is personalized too. This is a such an adorable way to announce the pregnancy to your husband. As you can see, you can create a beautiful photo which would be great to share on social media.
18. Announcement with Balloons
If you really want to wow and surprise your husband, then this idea is perfect! This announcement features huge balloons that spell out baby and the dad-to-be was given a cute baby vest too. The balloons and vest are such an amazing way to share the news. You could even invite family and friends to the announcement or film his shocked reaction.
19. Pregnancy Cards
Next, we have more pregnancy cards. One design says "I'm pregnant" and the other reads "We are expecting". You could buy cards like these and write a little message on the back or you could add these to a surprise box. Cards like these are available online or if you like crafts, you could make some yourself.
20. Christmas Inspired Announcement
The next idea features another seasonal announcement. This one is for Christmas. Here we have a baby vest that is personalized with the due year and it talks about how it is the best gift ever. This is an adorable way to tell your husband the news. You can just use the vest or you could even wear the t-shirt and wait for him to notice. Either way, it will be special. You can order these vests on the page below.
21. Daddy-To-Be Package
Last on our list of announcements is this Daddy-to-be idea. As you can see, a small package has been created with string, a gift and a beautifully written note. You could create one of these with a baby vest inside or maybe a t-shirt with Daddy-to-be or something like that wrote on it. This is a unique way to share the news. As you have put the package together yourself, it makes the gift more personal too.
We hope you have found an amazing way to share your exciting news!