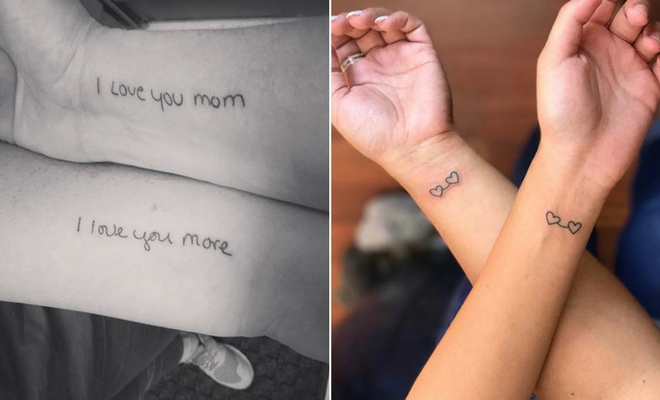 Instagram
Lifestyle
23 Popular Mother Daughter Tattoos
By
|
Usually a tattoo design is chosen because it has a special meaning behind it. It can be a memory, favourite song and more. A theme that has become very popular is mother and daughter tattoos. These designs symbolize the special bond that a parent and child share. We love these cute tattoos and think you will to. So, we have found 23 mother daughter tattoos. There is something for every style from simple and subtle to bold and creative. Get your mom and take a look at these ideas together so you can get inspired!
1. Love You Mom Tattoo
Our first mother daughter tattoos idea are these handwritten designs. There are two tattoos one on the daughter's arm and one on the mother's. One reads "I love you" and the other "I love you more". Tattoos like these would be cute as they were but each one looks handwritten. You can write a word down and have it tattooed on. Having each other's writing on the design makes the ink unique and personal.
2.  Simple Finger Tattoos
Finger tattoos have become very popular. These are trendy and many designs can be created even though it is a small tattoo area. If you are both looking for a simple tattoo, that isn't that painful and that will be quick to complete then this idea could be for you. This mom and daughter have little hearts inked on their finger. It is a classic symbol of love and will look cute in everyone.
3. Mother and Daughter Stick Figure Tattoos
Next, we have this quirky and creative tattoo idea. These tattoos feature two people talking with a tin can phone. One person is tattooed on the daughter's arm and the other on the mom's arm. This is a cute design that symbolizes that you will also be together even if you are apart. You could customize the figures to look like each to with hair etc.
4. Cute Bird Tattoos
Our next mother and daughter have chosen two bird designs. Tattoos like these are great if you don't want a tattoo that obviously represents you both or that matches. A bird design like this is timeless and will suit all ages. You could also choose your favourite bird for a tattoo like this.
5. Matching Rose Tattoos
Roses are a pretty and feminine flower which makes them a great flower to choose for a mother and daughter tattoo. These two have had matching rose tattoos inked. The roses are delicate and beautiful. The roses symbolize the dedication they have to one and other. Rose tattoos like this would be a stunning choice for any mother and daughter.
6. Double Heart Design
If you want something simple but special then this next idea could be for you. The original meaning behind this was for a miracle baby however it can be a symbol of many things. As the tattoo is two small hearts it can represent the love of two people. It would be a beautiful tattoo for any mother and daughter.
7. Stylish Triangular Tattoo Designs
These next tattoos would be perfect for a mother and two daughters. There are three tattoos of three triangles. One each tattoo one triangle is shaded. This design can represent the number. So, mom has the top triangle shaded, then the first daughter has the second one shaded and the next daughter has the bottom triangle shaded. This would also work if you had a super cool grandmother who wanted a tattoo. It could be a symbol of three generations.
8. Beauty and the Beast Tattoo
Beauty and the Beast is a movie that is loved by generations. This next tattoo is of Mrs. Potts and Chip. While we know that Chip is a boy these two would still make cute mother daughter tattoos. It can represent the bond between a parent and child or it could just be the favourite movie of you both. We love this idea.
9. Floral Name Tattoos
Our next idea shows how beautiful personalized tattoos can look. These two have a beautiful matching flower with the name mom and one and the daughter's name on the other. You could make a design like this unique by adding in your own name and you could also change the flower.
10. Matching Star Sign Tattoos
These next tattoos are of the star sign Aquarius. Having matching star signs is such a cute idea especially if you have the same one. However, if you don't you could get each other's symbol tattooed. It is a funky way to connect two different tattoos to each person.