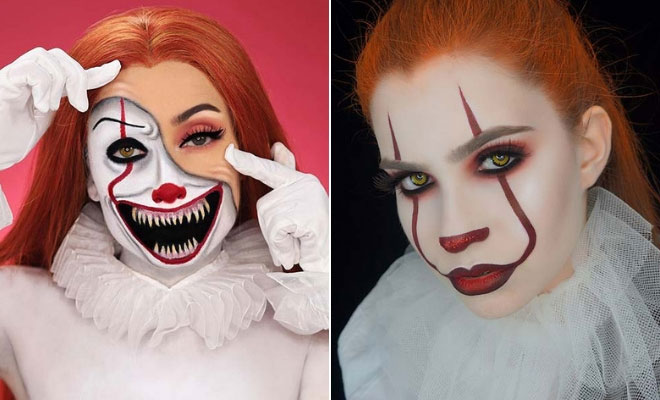 Instagram
Lifestyle
23 Pennywise Makeup Ideas for Halloween
By
|
11. Scary Pennywise Illusion Makeup
If you really want to give people a fright this Halloween, then this idea is perfect for you. This makeup artist has created scary illusion makeup. One eye is glam and the rest of her face looks like Pennywise. We love this because she has created a sharp teeth illusion and her skin looks wrinkled too. This is a one of our favorite looks and it will be perfect for any Halloween occasion. You can check out what products were used on the page below.
12. Pennywise Makeup with Balloons
This next idea is unique and clever. The makeup artist has created a version of the Pennywise clown makeup that we see in the movie but she has give it a twist. She has added red balloons to the design. The balloons are such an awesome idea because Pennywise is often seen with a red balloon. You can recreate this or try the balloons with scarier makeup.
13. Glam Pennywise Makeup Idea
Next, we have a very glam version of Pennywise. This time the makeup artist has created dark and dramatic eye makeup that is complete with a clown nose, red lips and the Pennywise design. With makeup like this, you will look both scary and cute. This is an easy to wear version and it will be quite simple to recreate too.
14. Simple and Spooky Pennywise Makeup
Looking for a unique version of Pennywise? If so, you need to check out this next idea. Her eye makeup is pretty with long lashes and she has created a clown nose and mouth in a dark shade. The makeup is finished of with the Pennywise design. Instead of being red though, the artist has used black with red on the outside. By using different colors like this, you can create makeup that will make you stand out from the creepy clown crowd.
15. Scary Pennywise Makeup and Costume
This next idea looks so scary and awesome! The makeup artist has gone for a dark, red smokey eye and she has worn it with a red sparkly nose and a clown mouth. We love the subtle sparkle because it jazzes up the makeup. This design has captured the creepy Pennywise look but it is also unique too. Makeup like this will be amazing for any Halloween event.
16. Half Pennywise Illusion Makeup
Next, we have a bright Pennywise inspired look. This time instead of going for the classic red and white makeup that we see in the movies, this makeup artist has mixed it up by using pink! She has used the Pennywise design but with a splash of vibrant pink color. We love this idea because it is unique. You can recreate the illusion like this or you can have full face paint. Either way, it will look spooky and fun!
17. Pennywise Makeup with Stitches
If you want to make the Pennywise makeup look even scarier, then you can add extra features such as stitches. This makeup is a great example. The artist has recreated the red and white Pennywise makeup but she has added stitches to the design which make the red lines look more like wounds. As you can see, it is quite a subtle change but it does make a scary statement. Try just two on each side or add more, either way, it will look creepy. You can see what products were used to create the look on the makeup artist's page below.
18. Unique Pennywise Makeup with Sparkle
Bring sparkle, glitz and glamour to Halloween with makeup like this. Here we have another unique version of Pennywise makeup. For this look, the makeup artist has created a purple Pennywise design that is complete with sparkle. As you can see, the purple Pennywise look is more pretty and cute. This makeup is perfect for someone who wants to dress up without being terrifying. You can, of course, add sparkle to red Pennywise makeup too.
19. Pennywise Face and Body Makeup
Like to go all out with your Halloween makeup? If so, this idea could be perfect for you. This makeup artist has painted her face and body to look like Pennywise. She has black smokey eyes with the red clown design. The costume is complete with a painted clown outfit. This is amazing and it will look awesome for any Halloween event. You can recreate this or just paint the ruffles on your body and wear a white outfit.
20. Sparkly Pennywise Makeup for Halloween
Next, we have another Pennywise inspired look with sparkle! This time the makeup is very spooky with dramatic eye makeup and it is finished off with a red and sparkly Pennywise design. We love the glitter and the outfit with the orange wig too. This is a fun and scary version of Pennywise that is perfect for a party.
21. Super Creepy Pennywise Makeup
This next Pennywise inspired makeup idea is so creepy! The makeup artist has captured Pennywise's scary clown face perfectly and she has finished off the look with a super cool costume and accessories. This is another idea that is perfect for those who love to put a lot of effort into their Halloween costume. You can view a tutorial for this makeup on the makeup artist's YouTube channel which you can access by clicking the link below.
22. Simple Makeup Idea
If you love the simpler Halloween makeup ideas, then you need to check this out. Here we have another easy to create makeup look. She has glam pink eyes with a red nose, lips and subtle clown design. Makeup like this can be created with the products that you may already have in your makeup bag and it will be great for any last minute events.
23. Creepy Clown Makeup
The last idea that we have to show you is very creepy and creative. This makeup artist has been inspired by Pennywise to create an artistic clown face. She has the red design but it looks painted on. We love this idea because it makes the clown even scarier. This makeup would look amazing with the Pennywise clown outfit and contact lenses.
We hope you have been inspired by these Pennywise makeup ideas!