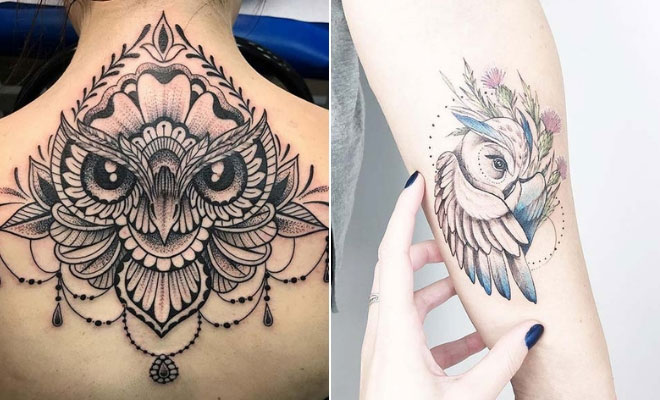 Instagram
Lifestyle
43 Cool Owl Tattoo Ideas for Women
By
|
Owls are loved by people all over the world. This is for many reasons from their nocturnal life to their beautiful feathers. It is not just the way they look though, owls are also associated with magic, mystery and spirituality which makes them even more intriguing. If you love owls, then you should consider an owl tattoo. There are so many amazing designs and to give you some inspiration, we have found 43 of the best. On this list you will find colorful owls, different species and much more. Take a look, if you weren't wowed by owls before, you will be after this!
1. Cute Owl Tattoo
The first tattoo we have to show you is super cute! Here we have an adorable cartoon owl that is tattooed on the back of the arm. We love the owl's big eyes and beautiful feathers. A tattoo like this will look amazing on everyone. You can recreate this or you can have a smaller version placed elsewhere. For a bolder design, you could add some color too.
2. Fierce Owl Hip Tattoo
While owls are beautiful to look at they can be fierce and protective too. This tattoo design captures that perfectly. This tattoo features what looks like a Great Horned Owl because of those horn like feathers. As you can see, the owl looks stunning and it looks strong too. There is also an amazing leafy watercolor design surrounding the owl. This tattoo is one our favorites and it is perfect for the ladies who want body art that is stylish and statement making.
3. Beautiful Owl and Moon Design
Many owls are nocturnal so it is no surprise that many owl tattoos feature the moon. This tattoo is a stunning example. Here we have a pretty owl with elegant feathers with a moon in the background. It is a beautiful tattoo and you can recreate something similar to this or you can use a different species of owl. Maybe choose your favorite owl.
4. Ornamental Back Tattoo
The next tattoo idea is just amazing. This design does not feature the full owl but just the eyes and the beak. Both of the owl's features are patterned and there are also floral patterns around the outside. The tattoo is finished with dangling charms. It is a stunning ornamental tattoo and it will look stunning on everyone.
5. Big Eyed Owl Design
Another thing that some owls are known for are their eyes! This next design captures their eyes beautifully. Here where have a small owl with big, bright orange eyes. As the owl is black ink, the orange really stands out. It is such a cool design and you can recreate this or choose a different owl with big eyes.
6. Colorful Arm Tattoo
If you want a bolder and more statement making tattoo, then this could be perfect for you. This design features a beautiful barn owl that is tattooed on the arm. Some of the colors used are realistic but there are added purple and blue shades too, which make the tattoo look unique and creative. We also love the watercolor technique used. It is a stunning tattoo and you can recreate this or try a smaller version.
7. Owls and Blue Flowers
Next, we have a cute owl tattoo. Two small owls are perched on beautiful blue flowers. It is a quirky and creative idea and it will suit everyone. An owl design like this could be a representation of your family or friends. Maybe it could be you and your child or you and your sibling. A similar design could be used as a couple's tattoo too. Recreate this or try any owl design with any flowers.
8. Watercolor Owl
Our next tattoo idea is colorful and unique. Here we have a beautiful blue and purple owl with bright orange eyes. It is a creative design that is perfect for someone who wants an unusual piece of body art. You can recreate this or you can try a similar owl in a different color. Either way, it will look cool.
9. Simple Owl Design
Maybe all the bold owls and brightly colored tattoos are not for you. If so, this design could be just what you are looking for. This tattoo features a simple and minimal black ink owl. It is a stylish and classy design that will suit everyone. A tattoo like this can be placed almost anywhere on the body. A small version on the wrist would look cute.
10. Patterned with a Lotus Flower
Owls are not just beautiful birds, for many people they have a special spiritual meaning too. Many believe that owls are a symbol of wisdom and that they have knowledge of the unknown. This is why tattoos like the one below are so popular. It is a very unique and unusual design.