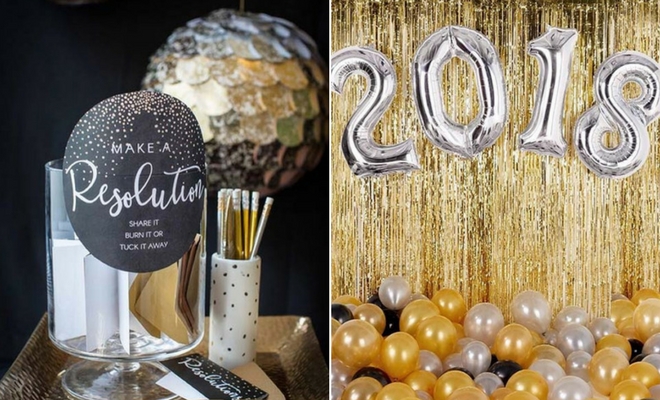 Instagram
Lifestyle
23 New Years Eve Party Ideas
By
|
A party is a great way to bring in the New Year with family and friends. You could have a small get together at your house or plan the ultimate bash. To help you out with your party planning we have found 23 New Years Eve party ideas. We have a great selection of drinks, decor and more to help you celebrate the New Year in style!
1. Happy New Year Wall Decor
One of the easiest ways to glam up a room for a party is with wall decor like this. This wall idea has gold decorations, stars, a happy new year garland and more. You could recreate this metallic and stylish look or use your own style. Maybe even just use a similar new year garland on its own.
2. Countdown Cake
No party is complete without cake! Take the New Year theme into your cake decorating by creating a countdown clock. You could create any clock face simple like this one or show stopping. We have even seen some cakes with working clock hands! All your guests would love a countdown cake.
3. 2018 Balloon
Balloons will make any room look party ready. As it is a New Years Eve party why not have balloons that read 2018. This is a perfect low-cost way to decorate a room. You can get balloons like this any color and size so you could get balloons to suit your room/party theme.
4. New Years Resolution Party Idea
Almost everyone makes new year resolutions. At your party you could have a resolution activity like this one. Each one of your guests writes their resolution and can do one of the three things with it. This is a fun party idea that everyone will love.
5. Champagne Balloon
If you like balloon decor, then you will like our next pick to. This balloon idea is a champagne bottle with smaller gold, white and silver balloons. You could have the champagne bottle as it is or add in the smaller balloons to look like the champagne.
6. New Years Eve Party Props
Next, we have a cute selection of party props. You could use props like these in a photo booth or even have similar ones for guests to take home. If you like crafts, you could have a go at making props yourself, if not there are plenty to purchase online. Your guests will love taking photos with these.
7. Vintage NYE Party Idea
Celebrate the New Year in vintage style. This next pick features decor that includes a gold cocktail cart, gold fringe shimmer curtain and vintage style stars. We love this look because it is captures the glam party vibe of times gone by. A cocktail cart also allows you to move bottles in and out of the kitchen and acts as a bar to, so one of these is a party must-have.
8. Happy New Year Balloons
If you want a simple decorating idea, then this for you. The balloon featured reads Happy New Year. You could decorate any room with this and it would instantly look party ready. It is a low-cost decor idea that will look great. You can get balloons like these in any color and size.
9. Kiss Me at Midnight Garland
We couldn't have a NYE party list without mentioning midnight kisses! This next pick features a gold "kiss me at midnight" garland. You could decorate any party room/venue with a garland like this. We love this idea because it uses a New Year tradition in a stylish and modern way. Check out the page featured to get yours.
10. Midnight Kisses Party Favor
If you like the midnight kisses theme, then you may like our next idea to. These crackers were created as party favors and inside the crackers are Hershey's Kisses. This is a cute way to give your guests a small gift to bring in the new year and it ensures that everyone gets a midnight kiss! It makes a fun craft project to.