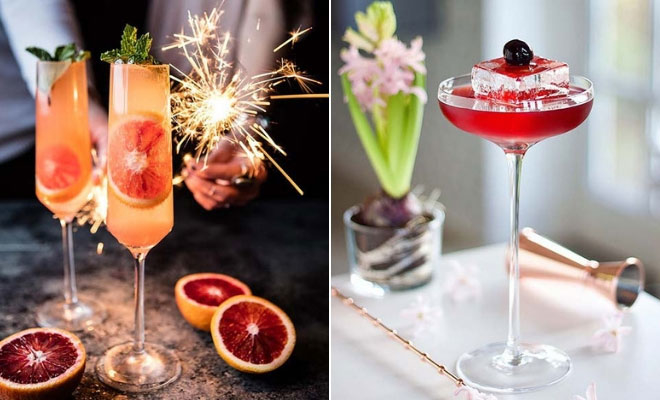 Instagram
Lifestyle
21 Best New Year's Eve Cocktails to Toast With
By
|
11. Alpine Lodge Cocktail
Next, we have a cocktail called the Alpine Lodge. This is another champagne cocktail that will bring glamour to the party and it will taste amazing too. To recreate the drink, you will need Moet champagne, grapefruit juice, elderflower liqueur, lemon juice and cognac. Serve in a champagne glass with a citrus twist like featured. It is a chic drink that is fruity and celebratory too.
12. Smoked Mugwort Sour
This cocktail is another one of our favorites because it is so unique! The drink is called a Smoked Mugwort Sour. It is made of up of 1 oz. gin, 3 tsp. elderflower syrup, 1 1/2 oz meyer lemon juice, 1 egg white and mugwort. It is a feast for the eyes and it sounds like it tastes amazing too. Just mix all the ingredients together and serve with the garnishes. If you want to infuse the gin with the mugwort, then you can check out the method for that on the page below.
13. Fruity Cocktail for NYE
If you are looking for a fun and fruity cocktail, then this is for you. Here we have a cocktail that includes Bacardi, juice of half a lime, soda water, cherries and mint leaves. You can also add ice. A drink like this is simple to make and it also looks gorgeous. Serve in glasses like these or try a taller glass which will give it an elegant look. We love this one!
14. Blood Orange Champagne Mule
Next, we have another champagne cocktail. For one cocktail you will need juice of 1/2 a lime, juice of 1/2 a medium blood orange, 2 ounces chilled ginger beer, 1 ounce vodka, 8 mint leaves and chilled champagne for topping. Just mix all the ingredients and garnish with mint and a blood orange slice. As it is NYE, you can also include a fun sparkler too.
15. Simple and Classy Cocktail
If all the over the top New Year's Eve cocktails are not for you, then choose something simple and classy like like this. Here we have a classic Gimlet. It is usually made with four parts gin and one part sweetened lime juice. Just mix the ingredients and serve. You can include a lime garnish and ice if you wish. It is a simple, tasty and elegant cocktail that is perfect for a party.
16. Glam Gin and Tonic
We love this next cocktail! This is another gin cocktail that includes 5 cl Navy Gin and 8-10 cl Zero Calories Berries Tonic. Finish off with fresh lime and an orange twirl. This is easy to make and will look amazing at a NYE party. You can serve in any glass but try to choose a unique glass like this one as it jazzes up the drink.
17. Pretty Poitin and Grapefruit Cocktail
This next cocktail looks amazing. The drink is a Poitin and Grapefruit Cocktail. It is made with 1.5 poitin, .5 oz lime juice and grapefruit soda. Put ice in a glass, add poitin and lime juice. Stir it all up and top with the soda. You can also garnish with a slice of grapefruit and mint too. We also love the glass and these are available at fferrone.
18. No Sour Cherries
Next, we have bold cherry cocktail to show you. This one is red and is called No Sour Cherries. The cocktail was created with 4.5 cl XO Rum, 1.5 cl Amarena Syrup, 1.5 cl Cherry Brandy Liqueur, 2.5 cl lemon juice and an Amarena cherry for garnish. The square ice looks amazing and you can buy ice trays with this shape online.
19. Campfire Sling Cocktail
If you love the warm cocktails, then this is perfect for you. Here we have a Campfire Sling cocktail. We love this because it looks amazing and it has a sweet taste too. To recreate the drink, you will need: 2 oz rye whiskey, 3 dashes chocolate bitters, .25 oz pure maple syrup and scorched orange oil. Just add all the ingredients to a glass and you can check out tutorials for the scorched orange online.
20. Vibrant Bittersweet Rose
We love this next cocktail and think it will be an amazing drink for NYE parties and beyond. This cocktail is called Bittersweet Rose. As you can see, it is a rich pink color and it looks stunning with the rose garnish. This is perfect for those who want a unique and glam drink that will wow everyone. For this drink you will need 30 ml Lanique Spirit of Rose, 30ml Fresh Lemon Juice, 30ml Rosolio di Bergamotto, two drops of Rose & Hibiscus Extract and Lavender Bitters.
21. Purple Flute Cocktail
The last of our cocktails is this purple flute. It is another gin cocktail with an amazing purple color. We think it looks like a magic potion. Glasses of this will look so gorgeous and delicious at your party. For this drink you will need 2.5 cl Gin, 0.5 cl Blanco Reserva Vermouth, 2.0 cl Butterfly pea flower infused Vodka, 1.5 cl Simple Syrup, 1.5 cl Organic Elderflower Liqueur and 2.5 cl lemon juice. Shake the ingredients together and pour into a flute. Garnish with orange slices.
We hope you have found some amazing New Year's Eve cocktails to try!