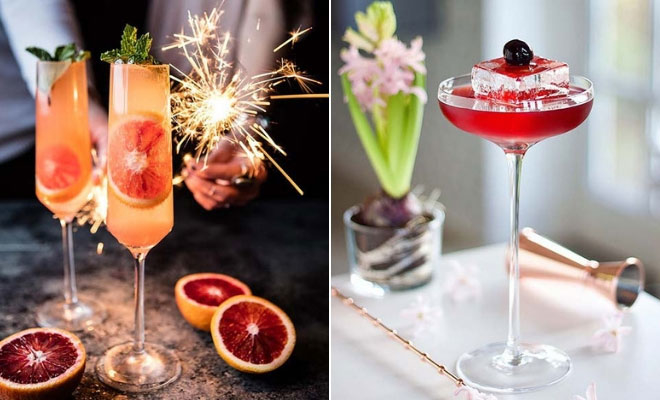 Instagram
Lifestyle
21 Best New Year's Eve Cocktails to Toast With
By
|
Christmas isn't the only special event happening in the next few weeks. It is also New Year's Eve too. This year will be extra special as we will be starting a whole new decade! With that said, this years party needs to be amazing. One way that you can throw an epic party is with cocktails. Cocktails can be created in so many different colors and there are so many flavors too. These drinks are a great way to make your party memorable. To give you some inspiration, we have found 21 New Year's Eve cocktails. There are champagne cocktails, pretty drinks and more. So, take a look and wow all of your guests.
1. Grapefruit and Thyme Champagne Cocktail
The first cocktail looks refreshing, pretty and it features champagne too! This is a grapefruit and thyme cocktail. It is easy to make and it will be perfect for a NYE party. For this cocktail you will need 1/2 cup of grapefruit juice, 1 tbsp sugar, 6 sprigs of thyme and champagne – chilled is best. Mix all the ingredients together except the champagne, strain and then pour into a glass. Top with the champagne and you're good to go!
2. Nordic Mule
This next cocktail is called a Nordic Mule and the presentation of this is just amazing! 1.5 oz Aquavit spirit, .75 oz ginger liqueur and .75 oz lime juice are in this drink. These ingredients should be mixed and then topped with cucumber soda and sparkling water in equal parts. Finish off the drink with a cucumber and rosemary garnish. Cocktails like these will look so chic and unique at your party. As you can see, these are best served in taller glasses.
3. Glam Champagne and Orange Cocktail for NYE
Champagne is a must-have drink for NYE so why not include it in your cocktails? A mimosa is a tasty and easy way to do it. Mimosas are classic cocktails and are made with champagne and usually orange juice. It is a simple drink and as you can see, you can really jazz up the presentation to make it wow. Recreate something like this for your party and your guests will be impressed. You can find many mimosa recipes online.
4. Chic Purple Cocktail
The next cocktail is probably one of our favorites because it looks so pretty and glam! This cocktail is made up of 5 cl Gin, 1 cl Dry Curacao, 2.5 cl Blanco Reserva Vermouth and a splash of Olive Bitters. Just mix all the ingredients together, strain and serve. You can garnish with a citrus twist too. We love the color and it looks so elegant in the glass!
5. Festive Cocktail Idea
New Year's Eve is part of the holiday season so you can create festive looking cocktails. This is a beautiful example. These cocktails have been served in champagne glasses with gold sparkle. The actual drink includes 1 oz Cranberry Gin Liqueur, 3 oz dry sparkling wine, ½ oz fresh lime juice, 1 fresh cranberry and 2 sprigs of rosemary. Mix the rosemary and lime, pour into glass, add liqueur, top with sparkling wine and garnish. It is a fun, festive and celebratory drink.
6. Sunshine and Snow
If you really want to wow your guests with an unusual drink, then this is for you. Here we have the Sunshine and Snow cocktail. The drink is yellow with a white top and it is finished off with a stunning flower. These cocktails look almost too good to drink! For this cocktail you will need: 50ml Snow Chrysanthemum Gin, 30ml Lemon Juice, 15ml Coconut Liqueur, 20ml Passion fruit Syrup and egg white. The flower garnish is optional. Lots of cocktails use egg whites and you can check out how to use them online.
7. Fiery Cocktail
NYE falls on a wintry cold night. So, why not warm up your party with a fiery cocktail like this one? The colors look amazing and the fire will wow! There are no ingredients for this image but you can create a whiskey cocktail that is very similar. The cocktail can be served with marshmallow syrup and a toasted marshmallow which will give it the fire and smoke. You can find fiery cocktail recipes like this online.
8. Gin Fizz with Glitzy Stirrers
Next, we have a cute, fun and pretty cocktail. This one is called a Gin Fizz and as you can see, it looks amazing with the gold straws and glitzy stirrers. For one cocktail you will need 1.5oz Grapefruit Juice, 3oz Gin, 3/4oz Honey Simple Syrup, 3oz Elderflower Lemonade, Orange Bitters and Seltzer. You can check out the method on the page below. Drink stirrers like these can be bought or you can make them yourself and there are lots of tutorials online.
9. Champagne Mojito for NYE
Love mojitos? If so, this is for you. Here we have a mojito with an NYE twist! This one uses a classic recipe but it includes champagne too. The cocktail featured below was created with 1 1/2 oz. white rum, 6 fresh mint leaves, 1 oz. simple syrup, 3/4 oz. freshly squeezed lime juice, 2 dashes Angostura bitters and 2 ounces Champagne – chilled is best. Mix the mint, lime and syrup. Then add bitters and rum, shake then strain. Finally, top with champagne.
10. Pretty Lavender Cocktail
The next cocktail is fresh and it looks stunning. Here we have a sparkling lavender cocktail. This drink was created with lavender syrup, prosecco, lemon juice, fresh lavender and lemon slices. It sounds delicious and it looks amazing too. Purple cocktails will also look amazing with a lavender garnish! You can check out how to make this drink here. A tutorial for lavender syrup is also included.