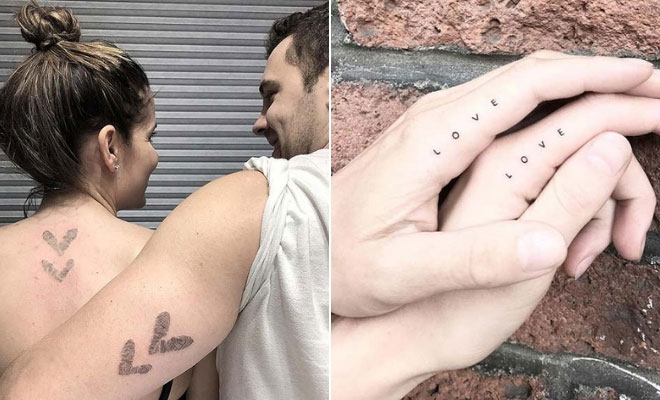 Instagram
Lifestyle
23 Best Matching Couple Tattoos To Show Your Love
By
|
Most of the time, tattoos are chosen because they have a special meaning. It could be a quote that inspires you or a design that represents someone you love. A popular idea is getting a tattoo with your partner. These tattoos are romantic and can be a beautiful way to show everyone you care about each other. We think these tattoos are awesome, so have put together 23 matching couple tattoos. A matching tattoo is a symbol of your commitment to each other and shows the connection that you share together. We have many different designs, including dates, animals and more. Take a look, there is something for everyone!
1. Matching Fingerprint Tattoos
The first tattoo we have to show you is this fingerprint design. For this idea fingerprints have been tattooed into a love heart shape. This is such a cool idea as all fingerprints are different, so your tattoo will be unique. You can use just you and your partner's prints or you can include other members of your family too.
2. Matching Anchor Tattoos
Anchor tattoos are a symbol of strength and stability. So, it is no surprise that anchors are often used to represent meaningful relationships. This couple chose a stylish matching anchor design. It is a beautiful idea that will show everyone that you are a strong couple. Not only that, but they look great as individual tattoos too.
3. Cute Cartoon Couples Tattoo
Next, we have a super cute tattoo. Here we have a cartoon couple. Both tattoos match and you can recreate something similar but with a design that looks like the two of you. You can have a tattoo where the cartoons have the same outfits and hair as you both. It is just a quirky and awesome idea.
4. Matching Tattoos for Married Couples
If you are looking for a subtle and stylish tattoo then this is for you. Here we have a couple with a simple line tattooed on their ring finger. Tattoos like these are great for married couples that want something different to the traditional rings or for those who want to make a commitment without the wedding. You can try a similar tattoo to this or choose a matching design of your choice.
5. Globetrotting Tattoos
Do you and your partner like to travel? Then consider a tattoo like this one. This design features matching planet Earth tattoos with small planes traveling around them. It is a cool idea that will suit everyone. You can recreate this tattoo or you can add a splash of color too.
6. Tiny Matching Hearts
Our next idea is cute! Here we have two small hearts that have been tattooed on the wrist. A design like this is subtle and would be great as a first tattoo. It would also be perfect for the couple that want a subtle matching tattoo. Try black hearts or you can choose any color you like.
7. Geometric Matching Tattoos
If you do not want something too obvious like hearts, then this tattoo is perfect. This couple have chosen a matching geometric design. Both tattoos feature a trendy triangular pattern. A tattoo like this is cool because it matches and shows your bond but does so in a stylish way. This design is also great as an individual tattoo too.
8. Sun, Moon and Star Constellations
Next, we have an amazing tattoo to show you. These matching tattoos feature a star constellation, moon and the sun. It is a stunning design that could represent your love of space and the night sky or maybe it can symbolize the good and bad or feminine and masculine energies. It is an awesome tattoo and it can mean anything you want it to. There are also endless ways to recreate a tattoo like this one.
9. Heartbeat Tattoos for Couples in Love
Looking for a unique tattoo? Then this is for you. Here we have heartbeat tattoos. These designs feature EKG lines which show your heart activity. These have become a romantic tattoo for couples because it can represent how your heart belongs to the other or that your heart beats faster with love when the other person is around. It is a quirky design that will suit everyone.
10. Watercolor Forest Design
If you and your other half have a special place that you love, like the beach or the forest, then create a a tattoo like this one. This couple have chosen matching tattoos with a forest design. This is a gorgeous tattoo and can make you remember happy memories created in your favorite place. You can have any scene tattooed even city skylines would be cool. Pick the place where you met, had a first date or another event like that.