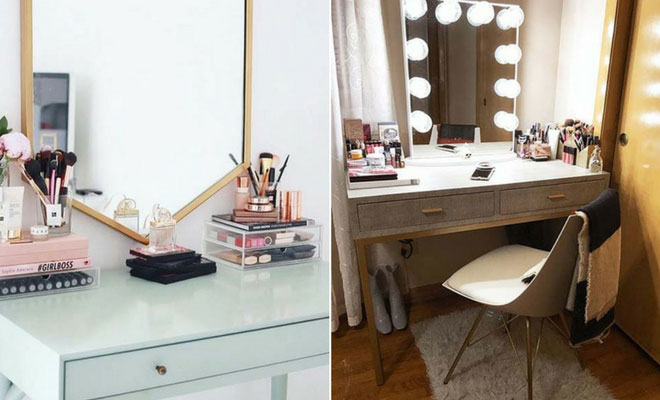 Instagram
Lifestyle
43 Must-Have Makeup Vanity Ideas
By
|
11. Soft Pink Vanity Table
If you love pretty and feminine decor, then consider a vanity with a soft pink color scheme like this one. The pink is beautiful and works well with white and gold. All these colors create one glamorous makeup area. Flowers in vases like these are a gorgeous finishing touch.
12. Vanity Table with Wall Stickers
Jazz up your makeup area with wall stickers. This vanity table has a sticker with an eye design above the mirror. The glam eyes are perfect for a vanity area. You could have any sticker, maybe one with your favourite makeup related quote. If stickers are not your thing, you could have some artwork on the wall instead.
13. Chic Makeup Vanity
Is chic and minimal more your style? Then this vanity could be for you. This makeup vanity has a simple white table with matching mirror and the mirror has very soft lighting. The chair used is modern but subtle. Together, these pieces create a coordinated and stylish design. A vanity like this will suit any room decor.
14. Boho Vanity Table
Next, we have a beautiful vanity that has a bohemian vibe. The light up vanity has been decorated with a salt lamp and there is a dream catcher on the wall. These two accessories have changed the style of the vanity and gave it a different look. We also love the clear storage that has been placed on the wall. This is a unique and storage savvy makeup vanity.
15. Pretty Vanity Table With Lights
Lights can really transform a room. This simple white vanity table has been jazzed up with stunning fairy lights. The lights have been used as a backdrop behind the mirror. You could just have twinkling lights or put a soft sheer piece of fabric over the top. The fabric curtain softens the light. This is a beautiful and glamorous vanity idea.
16. Elegant and Chic Vanity Table Idea
You don't have to choose a vanity with a huge mirror, you could go for something like this instead. This makeup area features a beautiful marble effect table with all the makeup essentials on the table top. There is also a small mirror and light. You could also put your makeup away and use the table for other things. This is a multi-functional idea.
17. Multi Mirror Vanity Table
If you want a professional makeup vanity table, then our next idea is for you. The table is simple and has plenty of space available. There is also a large light up mirror with a smaller version too. A shelf has also been used next to the table too. Something like this would be great for makeup artists.
18. White Elegant Vanity Table
Next, we have a great example of how you can put together separate furniture to create an elegant makeup vanity. A white desk has been put with a beautiful long mirror and a set of shelves next to it. These three pieces compliment each other and create large and organized makeup area. We love the small faux fur piece that has been added too. This gives the table a luxury look.
19. Dressing Room Glamour Vanity Table
Makeup vanities can remind us of celebrities getting ready for their next movie or show. This next idea shows you how to have the A-list dressing room look at home. The vanity has the classic large lighted mirror with a simple table. To really get the Hollywood look, you can even add some pictures on the wall of iconic celebrities like Marilyn Monroe.
20. Large Makeup Vanity
Our next makeup vanity idea is perfect for anyone who has a lot of makeup and beauty products. There is so much storage space where you can display your makeup, jewelry, bags and still have room for more! This is a great idea for someone who has a big room to work with. We love this makeup vanity!