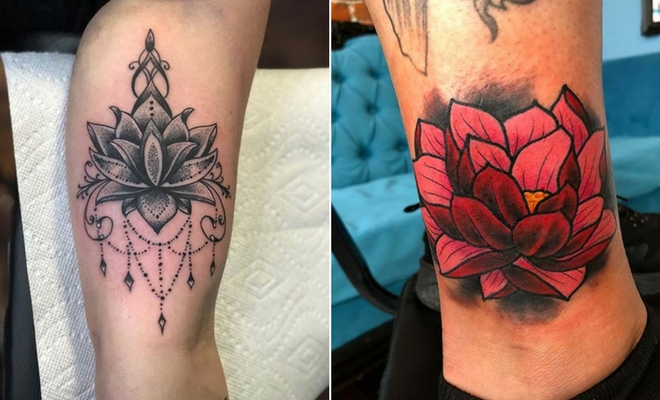 Instagram
Lifestyle
45 Pretty Lotus Flower Tattoo Ideas for Women
By
|
21. Small Lotus Flower Tattoo
If you like the wrist tattoos, then this design is for you. The beautiful lotus has mandala details and decorative dots. It is a pretty design that would suit anyone. You can have any lotus placed on the wrist. Wrist tattoos are great for anyone who may need to cover their tattoo.
22. Watercolor Lotus Design
Our next idea is another watercolor design. Instead of flashes of color, this tattoo has been colored completely in watercolor pink and blue. The lotus itself is also very creative and artistic. You can have a similar lotus recreated but use any shades you like for the watercolor.
23. Lotus with Patterns and Color
You can choose a lotus design that looks more realistic. This next tattoo looks very similar to the real flower. It is a beautiful piece and would look amazing on anyone. You can have the lotus created on its own or have a pattern added to it like the one featured.
24. Decorated Lotus Flower Design Idea
Next, we have another patterned lotus idea. On this one the petals have been decorated symmetrically. It is a beautiful piece and you can have any patterns added to a lotus. You can have a piece like this tattooed anywhere on the body.
25. Pretty Back Tattoo Idea
Next on our list is this pretty lotus flower on the back. It is a very beautiful piece. You can have a lotus like this tattooed on the thigh or have a smaller version tattooed elsewhere.
26. Trendy Lotus Tattoo Design
Looking for a trendy tattoo design? Then this is for you. Here we have a lotus that is tattooed on the leg. It is a beautiful lotus and has a stylish pattern surrounding it. This is a cool tattoo and you can recreate something similar or create your own pattern. A design like this can be placed on other parts of the body too, this type of tattoo will look amazing on the arm or back.
27. Jewel Lotus Back Tattoo
Glam up your lotus tattoo by adding jewels! Here is a beautiful example. This back tattoo has a stunning lotus design with patterns and pink gems. It is a gorgeous piece of body art and it will suit everyone. Try a similar tattoo to this or you can have a smaller design with just the lotus. You can also try different color jewels too.
28. Colorful Lotus
Next, we have a colorful lotus idea to share with you. This tattoo features three lotus flowers with a vibrant watercolor design. A tattoo like this is perfect for the ladies that want to make a statement. We love this idea because it looks like a stunning work of art. Recreate this lotus design or you can just have one lotus instead of three.
29. Stylish Lotus Sternum Tattoo
Sternum tattoos are super stylish. Here we have a stunning example of a sternum tattoo with a lotus design. There are two lotus flowers in this tattoo along with other patterns too. It is a bold and amazing piece of body art. You can choose a similar tattoo or add in your own shapes and designs to make it unique to you.
30. Statement Making Lotus
If you are looking for a tattoo that makes a statement, then this next pick is for you. This is a back tattoo with a large lotus design. The lotus is in the center with an amazing, intricate pattern around the outside. It is a beautiful and unusual tattoo and it will suit everyone. You could have a smaller version tattooed elsewhere on the body too.