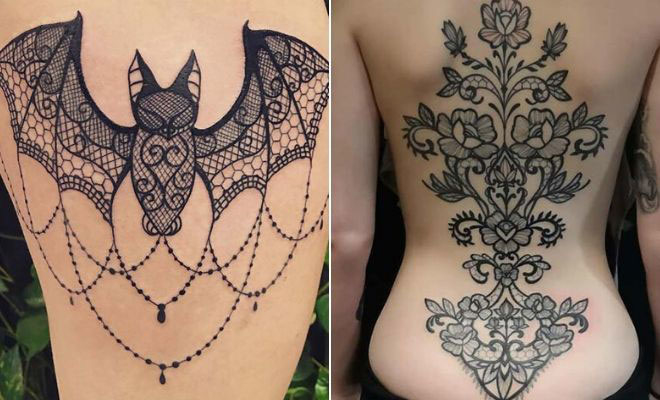 Instagram
Lifestyle
21 Stunning Lace Tattoo Ideas for Women
By
|
11. Ornamental Back Tattoo
Next, we have a stunning tattoo idea to show you. This is a large back piece with lace and ornamental designs. It is a gorgeous piece of body art and it is perfect for those who want something more statement making. You could even recreate something similar on the sternum.
12. Back of the Thigh Bow Tattoo
This next tattoo is so cute and pretty! Here we have a lace bow that has been tattooed on the back of the thigh. We love the lace pattern with the bow, it looks stunning. You can recreate this or use any lace pattern. A bow can also be placed on both thighs if you wanted to have two matching designs.
13. Thigh Tattoo with a Lion and Lace
Looking for a fierce, statement making and pretty design? If so, this piece of body art has it all. This is a large thigh tattoo with a lion and lace and charms around the outside. It is a gorgeous tattoo and the lion looks edgy and powerful while the lace gives it a feminine touch. Try this or you can use a lioness instead.
14. Lace Tattoo with Roses
Earlier in the post we featured a garter tattoo with roses. If you liked that idea, then you should take a look at this one too. Here we have a thigh design but this one doesn't look like it goes all the way around. This one just covers the front section, but it still has that lace garter look. The design is complete with roses and charms. It is a stunning tattoo and it is like a smaller and more low-key garter design.
15. Floral Lace Tattoo Design
Next, we have another unique lace tattoo to show you. Here we have a thigh tattoo that looks like a floral mandala. Different layers of flowers have been put together to create a stunning pattern. All of the design looks like lace too. This a pretty and unusual design that can be placed anywhere on the body.
16. Lace Foot Tattoo
We love this next tattoo! This body art features lace and mandala patterns that have been placed on the top of the foot and the ankle too. It is another one of our favorites because it covers both the foot and ankle. It is a trendy and statement making piece that will suit everyone. Recreate something similar or use different lace and mandala patterns.
17. Thigh Tattoo with Lace and Roses
If you love purple, then you need to see this tattoo! Here we have a large thigh tattoo. The lace is used as a background with purple roses, pearls and a padlock on the top. It is a beautiful tattoo and the purple roses add a bold pop of color. Try this tattoo or you can use a different color other than purple. Pink or red would be great choices.
18. Unique Lace Tattoo Design
The next tattoo is another unusual one. This time a section of the shoulder has a tattooed lace design with charms. We love this because it looks like the lace section is part of her body. It is a stunning design that we haven't seen before. This is perfect for those who want something a little different. Any lace pattern can be used, floral will look amazing.
19. Iris and Lace Design
Love floral tattoos? If so, check this out! Here we have an upper arm tattoo that features an iris flower with lace in the background. This is a stunning tattoo and the purple iris flower looks gorgeous. It is more unusual than the popular rose and lotus. Recreate this or you could even add your birth month flower to the design instead of the iris.
20. Small Lace Heart Tattoo
Next, we have a cute and pretty design to show you. This time we have a lace heart that is tattooed just under the collar bone. The heart is beautiful and the lace pattern is so delicate. This is a stylish and subtle tattoo that will suit everyone. It can be placed anywhere on the body.
21. Beautiful Rose Body Art with Gems
The last lace tattoo is just stunning. This tattoo features a large red rose with a black lace background and dangling red charms. It is another tattoo with a Gothic and pretty vibe. We love the red color because it is so rich, vivid and statement making. Recreate this or try a different rose color.
We hope you love these lace tattoos and have found a beautiful design to try.