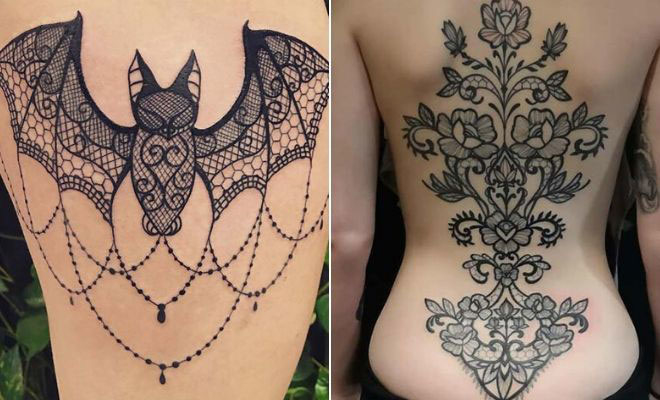 Instagram
Lifestyle
21 Stunning Lace Tattoo Ideas for Women
By
|
Choosing a tattoo design is no easy task. There are so many amazing techniques, patterns and art styles to try. One that seems to be gaining popularity are lace tattoos. Yes, that's right – lace. So, these tattoos feature that delicate and pretty fabric design. We love this tattoo trend because it is stylish, feminine and lace stands the test of time so the design will never go out of fashion. It is timeless, unique and beautiful. To give you some inspiration and to show you how gorgeous these designs can be, we have found 21 stunning lace tattoos. We have something for everyone – floral lace, unique tattoos and even some animal designs. Take a look, you will love lace after this.
1. Beautiful Back Lace Tattoo
First up, we have this beautiful and bold back tattoo. This design starts in-between the shoulders and ends on the lower back, so it is a larger piece of body art. The lace itself is stunning, it features gorgeous floral designs and delicate lace patterns. This is a gorgeous tattoo and it will look amazing. You can recreate this or try a similar design on the leg or a body part of your choice.
2. Lace Feather Tattoo Design
The lace pattern can be used with almost any other design from flowers to animals. Next, we have a unique one to show you. Here we have a beautiful feather that has been adorned with a lace pattern. It is such an unusual and stunning idea. The lace really compliments the delicate feather. This is a stylish tattoo and you can try this or have a feather with a different lace pattern.
3. Lace and Roses Tattoo Design
This next tattoo is one of our favorites! It is a leg tattoo that covers the lower leg near the ankle. The design features stunning black lace with pretty white roses. We love this design because the black lace looks amazing and the roses really add a beautiful and feminine touch. Recreate this or you can try using a different rose color.
4. Stylish Wrist Tattoo
If you are looking for a stylish and statement making tattoo, then this could be perfect for you. Here we have a delicate lace pattern that has been tattooed around the wrist. As the lace is around the wrist, it almost looks like a piece of jewelry. So, it is like a glam and permanent accessory. It is a gorgeous and unique idea.
5. Delicate Lace Design with Flowers
A lace tattoo looks great anywhere on the body and this next idea shows how to wear it on the foot. As you can see, the tattoo is quite large and it covers most of the top of the foot. The design features a delicate lace pattern with flowers. This is such a pretty tattoo and it will look amazing with all your stylish summer shoes.
6. Ouija Board Inspired Tattoo
If you like magical tattoos, then you will love this next idea. Here we have a thigh tattoo that features a Ouija board planchette. The planchette features mysterious designs such as an eye and moons. This design is finished off with a lace pattern around the outside. We love this because the lace looks pretty and it just adds a mystical vibe.
7. Gorgeous Design with Lace and Gems
Next, we have a statement making design to show you. This is an arm tattoo with large gems, a dragonfly, pearls and lace. It is a stunning and bold design and the crystals look so regal! We love everything about this, from the lace to the rich colors used. If you want a unique tattoo that will wow, this is for you.
8. Lace Arm Tattoo
Loved the tattoo that went around the wrist? If so, you need to check out this arm tattoo too. This one has the same idea but the lace band has been moved up onto the forearm. Of course, a different lace pattern has been used as well. This is just a trendy and unique version of the arm band tattoos.
9. Unique Bat Design
The next tattoo is another unique one! Here we have a black ink bat and the actual bat itself has been adorned with lace. This tattoo is finished off with beautiful charms. It is a stunning tattoo and it has a cute but Gothic look. This tattoo can be placed anywhere on the body.
10. Lace Garter with a Rose
Garter tattoos have become very popular for women. Here is a beautiful lace version. The design features lace around the thigh with roses and dangling charms. It is a very pretty, feminine and stylish design. You can recreate this or you can try a subtler version with just the lace and no flowers or charms.