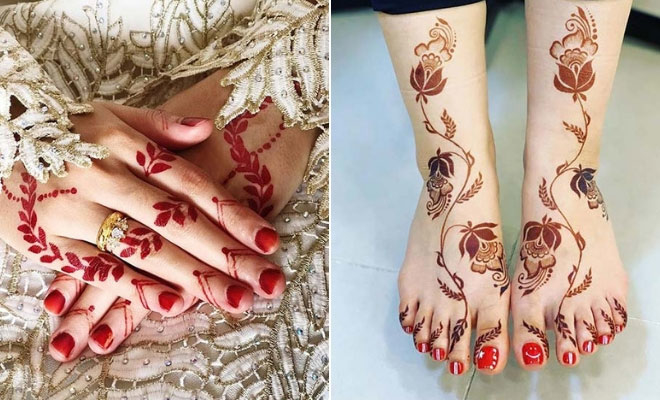 Instagram
Lifestyle
23 Henna Tattoo Designs and Ideas for Women
By
|
Henna is a beautiful and temporary way to decorate the body. There are so many stunning Henna tattoo designs that you can wear, from traditional patterns to modern looks that feature birds and more. Not only are henna tattoos versatile in design, but also in how you can wear them. Mehndi designs can be worn for weddings, birthdays and other special events. Also, they can be worn on vacation and for more casual occasions. The possible ways to wear are endless. To give you some inspiration, we have found 23 amazing henna tattoo designs. There is something for everyone and we also have different and unique color options. If you are new to henna and how it looks, then you are in for a treat!
1. Elegant White Henna Tattoo Designs
The first idea that we have to show you is so elegant. This henna was created for a bride and both hands are adorned. It is a stunning white design that includes flowers and more. Sparkly glitter has also been added. It is a beautiful idea and it is perfect for anyone who wants to wear henna for a wedding.
2. Floral Henna on the Feet and Legs
A lot of henna designs are for the hands but another popular place to have the temporary tattoo is on the feet. Here is a beautiful example and this is one of our favorite ideas. Arabic henna has been used and a floral design is placed on the feet and legs. The flowers look stunning and the placement is amazing. Henna like this will be perfect for the summer.
3. Bold Red Henna
There are different colors of henna available. If you want to make a bold statement, then we recommend red. As you can see in the image below, red henna looks so bright and beautiful. For this look, a leafy design has been placed across the hands and fingers. There is also a chevron design on the tops of the fingers too. It is a vibrant and stylish henna look to try.
4. Pretty Hummingbird and Flower Design
When choosing a henna design, you can be unique and creative. You don't have to choose a traditional pattern, you could go for something cute and modern like this. This mehndi design features a hummingbird and a tropical flower. You could choose henna like this if you are going on holiday or it would be great for the summer too. Recreate this or choose any bird and flower combo.
The next idea is beautiful and intricate. Here we have another henna design for the hands. The tips of the fingers and a section of the hand feature block color, while the rest of the hand is decorated with dots, flowers and more. It is a stunning design and you can view a YouTube tutorial for this henna on the link below.
6. Wrist and Finger Henna
Next, we have a simpler idea to show you. For this, bracelet style henna has been used on the wrist. The design extends onto one finger too. It is a cute and floral design. We love this because it looks like henna but also like a pretty piece of jewelry. This is another henna tattoo design that would look amazing during the summer.
7. Group Henna Tattoo Designs
If you are having a party or other celebration, then you could choose group henna. Here we have a group of five that have chosen to have stunning henna tattoo designs placed on the hands. Each design looks amazing! Recreate these with your friends or family. You can also just recreate one of these designs on yourself.
8. Glam Gold Henna
We love this next idea because it is so beautiful and glam. The design is again on the hand and it features an ornate and elegant design in gold and silver henna colors. This gold and silver combination is just amazing and a similar henna tattoo would be perfect for a special occasion. Recreate this or try and create your own mixed metal mehndi.
9. Floral Henna with a Pop of Color
Add a pop or of color to your look with henna like this! Here we have a beautiful floral pattern that is placed on the palm of the hand. The design extends onto the fingers and ends with a bright orange color on the tips. We love the orange because it is bright, bold and stunning. You can recreate this or try a different design with a different color on the tips of the fingers.
10. Ornate Henna on the Feet
If you love the ornate and intricate patterns, then you need to see this next idea. Here we have a henna tattoo for the foot. The design covers the top of the foot, some of the sole and it extends onto the ankle. Lots of different styles of henna have also been used including nets, repeat patterns, flowers and more. It is an amazing piece of art. Try this on one foot or both.