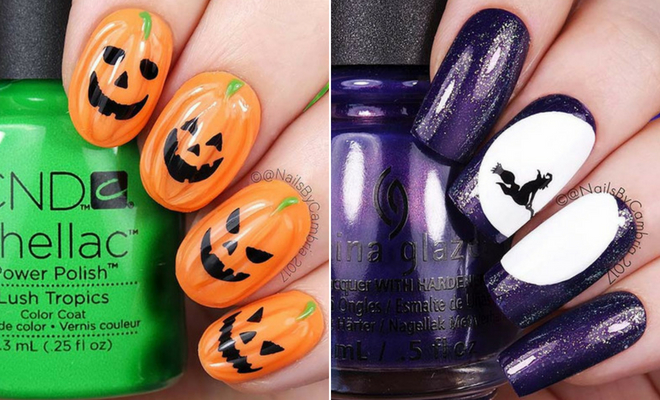 Instagram
Lifestyle
23 Best Halloween Nails to Copy This Year
By
|
You have already been thinking about your Halloween costume and makeup, but what about your nails? There are so many amazing nail designs at this time of year. You can create nails to match your costume or just a fun look to celebrate the occasion. To give you some inspiration, we have rounded up our favourite creative Halloween nails. There is something for everyone, from classic pumpkins and candy to scary skulls and spiders.
1. Spider Halloween Nails
The first nail idea we have to share with you is this spider and web Halloween nail design. One nail is a light shade, the other has black glitter, the next one features a spider and the last one is translucent with a web design. You can't see the thumb but you can use any color. Recreate the whole look or choose one design.
2. Witch Halloween Nails
Next, we have a magical witch design idea. The nails have been painted in a beautiful purple with two accent nails that feature a full moon and a flying witch. We love these nails as they are cute and perfect for Halloween. The purple used was China Glaze Crown For Whatever, you can check out the other products on the page featured below.
3. Glitter Pumpkin Nails
Love glitter nails? Then this idea is for you! The nails feature orange glitter with pumpkin faces. This is an awesome Halloween design idea. You can recreate the look featured as there is a tutorial on the artist's page featured below or consider using pumpkin faces on all nails too.
4. Gory Halloween Nails
Our next Halloween nail idea is gory and gross in the best way! Each nail has a different design. There are broken nails, nails with brains, eyeballs and more. These would be amazing for a party. Take inspiration and try to create all the nails or just use one design. Go spooky or go home!
5. Cute Cat Nails
Looking for a cute nail idea for Halloween? Then this pick is for you. The nails are clear with black tips and there is an accent nail with a black cat design. Art like this will suit nails in any shape and in any length. You could even add some glitter to jazz up the design a little.
6. Black Matte Nails
Next, we have a skull and roses idea. The nails are matte black with three accent designs. One features gems, another has skull art and the last has black roses. These nails are perfect for the ladies who want a stylish and glam manicure but also want to join in with Halloween.
7. The Nightmare Before Christmas Nails
Fan of the Nightmare Before Christmas? Then these nails are for you! The nails have been inspired by the movie and feature the Pumpkin King himself Jack Skellington, stripes and Spiral Hill. These are must-have for any fan and you can find the tutorial on the artist's page featured below.
8. Pretty Spider Nails
Our next nail idea is glam and perfect for Halloween. The nails feature red and black ombre, black glitter and a spider design. Recreate the whole look or just the ombre, as this style of ombre is not only great for Halloween, but trendy too. A design like this will suit all nail lengths and shapes.
9. Blood Splatter Nails
The next nail idea we have to share is bloody great! This design features nails with splats of blood, matte black and black glitter polish. You can recreate the whole look or just try one of the designs. There are tutorials online to help you with the blood splats. They are pretty easy to achieve, but a bit messy.
10. Quirky Frankenstein Nails
Love the Halloween classics like Frankenstein? Then these nails are for you. The nails feature Frankenstein green with two accent nails of Frankenstein himself and his bride. To get the green look, you will need OPI I'm Sooo Swamped. You can view the rest of the products used and the tutorial on the featured artist's page.