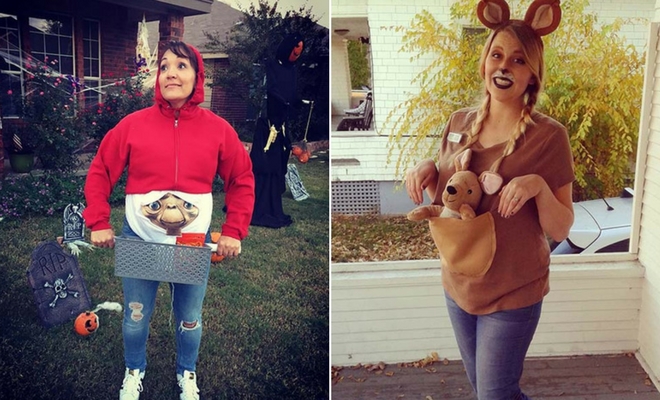 Instagram
Lifestyle
21 Halloween Costumes for Pregnant Women
By
|
11. Pumpkin Bump
Next, we have a very creative costume idea. This mom to be has had her bump painted with a pumpkin design. Painting is a great way to dress up your bump as there are so many different designs you can have. It is a spooky and fun look for any Halloween party. It will make a cute photo opportunity to, it is something you can remember.
12. Funny Avocado Costume
If you are looking for something unique and creative then this next pick is for you. This mama has dressed up as an avocado and her bump is the avocado seed. Something like this is great if you want to have fun with your costume and want to bring humor to Halloween. It is a simple and low-cost costume that everyone will love.
13. Bump Ahead Costume
Next, we have a cute costume that can be worn as a couple or solo. It features the mama wearing a hard hat with the words baby bump or her shirt while builder dad has a caution baby bump sign. This is a fun and unique costume. You could wear this solo just make sure you are carrying the sign.
14. Burglar Costume
Here is another pick that shows you that you can wear a maternity costume for Halloween without making the bump the main feature. This mom to be has a simple dress, loot bag and mask to create a burglar costume. It is an easy costume that will look great at any party.
15. Cute Kangaroo
If you are looking for something cute, then this next pick is for you. The mom is dressed as a kangaroo and a baby kangaroo is placed over the bump. It is an adorable way to show you are carrying a baby. It is simple to recreate and would make a great D.I.Y project.
16. Winnie the Pooh Costume
This next idea makes the most out of the round bump. This mama has dressed up as Winnie the Pooh. It is a cute costume that could be recreated in many ways. If you wanted a couples costume your other half could dress as another character.
17. Mystical Unicorn Costume
Unicorns are a huge trend for 2017. Not only that but these are mystical creatures so are perfect for Halloween. If you are pregnant, give your costume a unique look by adding in a unicorn horn over the baby bump. This shows you are a magical and pregnant unicorn. It is a great D.I.Y project and everyone will love your costume.
18. Skeleton Couples Costume
If you liked the skeleton top from earlier in the post, then you might like this one to. This skeleton top has a skeleton baby over the bump with the words boo. It is a cute and spooky way to dress up you and the bump. You could also get Dad a shirt to. His is more humorous and features a beer and a pizza slice.
19. Gypsy and Crystal Ball
Give you and your bump a magical look this Halloween by wearing a gypsy and crystal ball costume. The gypsy costume would be easy to recreate. You could create your own unique gypsy look and paint the bump like a crystal ball. This is another creative way to paint your bump this Halloween.
20. Funny Gumball Costume
We love this next pick! This mama has turned her baby bump into a gumball machine. It is just a fun and creative way to dress up your bump. A costume like this is a great D.I.Y project so is perfect for the moms who like crafts. It is low-cost and cute.
21. Mrs Potts Costume
Last on our list is a unique Mrs. Potts costume. This mama has dressed herself and her bump like the teapot from the movie Beauty and the Beast. We love how she has turned this magical character into the perfect maternity costume. You could recreate something like this for yourself quite easily.
We hope you have been inspired by our Halloween costumes for pregnant women!