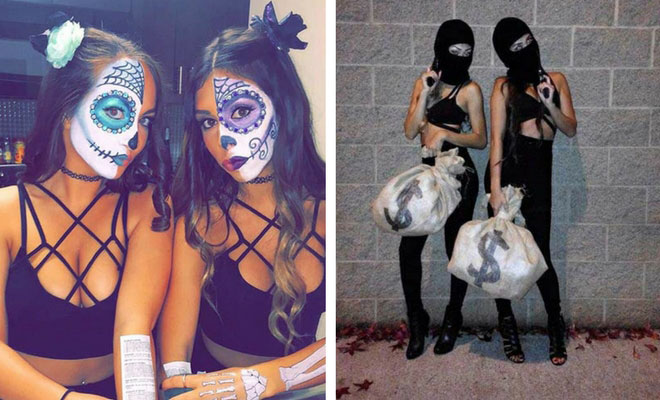 Instagram
Lifestyle
25 Halloween Costume Ideas for You and Your BFF
By
|
11. Zombie School Girls
And, as we've already discussed, there's not much you can't 'zombie' up these days, and zombie-style costumes have become increasingly popular as TV shows such as The Walking Dead.
Who doesn't love a good zombie movie? Better than that, who doesn't love a good zombie TV show binge!
12. That Miss Universe Scandal
If you're looking for Halloween costume ideas for you and your BFF that are beyond hilarious and brilliant, this is definitely one of the ones you should look towards. Do you remember THAT Miss World scandal? They crowned the wrong woman, had to take the crown off her, and then crown the actual winner …
If the rivalry between you has been the subject of jokes for some time, why not make the most of it and go with this Miss World scandal costume idea? It's brilliant, and everyone will love it. (If they've seen the news and know the story … )
13. Angel & Devil
You can't get more classic when it comes to Halloween costume ideas for you and your BFF than using the classic good / bad combo – heaven and hell, devil and angel, white and red. It's a classic combo for Halloween, and with everyone else going super-extravagant and playing around with complex makeup and fake blood looks, sometimes it pays to go back to basics.
There's a good chance no one else in the room will be dressed the same as you two.
14. Cruella De Vil + Dalmatian
It's Halloween done the Disney way – the way you definitely don't want to show the kids. They certainly wouldn't want to see what happened to those poor dalmatian puppies once the queen of animal-cruelty, Cruella De Vil, gets hold of them, and this brilliant Halloween costume shows you just that.
You don't need to take things this far if the kids are involved, of course. Perhaps leave the (fake) culling of (fake) puppies out of it this year, eh?
15. Pizza Delivery Guy + Pizza
If you were wondering what to do with that massive pizza inflatable pool toy you bought for the summer and never actually ended up using, you've just found a great job for it. Pizza delivery guy (or girl), and fresh pizza – the perfect Halloween costume ideas for you and your BFF!
What's your favourite? Pepperoni? Are you a fan of anchovies? Do you like extra mushrooms? Whatever it is, wear it with pride. Repeat after us – we love pizza!
16. Starbucks Coffees
What's the first thing you do in the day when you hang out with your BFF? You go and get yourselves a Starbucks, of course, and it's about that time that all the pumpkin-spiced delights come on offer.
If you can't live without coffee, why not dress up as a cup of one for this Halloween season? Now what would you dress as? Pumpkin spiced latte? Skinny latte macchiato? Perhaps something chocolate-based?
17. Cool Skeletons
Halloween is the time that the divide between the spirit world and our world is at its thinnest, and that's why we dress up as ghouls and ghosts – to stop the actual ghouls and ghosts realising its us and coming after us. Well, something like that. The story has been twisted so many times over the years, and different places in the world celebrate Halloween in different ways, and for different reasons.
That's where the skeleton comes into play, and the connection it has to Halloween – it's the symbol of death for many cultures, especially the skull image, and that's what's been used so brilliantly to create this stunning Halloween makeup look that you could totally rock with your BFF. (Or BFF's!)
18. Gossip Girls
There was nothing scarier at school than coming face to face with one of the mean girls, or gossip girls. They were called different things in different schools, right?
But they all amounted to the same thing – if you weren't in their group, you just weren't one of the cool kids. The movie had it right … As did the TV show. Maybe it's time to dig out your old uniform? Would it still fit?
(We tried, ours doesn't!)
19. Jack + Sally (The Nightmare Before Christmas)
It's Halloween, which means it's almost Christmas, and you can combine the two with this fabulous Nightmare Before Christmas inspired Halloween costume for you and your BFF – Jack and Sally.
The costs are fabulous here, but it's the makeup that really does the trick, especially with such an iconic look as this one. All you need to do is work out who will play Jack, and who will play Sally.
20. Maleficent + Aurora
It was one of the biggest movies of 2014, and for once, it featured the villain of the story, in this case – Maleficent from Sleeping Beauty.
The good versus bad divide is a great one to play out when looking at Halloween costume ideas for you and your BFF, and there's so many you could pick from too – so many Disney movies you could choose. This one features Aurora (Sleeping Beauty) and her nemesis, Maleficent, but you could always look at Jasmine or Aladdin and their nemesis, Jafar? Or Simba and Mufasa … You see where we're going with this?