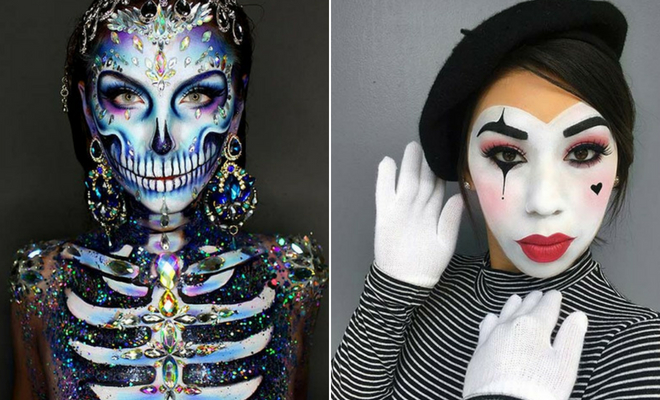 Instagram
Lifestyle
45 Cool Halloween Costume Ideas for Women
By
|
31. Unique Bride of Frankenstein Makeup
Another Halloween classic is the Bride of Frankenstein. This next idea features a unique take on the costume. Here we have amazing makeup with a stitched illusion. Some of her skin is painted green like you would expect with Frankenstein and the rest is left natural. This creates a cool and unusual look and it will make you stand out from the spooky crowd. You can find a mini tutorial for the makeup and see the products used on the Instagram page below. There is also a link to a full YouTube tutorial too.
32. Game of Thrones Inspired Costume
This next idea is for the fans of Game of Thrones. Here we have a costume inspired by the Mother of Dragons Daenerys Targaryen. The makeup artist has painted dragons on her face and the look is complete with hair like the character wears on the show. It is a fun and unique look that is perfect for Halloween parties. You can see the products that were used to create this makeup on the page below.
33. Cruella de Vil Costume Idea
Next, we have another costume inspired by a famous villain. This costume is based on Cruella de Vil. Everyone knows the classic story and even though she is one of the baddest villains we love the costume because it is so glam and very stylish. This look is complete with a fur coat, black dress, two tone hair and a cigarette. You can buy costumes online or you could DIY this one and make it yourself.
34. Classic Wicked Witch
We couldn't have a list of Halloween costume ideas without showing you a classic wicked witch. So, this next idea features just that. Here we have a witch costume complete with green makeup, black hat, stripes and a broomstick. This is a fun and easy to wear look. All you will need is the makeup and outfit, you could also wear a dress too. You can find witch makeup tutorials online.
35. Wounded Deer
The next idea features a gory twist on the classic and cute deer makeup. This makeup artist has created beautiful deer makeup complete with an antler headband. She has finished off the look with a bloody gunshot wound. This is a look for those who like deer makeup but who want to be more scary for Halloween. You can, of course, wear the deer makeup without the wound too.
36. Undead Bride
Want to look pretty and scary too? Well, this idea could be perfect for you. Here we have an undead bride. She is wearing a stylish white dress complete with a bridal veil and glam necklace. Her makeup is beautiful and she is wearing creepy contact lenses too. This is a spooky and easy to create costume for Halloween. Recreate this or you can go for more scary makeup, maybe even some blood.
37. Ninja Costume Idea
Next, we have a fun costume idea. This is a ninja costume complete with a cool dragon design and a fierce samurai sword. A costume like this is perfect for those who want to stand out and wear something different this Halloween. You can buy this outfit online and there are other styles available too.
38. Halloween Cheerleader
Like the skeleton makeup but need a cool outfit to go with it? Then why not recreate something like this. Here we have a Halloween cheerleader. She has painted her face and body to look like a skeleton and worn a black cheerleading costume too. This is a unique and fun idea. You can buy Halloween cheerleader costumes online and there are lots of different styles to choose from.
39. Unique Princess Fiona Costume
This next idea is perfect for those who love the movie Shrek! Here we have a costume inspired by Princess Fiona. One side of her face looks like the princess in the day and the other side looks like an ogre which Fiona turns into a night. It is such a unique and awesome idea. You can buy Fiona dresses online and you can check out the products used to create the makeup on the page below. There are makeup tutorials online too.
40. Mermaid Pirate Costume
Pirates and mermaids are both popular costumes for Halloween and this next idea is a combination of the two! The makeup artist has created beautiful mermaid makeup complete with gills. She has finished off the costume with a pirate inspired look that is finished off with a gold earring. This is a very cool idea and it is very unusual too. You can see what products were used for the makeup on the page below. You can also find tutorials online which can show you how to create gills.
41. Harley Quinn Costume Idea
Next, we have a Harley Quinn costume idea. There are different versions of the character but this one is inspired by the movie Suicide Squad. Again, this is a fun and easy to create costume and you can buy the complete costume online. This would be perfect for a party as you could get someone else to dress up as the Joker.
42. Playboy Bunny Costume
Want to look more sexy than scary this Halloween? If so, this idea could be perfect for you. Here we have a Playboy bunny costume. An outfit like this would be great for parties or if you are going out to celebrate Halloween at a club. You can buy these costumes online but this would be an easy DIY costume too. For a more scary look, you could add a Halloween twist with some contact lenses or dark makeup.
43. Wonder Woman
If you would rather be a Halloween hero, then you need to see this next idea. This costume is inspired by Wonder Woman. It is a cool look that is worn in the latest movie. You can buy wonder woman costumes online, the only thing you will have to decide is whether to choose the modern look or the classic wonder woman with the stars and cape.
44. Gangster Clown Costume
Another popular costume for Halloween is the gangster clown. Here is a great example of it. This makeup artist has created classic clown makeup with a gangster twist. The costume is complete with a bandanna and shirt. You can check out all the makeup used to create the look on the page below. There will be tutorials online for makeup like this too.
45. Queen of the Undead
The next idea that we have to show you has been described as Queen of the Undead. This costume is complete with scary makeup, a crown and a cute outfit. A costume like this will be quite simple to recreate and it will be great for any last minute Halloween events. Recreate this look or try the Queen costume with even scarier makeup. You could even add some wounds.
We hope you've got inspired by our cool Halloween costume ideas and have found the perfect look you'll be rocking this Halloween!