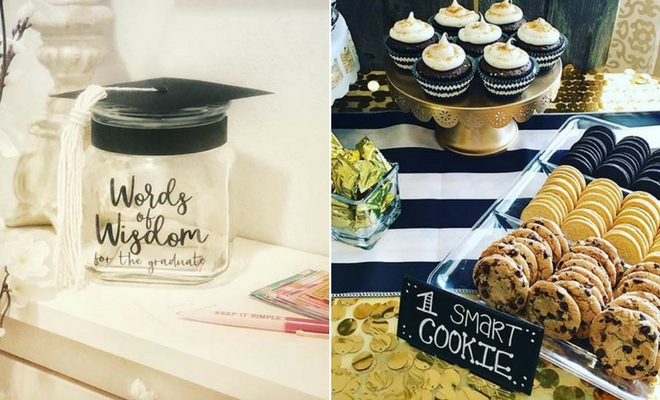 Instagram
Lifestyle
41 Best Graduation Party Decorations and Ideas
By
|
11. Graduation Cookies
Like to bake? Then this next idea is for you. You can make special graduation cookies like these for the party. All you will need is cookie cutters which can be bought online, icing, a cookie recipe and patience. These would look great on a buffet table. If baking isn't for you, you can also buy graduation cookies. We won't tell!
12. Cute Cap Card Box
At special celebrations many choose to have a card box. A card box is great to have as guests can put cards inside and it stops any getting lost. You can buy card boxes or you can make a unique design yourself. For a graduation party you could choose a graduation cap design like this one.
13. Graduation Party Decoration Idea
When you have chosen your food and decor, you have to think about how to present it all. Here is an awesome example of how to decorate for a graduation party. There are balloons, star decorations, graduation themes on the table and more. You could recreate something like this for your party.
14. Graduation Party Favors or Gifts
You can jazz up jars to make cool decorations. Here we have three jars that have been decorated with graduation caps and stickers. You can recreate something similar with bought jars or you can recycle some from around your home. For the caps you can buy them or use an online tutorial to make some. You can put anything in these and use them as decorations or party favors.
15. Graduation Party Invitations
If the weather is going to be nice or you live somewhere sunny consider have a graduation BBQ. An outdoor party like this will be fun for all the guests and the food will be great too. It is also a good idea if you don't want lots of people in your house. You could even send out cute invitations like these.
16. Memory Jar
Next, we have a memory jar idea. Leave the jar on a table and then the guests can write down their favorite memory with the graduate. These are easy to make and everyone will love the idea. After the party, the graduate can read the memories and keep them as a reminder of the special time in their life.
17. Fun Smart Cookie Idea
Our next idea is simple and fun. On the buffet table you could have a tray of cookies with a sign that says one smart cookie. We featured a similar idea earlier in the post but this just another way of presenting the cookies. We love this idea!
18. Grad Balloons and Photos
If you want simple but meaningful decor then this idea could be for you. There is a balloon banner with #grad and below is the year of graduation with photos. This is a fun idea that the graduate will love. You can be creative with this and choose any balloons and photos.
19. Bright Future Cake
Next, we have another graduation cake idea. Instead of the classic graduation cap this one looks like a trendy letter board. The board reads bright future. A cake like this would be perfect for any stylish grad. You could recreate a similar cake with any colors and any quote.
20. Guest Book Activity Idea
A guest book is a great idea for a special occasion like graduation. Each guest can sign the book and leave a small message. You can have a book like this or personalize a plain one. A book will be a great reminder of the party and everyone who attended.