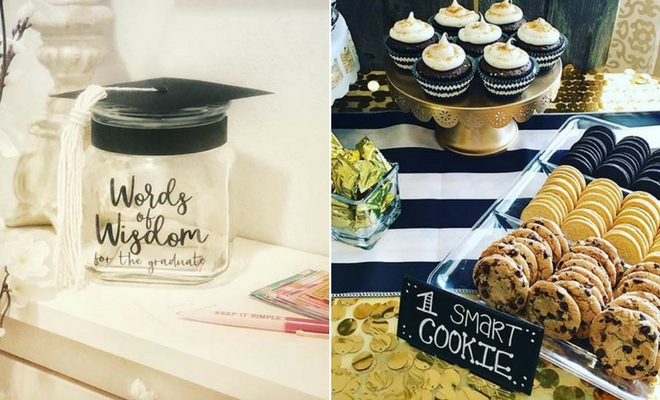 Instagram
Lifestyle
41 Best Graduation Party Decorations and Ideas
By
|
Planning a party for a graduate-to-be? Then you are in the right place! We have 41 of the best graduation party decorations and ideas. There is something for everyone including easy decor, fabulous food and ways to make memories of the special day. Graduation is a huge event in life and it deserves an epic celebration, with these ideas you can celebrate all the hard work that has been done and the new chapter that is beginning. So, take a look and get inspiration on how to give your graduate the best party of the year.
1. Words of Wisdom Idea
First up we have this cute words of wisdom jar idea. You can leave this out at the party and the guests can write down pieces of advice and put it in the jar. After the party is over the graduate can read each one. You can buy jars like these or try and make one yourself. With a recycled jar, ribbon and a chalk marker you can create a cute wisdom jar.
2. Graduation Banner
Next, we have a party banner idea. The banner has the letters class with a graduation cap and underneath there are frames with grades on them. This such a fun idea because you could put photos of the graduate in the frames throughout the years. A banner like this would be an awesome decoration, you can buy banners or you could make one yourself.
3. Selfie Station
Selfie stations or photo booths have become a must-have for a party. You can set up an area with a sign like this one and have the guests taking photos. The station can also have props. Not only is this a fun idea for the night but the pictures will be great to look back on once the party is over.
4. Selfie Station Prop Ideas
If you like the selfie station idea then this next pick is for you. Here we have some awesome graduation theme prop ideas. Each guest can stand with a prop like this and take a fun photo. You can buy props or try and make some yourself.
5. Creative, Graduation Party Food Ideas
No party is complete without sweet treats. Next, we have a very creative way to present candy at a graduation party. There are buckets with candy inside with a fun sign on the front. Some include gummy worms in the bookworm bucket and cookies in the one smart cookie bucket. This would look awesome at any party.
6. Graduation Theme Cake
Another party must-have is a cake. There are so many spectacular cake designs available and here is a great example of a graduation cake. It features the graduation cap, scroll, the date and it is personalized. A cake like this would be a huge hit at any party.
7. Graduation Wreath
Wreaths have become very popular for occasions other than Christmas. You can buy Easter ones, Halloween wreaths and more. Here is a graduation theme wreath. It has a beautiful, vibrant design and features the quote "She believed she could, so she did". You can buy wreathes like this or you could make one yourself if you like crafts and DIY projects.
8. Creative and Unique Graduation Napkins
Next, we have a unique party idea. Every party that is serving food needs napkins. You could go all out and have personalized napkins like these! These are not often seen at parties so the graduate and guests will love them. One could also be kept as a memory of the special celebration. You can have any design created.
9. Personalized Graduation Cap Idea
Many students often choose to decorate their graduation caps. You could use decorated caps as party decor. Maybe have them on tables or hung on the wall. You could even have the guests decorate one specially for the graduate which can be kept as a keepsake. This is a fun and creative decor idea that everyone will love.
10. Creative Balloons and Photos
Balloons are very popular party decorations. To make your balloons extra special for a graduation party you could hang pictures on the bottom. As you can see in the image featured this is an awesome decor idea. You can have pictures of the graduate and their classmates. Maybe even have guests write messages on them too.
11. Graduation Cookies
Like to bake? Then this next idea is for you. You can make special graduation cookies like these for the party. All you will need is cookie cutters which can be bought online, icing, a cookie recipe and patience. These would look great on a buffet table. If baking isn't for you, you can also buy graduation cookies. We won't tell!
12. Cute Cap Card Box
At special celebrations many choose to have a card box. A card box is great to have as guests can put cards inside and it stops any getting lost. You can buy card boxes or you can make a unique design yourself. For a graduation party you could choose a graduation cap design like this one.
13. Graduation Party Decoration Idea
When you have chosen your food and decor, you have to think about how to present it all. Here is an awesome example of how to decorate for a graduation party. There are balloons, star decorations, graduation themes on the table and more. You could recreate something like this for your party.
14. Graduation Party Favors or Gifts
You can jazz up jars to make cool decorations. Here we have three jars that have been decorated with graduation caps and stickers. You can recreate something similar with bought jars or you can recycle some from around your home. For the caps you can buy them or use an online tutorial to make some. You can put anything in these and use them as decorations or party favors.
15. Graduation Party Invitations
If the weather is going to be nice or you live somewhere sunny consider have a graduation BBQ. An outdoor party like this will be fun for all the guests and the food will be great too. It is also a good idea if you don't want lots of people in your house. You could even send out cute invitations like these.
16. Memory Jar
Next, we have a memory jar idea. Leave the jar on a table and then the guests can write down their favorite memory with the graduate. These are easy to make and everyone will love the idea. After the party, the graduate can read the memories and keep them as a reminder of the special time in their life.
17. Fun Smart Cookie Idea
Our next idea is simple and fun. On the buffet table you could have a tray of cookies with a sign that says one smart cookie. We featured a similar idea earlier in the post but this just another way of presenting the cookies. We love this idea!
18. Grad Balloons and Photos
If you want simple but meaningful decor then this idea could be for you. There is a balloon banner with #grad and below is the year of graduation with photos. This is a fun idea that the graduate will love. You can be creative with this and choose any balloons and photos.
19. Bright Future Cake
Next, we have another graduation cake idea. Instead of the classic graduation cap this one looks like a trendy letter board. The board reads bright future. A cake like this would be perfect for any stylish grad. You could recreate a similar cake with any colors and any quote.
20. Guest Book Activity Idea
A guest book is a great idea for a special occasion like graduation. Each guest can sign the book and leave a small message. You can have a book like this or personalize a plain one. A book will be a great reminder of the party and everyone who attended.
21. Graduation Jello Shots
Next on our list are these fun jello shots. You can make any flavor jello for these. It is just a fun way to present a dessert. These would be perfect for a BBQ party. You can make these in any color and add the class of or just leave them plain. Maybe even have graduation cap decorations.
22. Graduation Inspired Drinks
Jazz up your party drinks by decorating them like this! These bottles have been decorated with cute little graduation caps and labels that read congrats graduate. It is a simple but awesome idea and these will look amazing at a party. You can have a go at making the caps and labels yourself or you can buy labels and graduation cap straws online.
23. Share Your Key To Success
A popular idea for a graduation party is an advice box. Our next idea is a little similar to that but it is more unique. Here we have keys to success. A large board has been filled up with keys with a card underneath. Each guest will remove a key from the board and write their tips for success, then put it back up. After the party, the graduate can read all the important pieces of advice from family and friends. We love this idea!
24. Graduation Party Food Idea
Looking for beautiful party decor? Then you need to check out this idea. This party has a black, white and gold theme. The backdrop, decorations and even the food all have this chic color combination. It is a gorgeous theme for a party and will suit a glam graduate. Recreate something like this or add in other colors – silver would be stunning!
25. Creative Graduation Desserts
You can create amazing desserts for the party just like these featured below. For this idea, glasses have been filled up with red candy. On top of the candy there is a cupcake with beautiful decorations. All you will need to recreate these are: small glasses, red candy or any candy of your choice and a cupcake with a graduation cap design. You can make the cupcakes yourself or buy them. So, as you can see, these are easy to make and everyone will love them.
26. Congrats DIY Backdrop
Backdrops are great to have at parties. These can be used as decorations, can hide plain walls and can provide a photo booth style background. Here is a great example of a backdrop for a graduation party. The board is green with beautiful flowers and the word congrats. Try and make a similar backdrop or create your own design, balloon backdrops look amazing too.
27. Cute Graduation Theme
If you want a graduation party that stands out and will be remembered, then consider choosing a theme. It can be any theme you like and our next idea is a good one. This theme is called Graduation Fiesta and has a lots of puns and bright colors. It is a fun idea and everyone will enjoy a party like this.
28. The Tassel Was Worth The Hassle
Next, we have another decor idea. This one features the cute drinks we mentioned earlier with a centerpiece sign that reads "The tassel was worth the hassle". A sign like this is such a great idea for a graduation party as it recognizes all the hard work that was done to graduate. You can have a sign like this to suit any theme.
29. Pretty Graduation Party Decor
When decorating for a party it can be difficult to decide on a design, layout and color scheme. Well, you can use our next idea as inspiration. Here we have a pretty decor theme that has a green, leafy backdrop with bright flowers. The cake is the centerpiece and all the food surrounding it suits the theme too. This is a stunning decor idea that any graduate will love. Create something similar or add in your own colors.
30. Outdoor Graduation Party Idea
Expecting nice weather and want to have a graduation party outside? Then consider something like this. Here we have a vintage trailer that has been turned into an outdoor bar. It is so unique and awesome, it will be a hit at any party. You can hire bars like this or you can use this as inspiration and create a similar bar area with balloons, seating and a bar on a table instead of inside a trailer.
31. Graduation Party Favor Idea
Our next idea features cute customized chocolates. The chocolate bars have a wrapper with a graduation theme and the design includes a thank you, graduation cap and more. Chocolates like this can be set out for people to eat at the party or can be given out as party favors at the end. You can make labels yourself or buy them online.
32. Black, White and Gold Decor Idea
Next, we have a cute decor idea. This one also has a black, white and gold color palette but it has flashes of other colors like pink. What we really love about this design is the "leaves a little sparkle wherever she goes" sign. It is just a beautiful idea and it is perfect for the graduate who loves sparkles and pretty colors.
33. Graduation Theme Napkins and Utensils
If you are having food at a party then the guests will need utensils to eat it with. Instead of just having them set out on the table, why not create something unique like this?! Each knife and fork has been wrapped in a napkin with a ribbon to look like a scroll. It is a creative idea and will make the food area look awesome! Choose napkins like these or white ones will do the trick.
34. Then and Now Banner
Photos can be a great way to decorate a graduation party. You can have photos of the graduate when they were small and photos that have been taken recently. A cool way to use these photos is in a banner like this one. The banner reads class of 2019 and congratulations with a then and now photo. It is a cute idea and if you like crafts you can make something similar yourself.
35. Graduation Inspired Treats/Favors
Next, we have another graduation inspired treat. Here we have tubes that are full of candy with a gold lid and there is cute graduation cap on the top. These look like little scrolls and are perfect for a graduation party. You can make these yourself with any candy but try to keep the candy white or a similar shade to make it look like a scroll. These would be awesome party favors.
36. Unique Photo Decor Idea
Love the photo decor ideas? Then you need to check this out. Here we have a large 2018 sign that is full of pictures of the graduate. You can recreate this in any size and with any photos. Just make sure that you change the year. Also, ask guests to bring a photo so there is a mix of photos from family and friends.
37. Cute Graduation Cupcakes
Our next party idea features more cake! Here we have little cupcakes with an adorable gradation cap. These would be amazing cakes for a graduation party and look almost too good to eat. If you love to bake then try and recreate these yourself or call in the professionals!
38. Graduation is Sweet, Please Take a Treat
If you are having lots of treats at the party then consider a sign like this one. The sign reads "Graduation is sweet. Please take a treat". It is just a cute and quirky decor idea that you can use. This is another idea where you can make it yourself or have it made for you. It would look great at any party.
39. Unique Doughnut Wall
Doughnut walls have become very popular at parties. These walls can be made in any size, in any color and can hold lots of delicious doughnuts. For a graduation party you can have a wall like this one. The wall is shaped like a graduation cap and features class of 2018. Something like this will wow at the party, just make sure you change the year!
40. Graduation Scrolls
Next, we have an easy and awesome way to create graduation inspired food. These wafer rolls are decorated with bows to look diplomas. Something like this will take some time but all you will need is ribbon and the wafers. We love this unique idea. You can recreate similar wafer scrolls or use any other food that has a similar shape.
41. Pharmacy Themed Decor Idea
You can use the graduates studies to decorate for the party. Here is a great example. For this graduation party a science and medical theme has been used. You can see a microscope and other cool decor items. You can create something similar with any study subject and it will make the party unique.
We hope you have found the perfect ideas for your party!