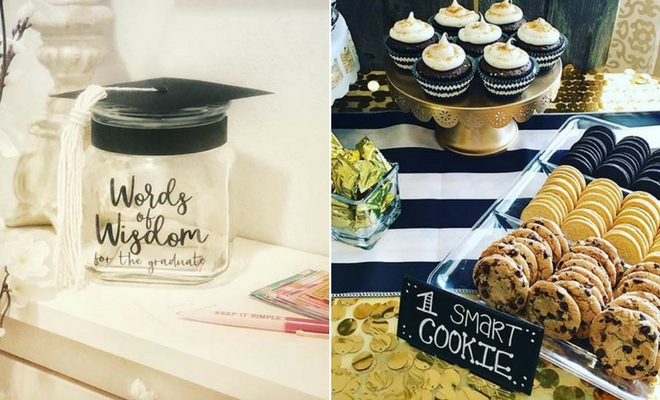 Instagram
Lifestyle
41 Best Graduation Party Decorations and Ideas
By
|
Planning a party for a graduate-to-be? Then you are in the right place! We have 41 of the best graduation party decorations and ideas. There is something for everyone including easy decor, fabulous food and ways to make memories of the special day. Graduation is a huge event in life and it deserves an epic celebration, with these ideas you can celebrate all the hard work that has been done and the new chapter that is beginning. So, take a look and get inspiration on how to give your graduate the best party of the year.
1. Words of Wisdom Idea
First up we have this cute words of wisdom jar idea. You can leave this out at the party and the guests can write down pieces of advice and put it in the jar. After the party is over the graduate can read each one. You can buy jars like these or try and make one yourself. With a recycled jar, ribbon and a chalk marker you can create a cute wisdom jar.
2. Graduation Banner
Next, we have a party banner idea. The banner has the letters class with a graduation cap and underneath there are frames with grades on them. This such a fun idea because you could put photos of the graduate in the frames throughout the years. A banner like this would be an awesome decoration, you can buy banners or you could make one yourself.
3. Selfie Station
Selfie stations or photo booths have become a must-have for a party. You can set up an area with a sign like this one and have the guests taking photos. The station can also have props. Not only is this a fun idea for the night but the pictures will be great to look back on once the party is over.
4. Selfie Station Prop Ideas
If you like the selfie station idea then this next pick is for you. Here we have some awesome graduation theme prop ideas. Each guest can stand with a prop like this and take a fun photo. You can buy props or try and make some yourself.
5. Creative, Graduation Party Food Ideas
No party is complete without sweet treats. Next, we have a very creative way to present candy at a graduation party. There are buckets with candy inside with a fun sign on the front. Some include gummy worms in the bookworm bucket and cookies in the one smart cookie bucket. This would look awesome at any party.
6. Graduation Theme Cake
Another party must-have is a cake. There are so many spectacular cake designs available and here is a great example of a graduation cake. It features the graduation cap, scroll, the date and it is personalized. A cake like this would be a huge hit at any party.
7. Graduation Wreath
Wreaths have become very popular for occasions other than Christmas. You can buy Easter ones, Halloween wreaths and more. Here is a graduation theme wreath. It has a beautiful, vibrant design and features the quote "She believed she could, so she did". You can buy wreathes like this or you could make one yourself if you like crafts and DIY projects.
8. Creative and Unique Graduation Napkins
Next, we have a unique party idea. Every party that is serving food needs napkins. You could go all out and have personalized napkins like these! These are not often seen at parties so the graduate and guests will love them. One could also be kept as a memory of the special celebration. You can have any design created.
9. Personalized Graduation Cap Idea
Many students often choose to decorate their graduation caps. You could use decorated caps as party decor. Maybe have them on tables or hung on the wall. You could even have the guests decorate one specially for the graduate which can be kept as a keepsake. This is a fun and creative decor idea that everyone will love.
10. Creative Balloons and Photos
Balloons are very popular party decorations. To make your balloons extra special for a graduation party you could hang pictures on the bottom. As you can see in the image featured this is an awesome decor idea. You can have pictures of the graduate and their classmates. Maybe even have guests write messages on them too.