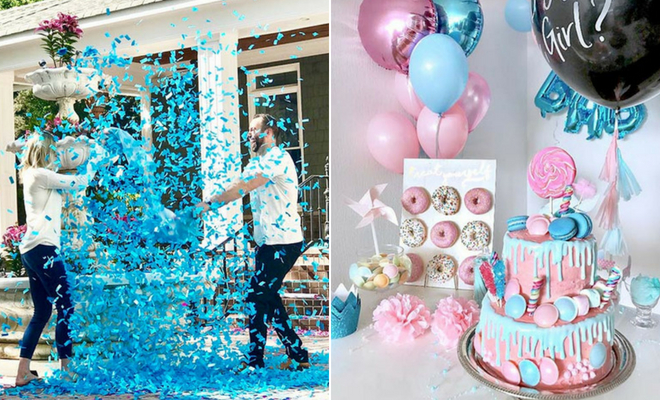 Instagram
Lifestyle
43 Adorable Gender Reveal Party Ideas
By
|
11. Sweet Blue and Pink Decor Idea
Next, we have another theme idea. This one is a sweet theme full of desserts and treats! The area has been decorated with doughnuts, balloons and candy. There is also a blue and pink cake full of candy. This is a fun theme and you recreate something similar or use your own favorite desserts and treats.
12. Stashes or Lashes Game Idea
Our next idea is a fun guessing game. Here we have a board with stashes or lashes wrote on it. Each guest should write their name in pink or blue under stashes if they think the baby will be a boy or lashes for girl. Then the points get added up and the winning gender is revealed. If the guests guess correctly you could even give them a prize.
13. Creative Star Wars Theme Idea
Fan of Star Wars? Then this party theme is for you. One couple had a Star Wars theme and instead of the classic boy or girl they used Luke or Leia. This is a creative, fun and quirky idea. You can use this theme for the decor and the food you serve. Instead of having he or she cookies you can have Luke or Leia cookies. We love this theme idea!
14. 'What Will It Bee' Gender Reveal Cake
If you are having a gender reveal party in the summer or if want a different theme to the classic pink and blue, this idea is for you. Here we have a yellow bee theme cake. There is a little sign on it that reads "what will it bee?". A bee theme is super cute, keeps the party neutral until the reveal and will look great for the summer season.
15. Gender Reveal Balloons
Not only are balloons great low-cost party decorations but they can also be part of the reveal too. This black balloon features boy or girl on the front and when popped will reveal pink or blue confetti. It has been placed with plain pink and blue balloons too. Balloons like these will suit any party.
16. Name Suggestions
For a fun party, you should consider having games and activities. Here we have a name suggestions idea. There are pink and blue pieces of paper next to a bowl. Each guest should write down a name for the baby on pink for girls names and blue for boys. Then the parents-to-be can pick out their favorite and reveal the gender. This is a great game that everyone will enjoy.
17. Gender Reveal Smoke
Smoke is a very popular way to reveal the gender at a party. You can use smoke in different ways from smoke bombs and sticks to the tires on your car or bike. Here is an example of tire smoke. When the tires turn the smoke is released. This is a statement making gender reveal that will create great photo opportunities too.
18. Quirky Rugrats Gender Reveal Party Idea
For those who remember the Rugrats, this idea is for you. This gender reveal party has been inspired by the TV show. Instead of the classic boy or girl reveal it is a Phil or Lil reveal. This is a fun and quirky idea that will make your party one to remember.
19. Twin Gender Reveal Idea
Having twins? Then you should check out this next idea. This couple have two boxes, one for each twin with the colored balloons. One pink set and one blue set which reveals they are having one boy and one girl. You can recreate something similar with the two boxes or if you having a boy and girl you can have one box with mixed balloons.
20. Girl or Boy Decor
Next, we have a party decor idea that is fun and bold. Vibrant pink and blue shades have been used with glam gold. The balloons and treats look amazing too. You can take inspiration from this and create your own pink and blue decor like this that will wow.