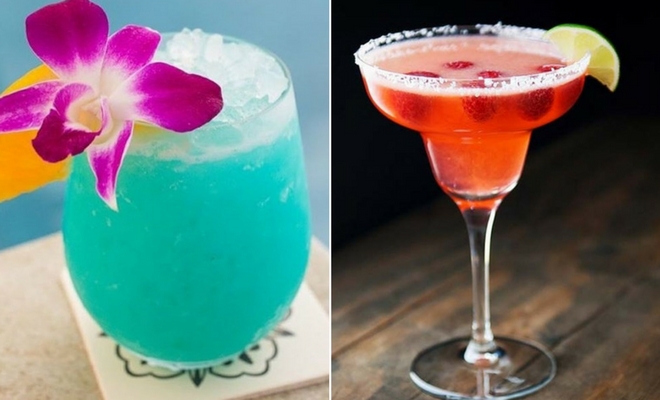 Instagram
Lifestyle
23 Fruity Summer Cocktails for Women
By
|
11. Rum and Berry Cocktail
Give your rum a berry blast with this fresh cocktail. The ingredients needed are: rum, mint, lemonade and berries. The simple recipe is perfect for a summers day. You get the fruity flavor with the kick of the rum. You could even take out the rum for a fresh non-alcohol drink.
12.  Negroni Colada Creation
We love a creative combination. So, when we found this Negroni Colada we had to share. It is a mixture of flavors from a Pina Colada and Negroni. To make this cocktail you will need: spiced rum, bitter liqueur, sweet vermouth and a habanero shrub. As with many cocktails you can swap some ingredients around to make your own tasty creation.
13. Raspberry Pink Cadillac Margarita
Just the name makes this drink sound amazing. This pink margarita is fruity cocktail that everyone will love. To make it you will need: 2 oz. tequila, 1 oz. orange liqueur, 1 oz. lime juice, 1/2 oz. raspberry syrup and 1/2 oz. simple syrup. You could decorate the rim of the glass with salt or a lime wedge. Serve in a margarita glass for a party look.
14. Tiki Cocktail
Give any cocktail a tropical look with a tiki glass. A funky glass like this will jazz up any cocktail, a Blue Hawaiian would be a great choice. You could even add straws and garnishes like the ones featured to create a drink that will wow. Something like this is the perfect way to turn your house into an exotic tiki bar.
15. Grapefruit and Rosemary Fizz
Our next cocktail looks light and fresh, which is perfect for a hot day. This drink is called a Grapefruit and Rosemary Fizz. The ingredients needed to make this are: 40 ml of gin, 50 ml of Grapefruit Juice, 15 ml of Lemon juice, 20 ml of Sugar Syrup and small rosemary leaves. A cocktail like this would be perfect to serve at a garden party.
16. Topical Bahamas Cocktail
Bring the Bahamas to your house with a tropical cocktail like this. The creator called this a "Bahama Island". To create a cocktail like this one you will need: pineapple juice, lime juice, coconut vodka, Blue Curacao, Blue Island Pucker, lemon lime Soda, banana rum, and coconut rum. This is a cocktail that will make you feel like you're on vacation.
17. Mimosa
Here is a classic and simple cocktail that would be perfect on a summers day. This refreshing Mimosa is made from 1 part orange juice and 1 part champagne. Serve cold for the best taste. You can even garnish with cherries or strawberries for a tropical vibe.
18. Iced Tea Cocktail
Give your ice tea a kick with cherry whiskey. This tasty cocktail was made with 3 oz. of iced tea, 1.5 oz. of cherry whiskey and a squeeze of lemon. Garnish with a lemon twist and a cherry. Add ice for the ultimate summer's day drink.
19.  Coconut Margarita
Want the holiday feeling? Then create a Lime Coconut Margarita. These tropical cocktails look like a drink you'd have on a sandy beach. To make the cocktail yourself you'll need: ½ cup of coconut water, ½ cup of tequila, ⅓ cup of lime juice and ⅓ cup of orange liqueur. Serve in a coconut for the ultimate beach cocktail.
20. Peach Cocktail
Cocktails in a jar are quirky and rustic way to serve drinks. Something like this would look great at a garden party or BBQ. Fill up your jar with any cocktail, you could even use the peach recipe featured. To make a cocktail like this you'll need: rose wine, peaches, carbonated water or lemonade and basil for garnish.
21. Tropical Mimosa
The next cocktail on our list shows how you can create a cute cocktail with glasses and straws. These quirky glasses have a flamingo and pineapple design with gold straws. Any cocktail would look amazing in glasses like these. The cocktail used is a tropical Mimosa. To make it just mix pineapple juice, cranberry juice, coconut rum and champagne.
22. Watermelon and Lime Juice Cocktail
Here is another cute jar cocktail. This one uses gin, Cointreau, watermelon shrub and essence, star anise syrup and lime juice. A fruity drink like this is perfect for a summers day or a party. Finish off the drink with straws, ice and berries.
23. Fruity Summer Cocktail Selection
If you're having a party consider having a selection of cocktails like these. Each cocktail is garnished with flowers and fruit and is served in the same glasses. These touches give the cocktails a classy and luxury look. Drinks like these would be a hit at any party.
We hope you have found the perfect fruity cocktail.