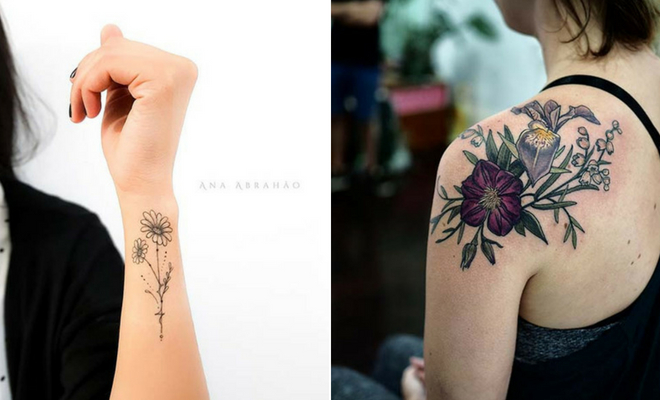 Instagram
Lifestyle
43 Beautiful Flower Tattoos for Women
By
|
11. Beautiful Back Tattoo Idea
Flowers create stunning back tattoos. Don't just take our word for it, check out this next pick. Here we have beautiful pink flower tattoo. It is stunning design that would suit anyone. You can choose any flower for a back tattoo. Something like this will look great in the summer when you can show it off!
12. Floral Hip Tattoo
If you want a cute floral tattoo, then this next idea could be for you. These two flowers have been tattooed on the hip. We love these flowers because they have a tropical look. The hip is a great choice for a tattoo if you want something small that can be hidden or shown off.
13. Peony Shoulder Tattoo Idea
The peony is a stunning flower that is a symbol of good fortune and wealth. Here we have a gorgeous example of a peony tattoo. As you can see, the finished result is beautiful, dainty and feminine. The design fits perfectly just on the shoulder but you could have the flower placed anywhere.
14. Floral Bracelet Tattoo
Next, we have a creative wrist tattoo. The ink features flowers that create a jewelry style cuff. We love this design idea because it is unique and clever. With a tattoo like this you get a cool tattoo and a piece of jewelry too. Any flower would work for a design like this.
15. Flower Tattoo with Geometric Pattern
You can add patterns to your flower tattoos. By adding patterns, you can give classic florals a trendy update. This next design idea features beautiful pink flowers with a black geometric pattern over the top. As you can see, the shapes give the pretty flowers an edgy vibe. You can use this technique with any flowers.
16. Floral Shoulder Tattoo Idea
Our next idea is a beautiful shoulder tattoo. The design features different flowers including: Clematis, Iris and Lilly of the Valley. You can recreate a similar tattoo with your favorite flowers. We love how artistic and colorful this floral design is.
17. Delicate Behind the Ear Tattoo
If you are looking for small and subtle flower tattoos, then this next idea could be for you. Here we have pretty pink floral design that has been tattooed behind the ear. Tattoos behind the ear can be shown off, covered up and would be great as a first tattoo. Any flower in any color would look beautiful.
18. Upper Arm Flower Tattoo Idea
Next, we have a gorgeous upper arm idea. The black ink tattoo features a variety of flowers including a rose. You could add more flowers to the design to create more of half sleeve look. Then in the future you could even add more to create a full sleeve. Any flowers would look cool and you can consider adding color too.
19. Pretty Sternum Tattoo
Looking for sternum flower tattoos? Then check out this next idea. Earlier we featured a lower sternum design whereas this one is further up. It is a very pretty and delicate tattoo that would suit anyone. Add color to soften the finished look or if you want a trendy statement making design, choose just black ink.
20. Artistic Flower and Fruit Tattoo Design
You can add other designs to flowers. We have seen butterflies and geometric patterns but this one features fruit. It is an artistic and creative flower and fruit design. We love how this tattoo has been inspired by nature and love the colors that have been used. You can choose any flower and fruit combination, maybe something tropical.