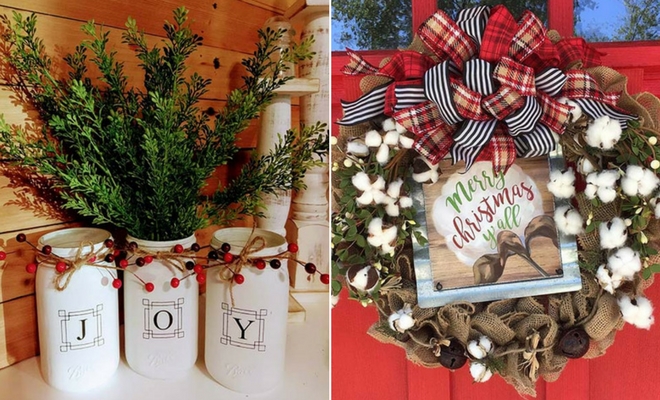 Instagram
Lifestyle
23 Farmhouse Inspired Christmas Decor
By
|
Christmas is coming! So, it is time to start thinking about how you are going to decorate. There are so many styles you can have from traditional to bold and bright. A theme that is very popular this year is farmhouse inspired. Farmhouses are cozy and rustic which makes this theme great for the fall and winter. We love this look and have found 23 farmhouse inspired Christmas decor ideas. Any of these will give your home a trendy rural vibe so you can celebrate Christmas in style.
1. Joy Vases
To start off our ideas we have these joy vases. There are three white vases in total and each has one letter to spell out joy. Each vase is finished off with jute twine and berries. You could recreate these at home quite simply, it is also a great way to recycle glass jars. When finished add in a festive plant of your choice.
2. Ice Skate Door Wreath
For many ice skating is a fun activity usually done in the winter and around Christmas time. So, it is no surprise that ice skates inspire peoples holiday decor. Our next idea shows to turn a skate into a festive hanging wreath. Just fill the boot with lots of Christmas decorations and hang it up. There a few ways you can hang these up. You can attach the boots to a wreath, use a door hanger or maybe some twine.
3. Ice Skate Christmas Mantel
If you like the ice skate idea then you will like this next pick. We have found a farmhouse style mantel that shows you how you can use your skates as a beautiful decoration. The boots have been placed inside a gold frame and have been hung over the fireplace. The bow coves up the hanging to. The overall mantel is a stunning Christmas decor idea that combines the farmhouse theme with Christmas glamour.
4. Cotton Christmas Wreath
Next, we have a rustic wreath idea. This wreath features the classic green with added cotton pods, burlap and beautiful multi pattern ribbons. The combination of all these elements creates a farmhouse inspired Christmas wreath perfect for any house.
5. Santa's Reindeer Sign
Prefer more simple and subtle decorations? Then this next idea is for you. This white sign features all the names of Santa Claus's reindeer. It is a stylish but festive decor idea. You could recreate something like this yourself if you like crafts. Purchase or recycle some wood, paint on the background and add in the names.
6. Winter Topiary Decor
If you like rustic and natural looking decor then this is for you. It features topiary plants with little pine cones added to them with burlap covering the bottom. The plants have been placed with wooden tea light holders. This scene is stylish, festive and farmhouse inspired. You could recreate this and make the plants look even more festive with some berries or even some artificial snow.
7. Farmhouse Style Christmas Signs
Next, we have little signs that would look cute in any room. There are three that feature Christmas theme designs. You could have similar signs in your home or you could make these yourself. If you create your own you can add in your favourite Christmas quotes and designs. Hand write the signs or make them on the computer, add into a frame and you're good to go.
8. Rustic Advent Calendar
Our next idea shows that advent calendars do not have to be throwaway pieces full of chocolate. This one is a wooden advent calendar that would be perfect for a farmhouse theme Christmas. It looks rustic and uses traditional Christmas designs for the numbers. Something like this could be reused year after year and year.
9. Cute Christmas Tree Decoration
A lot of farmhouse inspired decor uses materials that look natural. This cute Christmas tree decoration uses what looks like wool with a green ribbon and jute twine loop for hanging. You could recreate something like this yourself if you like crafts. To make it more personal why not add in an initial like the one featured to. You could create these with the whole families' names.
10. Joy Block Decoration
Like creative and unique decor? Then this idea is for you. It features three wooden blocks that have been painted to spell out the word joy. The O has even been turned into a snowman's head. Something like this is a great Christmas craft project. You could get all the family involved in making blocks like these.