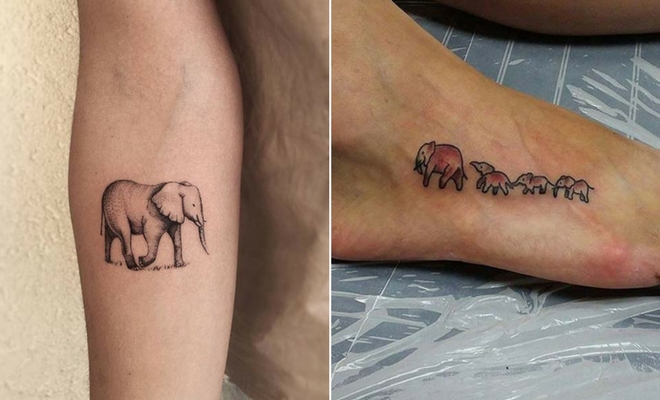 Instagram
Lifestyle
61 Cool and Creative Elephant Tattoo Ideas
By
|
11. Patterned Elephants in a Line
If you liked the elephants in a line design, then you might like this one to. These elephants are bigger and have been tattooed on the arm. The elephants also have a trendy pattern on them. This is a cute design that could be placed anywhere on the body. You could even add some color.
12. Bold Elephant Back Tattoo
Our next pick is perfect for the people looking for a bold design. This stunning elephant head has been tattooed on the back. The elephant has a headpiece and has a pattered trunk. Something like this will wow anyone that sees it. You could change the patterns and the headpiece to suit your own style.
13. Cute Cartoon Elephant Design
Next, we have the most adorable cartoon elephant design. The little elephant is sat with a pink flower and has little splashes of pink on its feet and cheeks. Something like this is a great choice for anyone wanting a small and cute tattoo.
14. Statement Elephant Leg Tattoo
Like patterned elephant designs, then this could be for you. This bold black ink elephant features lots of intricate patterns. You could take inspiration from this and recreate it with your own patterns. Something like this would never go out of style and can be placed anywhere on the body.
15. Delicate Elephant Ink
Our next elephant tattoo is very pretty and feminine. The ink used is very light and the elephant has a cute floral headband. This one is tattooed on the ribs but you could have this inked anywhere. The rib is a trendy place to have a tattoo.
16. Elephant Sternum Tattoo
Sternum tattoos are very popular and with this design we can see why. This elephant design features lots of patterns and makes a bold statement. A design like this will wow. You could have any elephant design placed here from cute to minimal.
17.  Trendy Elephant Tattoo
Next, we have a small elephant wrist tattoo. This has simple patterns compared to some of the others featured in our best picks but it still makes a statement. Something like this would be great as a first tattoo. You could choose patterns that suit your personal style.
18. Elephant with Floral Crown Design
If you like the pretty floral elephant designs, then our next pick could be for you. This one is bold and covers a lot of the back. The elephant has a gentle face and has a beautiful pink floral garland. A tattoo like this would suit anyone and could be placed anywhere on the body.
19. Mandala Style Elephant Tattoo
Our next elephant design has taken inspiration from mandala patterns. The simple, black ink elephant has been decorated with lots of stunning patterns. You have a lot of freedom with a tattoo like this. Patterns, colors and tattoo placement can all be chosen to make the tattoo unique.
20. Colorful Elephant Tattoo
Want a tattoo that is more vibrant? Then consider something bold like this. This tattoo design is full of color and will make a statement. You could change this designs colors to suit your style. Something like this can be tattooed anywhere on the body.