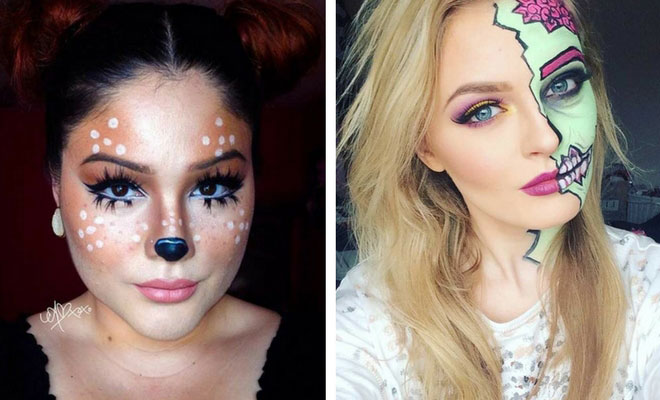 Instagram
Lifestyle
61 Easy DIY Halloween Makeup Looks
By
|
21. Easy Fairy Makeup
Halloween doesn't have to be scary. You can make your face look beautiful like this easy fairy makeup look.  You can add a few flowers to add to the look but your eyes need to be the main focal point.
22. Cute Werewolf Makeup
This next idea is cute and classic. Here we have werewolf makeup. The artist has painted her face so it looks hairy and she has even added some sharp teeth too! This look is finished off with super cool contact lenses. You can find tutorials online which can show you how to create the furry look and you can buy werewolf contact lenses too.
23. Bride of Chucky Costume Idea
If you love watching horror movies, then you need to see this next idea. Here we have makeup and a costume inspired by the character Tiffany from the movie Chucky's Bride. As you can see, makeup like this will be quite easy to recreate and the costume is also simple. This is a unique and scary idea. It would be great for any last minute events.
24. Easy Beetlejuice Makeup
Beetlejuice is one of the most popular Halloween costumes so we had to show you a cool makeup look to try. This makeup artist has created a simple but spooky version. She has the pale face with green, purple eyes and she has finished off the look with green hair. This is an awesome and easy makeup look to try. Wear a striped top, jacket or dress and your costume will be complete.
25. Classic Halloween Vampire
Vampire costumes are a Halloween classic and next we have a beautiful version to show you. The makeup artist has created glam eye makeup using dark purple tones and she has dark lip color too. This look is complete with blood and fangs. It is such a simple but amazing idea and you can use the makeup you already wear. So, you will just need the blood and fangs. You can choose a similar Gothic costume too. A black dress would look stunning.
26. Magical Unicorn Makeup
If all the scary makeup, blood and gore is not for you, then you can try something pretty like this! Here we have magical unicorn idea. She has created beautiful makeup using purple tones and has completed the look with glitter, gems and a unicorn horn headband. This is a cute look that will allow you to dress and up and celebrate Halloween but without the terror. You can view a YouTube tutorial for this makeup down below.
27. Glam Sugar Skull Makeup Idea
Next, we have a beautiful sugar skull inspired makeup look to show you. The makeup artist has one glam eye and one skull eye. She has also decorated her face with stunning patterns. We love the red lip color because that really makes a statement. Makeup like this is spooky but pretty and it will be perfect for a party. You could make yourself look scarier by wearing contact lenses.
28. Spider Eye Makeup
Looking for simple but scary makeup? If so, this could be perfect for you. Here we have spider eye makeup. When your eye is open, it looks like spider legs are coming out of your eye and when you close your eye, the black makeup creates a spider illusion. It is cool and creepy idea. You can find lots of YouTube tutorials for spider eye makeup so you can create a similar look yourself.
29. Spooky Scarecrow
We couldn't have a list of Halloween makeup looks without featuring a spooky scarecrow! It is a Halloween classic. This makeup artist has created a colorful and creepy scarecrow. The look is complete with patches, stitches and even a hat made out of a grocery bag. There are scarecrow makeup tutorials online and you can be as scary or as cute as you like.
30. Joker Makeup Idea
Halloween is the perfect time to dress up as your favorite villain. The next idea features a cool makeup look inspired by the Joker. This makeup is easy to create and everyone will instantly recognize your costume. It is a fun idea and you can check out the products used on the page below. We love this idea because she kind of looks stylish, especially with the purple eye makeup.