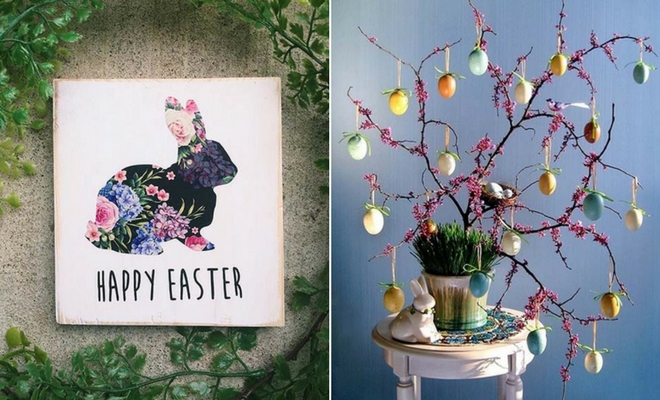 Instagram
Lifestyle
25 Pretty Easter Decor Ideas You'll Love
By
|
Spring is almost here and with the new season will come the Easter holiday. Easter is a fun event that is full of chocolate, egg hunts, good times and more. Brighten your house for the holiday by adding some Easter decorations. You can decorate for any Easter events you are hosting, to celebrate the occasion or to liven up your home for Spring. There are tons of ways to decorate and we have found 25 pretty Easter decor ideas. We have something for everyone and you can even have a go at making some of these yourself.
1. Pretty Egg Basket
Egg baskets are so popular during Easter and the Spring. Our first idea features a unique basket idea. Vibrant eggs have been placed into a wire basket and have got flowers on the top. The addition of flowers gives the basket a fresh Spring look. You could recreate this look with any color eggs and with any flowers.
2. Easter Wreath
Brighten up your front door with an Easter wreath. This wreath features small eggs, bunny ears, Easter blessings and Easter inspired fabrics. A wreath like this one would look cute on any door. There are many wreaths available to buy and you could even make one yourself.
3. String Art
Our next idea features a string art bunny. String art is trendy, and it is a unique item of decor for any home. This rabbit is perfect for Easter and it will brighten up the room. Rabbits are not just for Easter, so you could have art like this on the wall all year. If you like crafts, you can have a go at creating string art like this yourself.
4. Easter Dining Table Idea
Are you hosting an Easter dinner or maybe having a special breakfast on the day? Then you need to check out this table idea. This table has been decorated with tulips and small nests of eggs. The nests and eggs can be bought online. Anyone would love to sit at a table like this.
5. Hoppy Easter
Pictures are an easy way to decorate your home. You can place them anywhere and most designs will suit any room. These next pictures have a cute Easter theme. One says Hoppy Easter and the other two say hip and hop. You can purchase pictures like these or you could have a go at making some yourself. Try painting one or making one on a computer.
6. Creative Carrot Flower Arrangement
This next idea features an orange Tulip flower arrangement that has been made to look like carrots. The flowers have been tied together with a ribbon and green foliage has been added to the top. You could hang something like this up on a wall or door or have it placed on a table. Bright flowers like these will add a pop of color to any room and they would be perfect for the Easter Bunny.
7. Cute Rabbit Pillow
The Easter Bunny has inspired our next idea to. Here we have a super cute cushion that features a rabbit with a fluffy tail. Cushions that feature rabbits are perfect for the Spring and Easter but will look gorgeous all year round to. Not only that but new cushions will instantly update the room.
8. Easter Tree Idea
Decorative trees are not just for Christmas. Small trees have become the must-have homeware. You can decorate these trees for any occasion from Valentine's Day to Easter. Next, we have a real tree that has been decorated with Easter eggs. You could recreate a similar look on any of the decorative trees that are available. A white tree would be a beautiful choice. Decorate your tree with eggs and you have a very pretty Easter decoration.
9. Rustic Rabbit Decoration
Many love rustic home decor. When you choose rustic pieces, it will bring a country to look to any home even if you live in the middle of a busy city. Next, we have these gorgeous floral wooden rabbit decorations. These would so cute in any room or on the front door. You can buy these but if you like a DIY project then you could make something similar yourself. You can buy materials like crafting grapevine for projects like this.
10. Pretty Painted Eggs
We couldn't have an Easter list without mentioning painted eggs. Painted eggs are a super fun craft project that the whole family can get involved in. To create your painted eggs, you could use real eggs or eggs made of wood or plastic. Then paint your design and hang them up. There are lots of tutorials to help you if you are using real eggs.